What Is Slybroadcast?
Slybroadcast is a popular ringless voicemail (RVM)software and CRM solution that is commonly used by real estate and home services professionals. Slybroadcast gives you the ability to insert prerecorded messages into your prospect's voicemail box, letting you automatically reach out to customers with updates and reminders.
More important however is, as Beth George, Director of Marketing and Operations, points out, "Slybroadcast is a voicemail marketing tool that allows you to reach the masses, but maintain a personal touch with each person. Your voice is unique, and no two are exactly alike, so using it as part of your marketing strategy is a win-win!"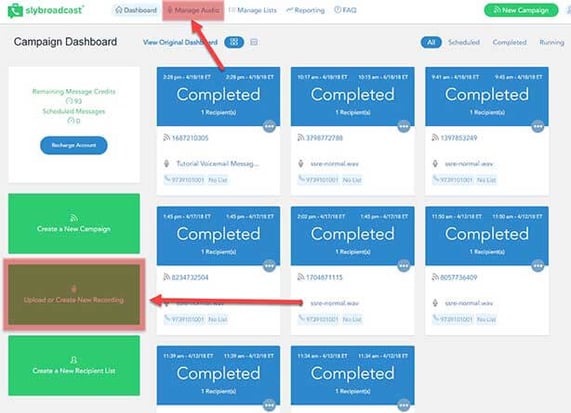 Slybroadcast indeed makes it easy to get in touch with your customers in a personal way with minimal effort, making it effective, convenient, and well, personal.
However, there is only one issue. As with so many productivity apps and services, Slybroadcast doesn't come preloaded with leads. PropertyRadar changes that.
By integrating PropertyRadar, you can take Slybroadcast to another level.
That's because PropertyRadar's data for millions of properties and property owners, and an industry-leading 200+ filtering criteria, you can discover and create unlimited segmented lists of all your ideal customer profiles.
With a PropertyRadar and Slybroadcast integration, you'll be able to find and connect with customers like never before.
Let's take a look at what this new Slybroadcast integration with PropertyRadar can mean for you.
Benefits of Integrating PropertyRadar with Slybroadcast
Whether you're a real estate professional or a home services professional, there's no doubt you have your perfect customer profile. But you likely have multiple customer profiles for people who may not be perfect for you but still could greatly benefit from what you offer.
You'll want and need various lists with insights into each list to better understand your targeted audience. And just as important, you'll want those lists to be actionable to maximize the capabilities of Slybroadcast. The new Slybroadcast integration with PropertyRadar gives you all this and more.
Generate Unlimited Marketing Lists
With PropertyRadar, you can build unlimited mailing lists. Using the 200+ criteria to fine-tune and hyper-target your various audiences, you'll be able to segment your lists for your ideal customer profile and your secondary customer profiles.
With data for millions of properties and property owners, it's easy to get a little overwhelmed when building your first list. That's why PropertyRadar created Quick Lists.
These super convenient pre-built mailing lists already have specific filtering criteria already built-in. It's the perfect place to start when you're just getting started with PropertyRadar.
There are a number of Quick Lists available to choose from for a variety of industries. You can even layer lists to further refine your data for hyper-targeting.
Examples of Quick Lists for 4 industry professionals.
1) Real Estate Investors, 2) Real Estate Agents (Realtors®), 3) Home Services Businesses, and 4) Mortgage Professionals: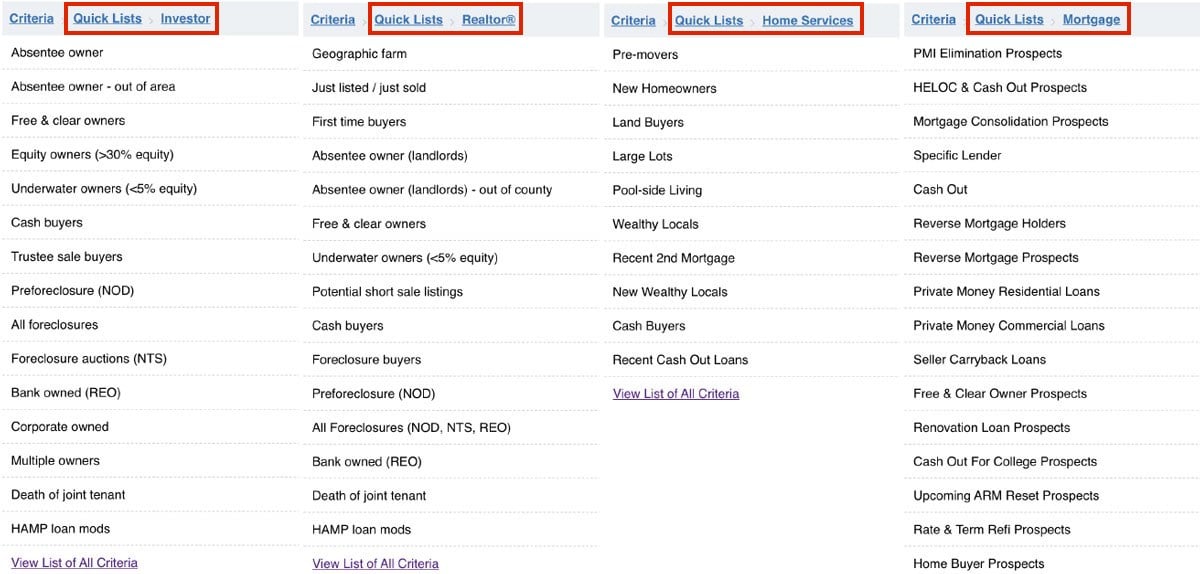 Quick Lists can help make the criteria simple to navigate while giving you a starting point to build from. Then, once integrated, PropertyRadar will automatically feed Slybroadcast, putting your ring-less voicemail delivery on autopilot.
Detailed Insights on Every Prospect List
Having a list of high-quality prospects is great. But without a deeper understanding of who those prospects are, it's hard to deliver voicemails that connect with them. PropertyRadar provides a wealth of data beyond the obvious.
When you integrate PropertyRadar with Slybroadcast, you gain access to deep insights for every targeted list that you build. You get details about the properties and separate details about the property owners.
With this powerful data, you'll be equipped to automatically connect with your ideal customers through voicemail and leave messages that speak to their most pressing needs.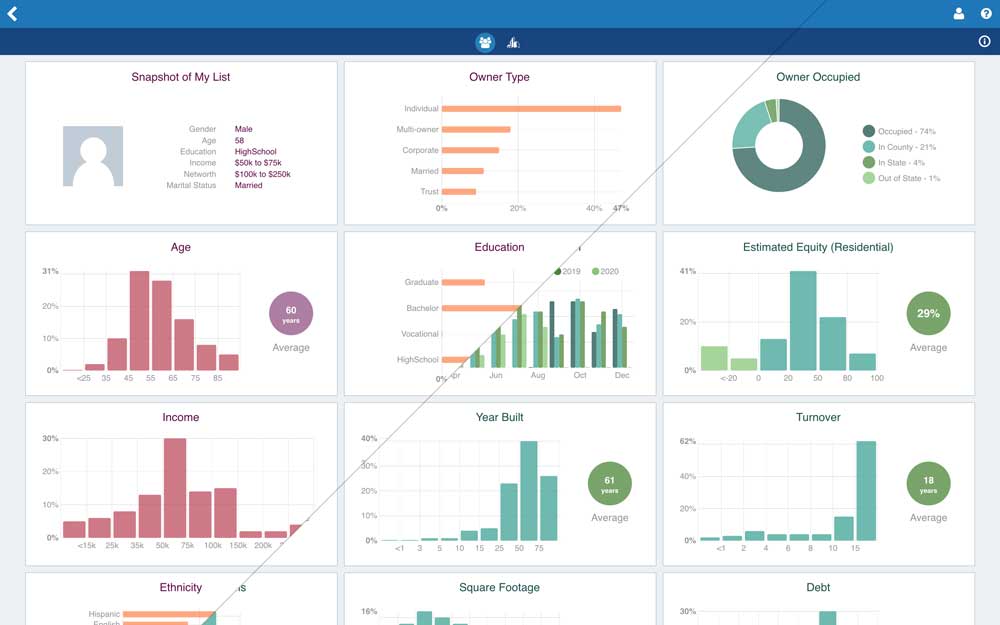 Autofill Slybroadcast with Your Perfect Customer Profiles
When you buy lists from vendors, the data you're buying could be a week old, 1-month old, or even older. Those lists start growing old the second you pay for them. For real estate and home services professionals whose markets are always shifting, this is a big problem. But with PropertyRadar, it's far less of a problem.
The Dynamic Lists you build with PropertyRadar are updated on a daily basis. This means, that as new leads match the criteria of your lists, they're automatically added to those lists. So your lists always stay fresh and up to date.
Moreover, those dynamic lists automatically add those new leads to Slybroadcast for you.
PRO INSIGHT: Trigger your marketing automation with PropertyRadar's dynamic mailing lists. Start by sending a postcard to a new lead when they hit your list. This helps ensure that you are on their radar. Then, when Slybroadcast delivers your voicemail, your new lead is already familiar with your company, building brand recognition and increasing the likelihood that they'll respond to you in a positive manner.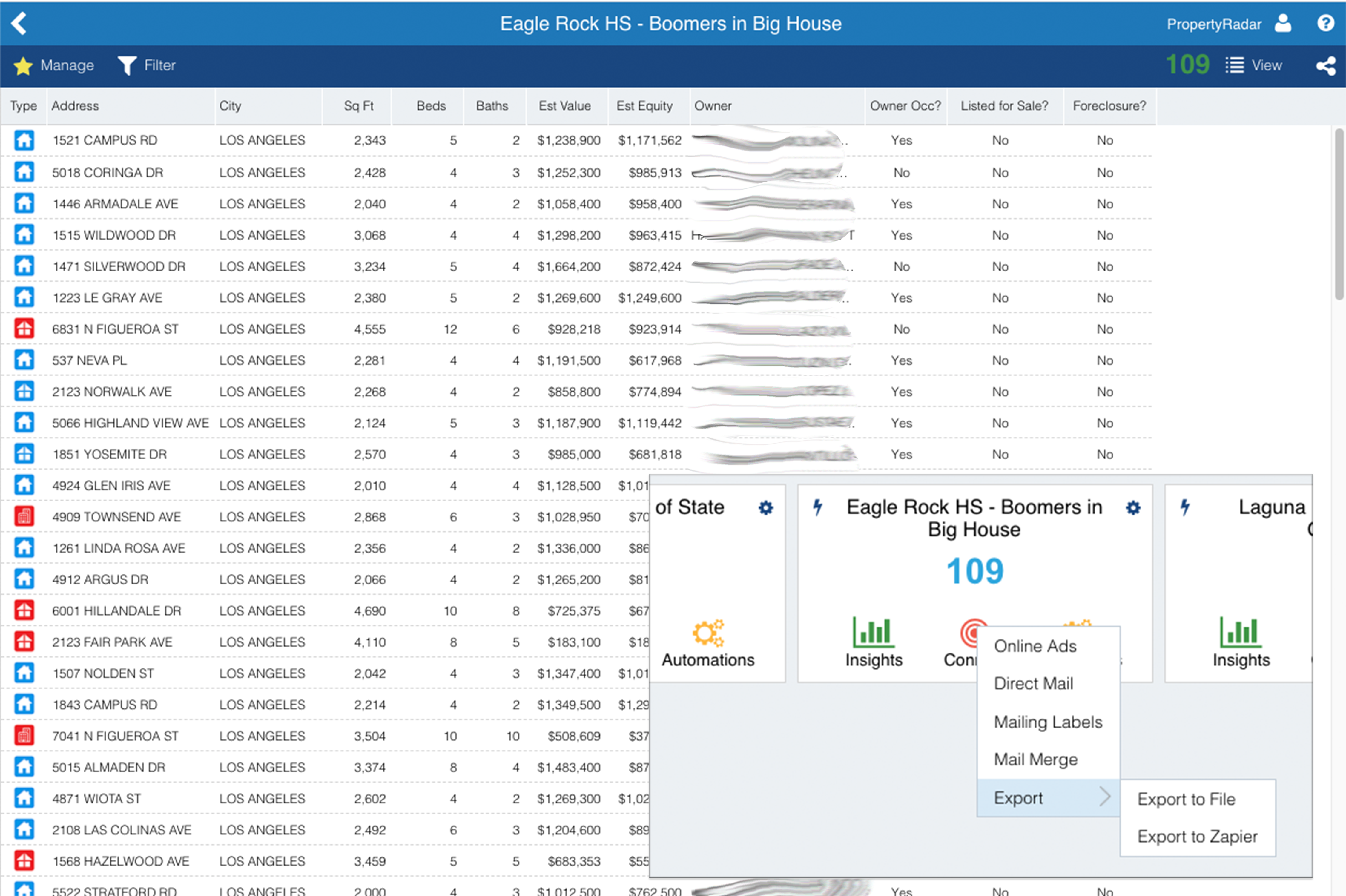 Integrating Slybroadcast with PropertyRadar is the perfect combination for any business that needs a combination of lead generation, marketing automation, and high-quality lead list building, all in one integration.
Slybroadcast Integration with PropertyRadar Use Case Scenarios
PropertyRadar is the perfect solution for prospecting and lead generation for a wide range of businesses, including real estate investors, agents, home services businesses, and any business that works with property owners. The integration between Slybroadcast and PropertyRadar puts a complete marketing system on autopilot and keeps your pipeline filled.
Let's take a look at some use cases for this powerful integration.
Use Case: Real Estate Agents
Real estate agents desire a persistent flow of new buyer and seller contacts in their pipeline. These prospects generally originate from one of four sources:
Past clients
Referrals from past clients and their sphere of influence
Inbound marketing and intermediaries – passive marketing
Outbound direct marketing – proactive marketing
On any day, an opportunity may arise where marketing an opportunity to some of these contacts is essential, and yet an email isn't dependable, and calling every contact is impossible.

It's this exact situation where ring-less voicemail makes the difference. RVM offers the benefit of the speed of email combined with the personal touch of a phone call.

Note - It's important to understand that this is for exceptional occasions and driven by careful targeting.
‍
RVM is about genuinely delighting the recipient with the content of your message. Anything less and all the time, money, and effort expended to cultivate that contact may be lost when you send them what they perceive to be spam.
‍
"With great power comes great responsibility."
How to Integrate Slybroadcast with PropertyRadar using Zapier
Integrating Slybroadcast and PropertyRadar isn't difficult. You use Zapier, telling Zapier how to share data between the two platforms. If it is your first time setting up an integration, set aside time so that you can learn how the integration works and ensure that you are sharing data directly between both systems. Remember, you can always go back and make changes. Nothing is set in stone.
Before creating your integrations, it is recommended that you create a simple workflow chart to help you understand how the data will be used on each platform and make the process of setting up the integration easier. It's important you understand your marketing workflow first so that you can set up your marketing automation correctly.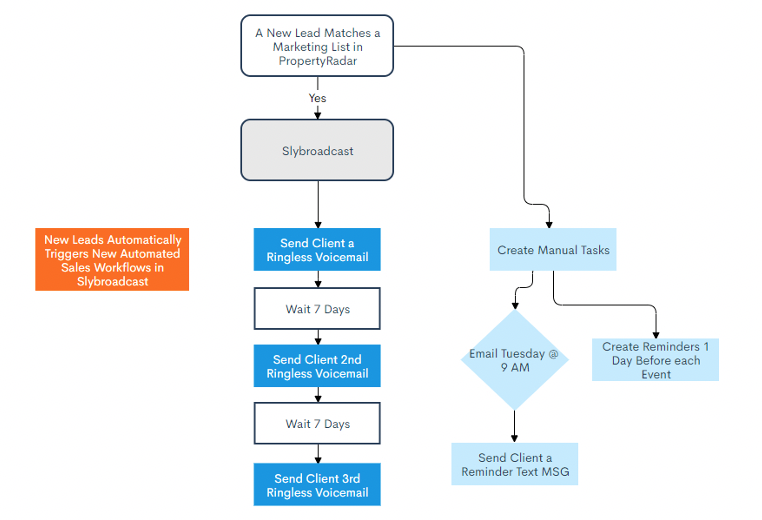 Designing a workflow diagram like this will help you to visualize the relationships between PropertyRadar and Slybroadcast — along with Zapier, which facilitates the integration. Then when you set things up, you know where the different data connections need to be made.
Some simple planning upfront can make the entire process much easier on you overall. With the integration between PropertyRadar and Slybroadcast, you could potentially save hundreds of hours per year. You can automate the hard parts of lead generation and list building while focusing on closing new deals.
Conclusion
Slybroadcast's ringless voicemail system is extremely powerful for hyperlocal professionals who are looking to land new customers and take their business to the next level. By integrating Property Radar, the two systems work seamlessly together to put your marketing system on autopilot.
Start your free trial with PropertyRadar and discover your future opportunities and prospects today.
‍
‍