What is Klenty?
Klenty is a sales engagement software product that helps B2B sales reps to prospect, outreach & follow-up at scale. Sales teams can generate more replies and meetings booked from their outreach through automation and in-depth personalization.
Founded in 2015, Klenty has quickly grown to become one of the most popular sales automation solutions on the market today. They offer deep email automation and personalization features, allowing sales teams to put their prospecting and meeting bookings on autopilot.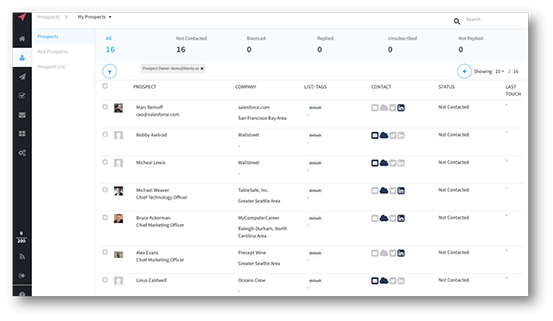 While Klenty comes with an extensive suite of tools, as with so many other organization and productivity products, there is one thing it doesn't come with — a list of quality leads. PropertyRadar changes that.
Thanks to the new PropertyRadar and Klenty integration, keeping Klenty continuously loaded with new opportunities and high-quality leads is possible.
That's because PropertyRadar provides data and insights on 10s of millions of properties and property owners across the country and has an industry-leading 200+ filtering criteria to build highly targeted mailing lists.
All your future customers are in PropertyRadar waiting to be discovered. And once you've built your lists of hot new leads to pursue, it's just a matter of importing them into Klenty. And that's when the fun starts.
Do you think you enjoy using Klenty now? Wait 'til you integrate it with PropertyRadar.
The Klenty integration with PropertyRadar is a great combo for real estate investors, real estate agents, and home services businesses that need to find new opportunities and customers, and want to streamline their workflow to do more with less.
Benefits of Integrating PropertyRadar with Klenty
Buying mailing lists from 3rd parties frequently leads to frustration and disappointment. Too often the data behind those lists is outdated and inaccurate. Buying lists built with bad data wastes your time and money and hurts your productivity.
Moreover, when you buy a mailing list from 3rd parties, you often have to pay more for additional lists if you want to stack data for better segmentation.
With PropertyRadar you'll find no such restrictions. PropertyRadar's data is clean, refined, enhanced, easy to use, and actionable. And you can build as many lists as you need.
Build Unlimited Mailing Lists To Feed Klenty New Leads
You surely have more than one ideal customer profile. With PropertyRadar, you can build as many lists as you need to represent all your ideal customer profiles and feed them directly into Klenty. And with 200+ criteria and millions of properties & property owners to build lists from, well, you do the math.
With so much data at your fingertips, it's easy to get a little overwhelmed at first. Many people aren't sure where to start. That's why we created Quick Lists.
Quick Lists are pre-built mailing lists with specific criteria already built-in. So, getting started is easy. For example, out of the gate, you can immediately generate geo-targeted lists that are perfect for:
Real Estate Investors
Real Estate Agents (Realtors®)
Home Services Businesses
Mortgage Professionals
Mailing Lists with Comprehensive Insights
Connecting with prospects on your mailing list is where the rubber meets the road. In order to craft compelling messaging that grabs your prospect's attention, you need to understand their wants, needs, and desires.
That's why with each list you create you get deep insights into the list profile. You'll better understand the commonalities of a list for both the property and property owners. Simply click Insights on your list: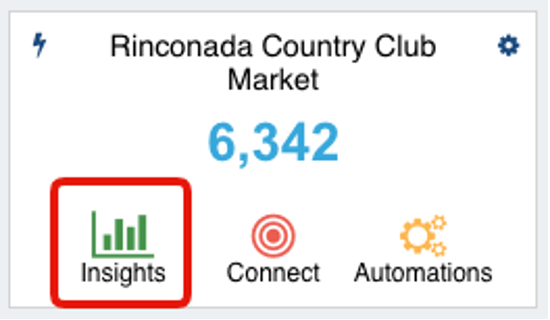 After you click Insights, you'll see obvious and not-so-obvious insights and knowledge about properties and property owners that you simply can't get anywhere else.
Within Owner Insights, you get a snapshot overview of your list as well as a visual representation of the following owner details:
Snapshot (overview) of Property Owners making up a list
Owner Type
Gender
Age
Education Level
Marital Status
Ethnicity
Interests
More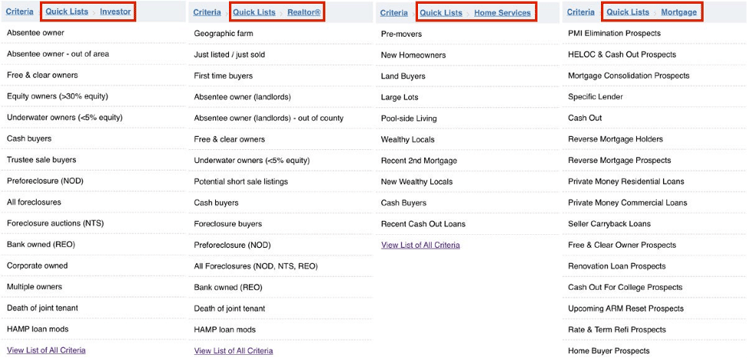 Within Property Insights, you get a snapshot overview of your list as well as a visual representation of the following property details:
Snapshot (overview) of Properties making up a list
Property type
Owner-occupied
Transaction volume per month
Estimated equity
Assessed value
Estimated tax rate
More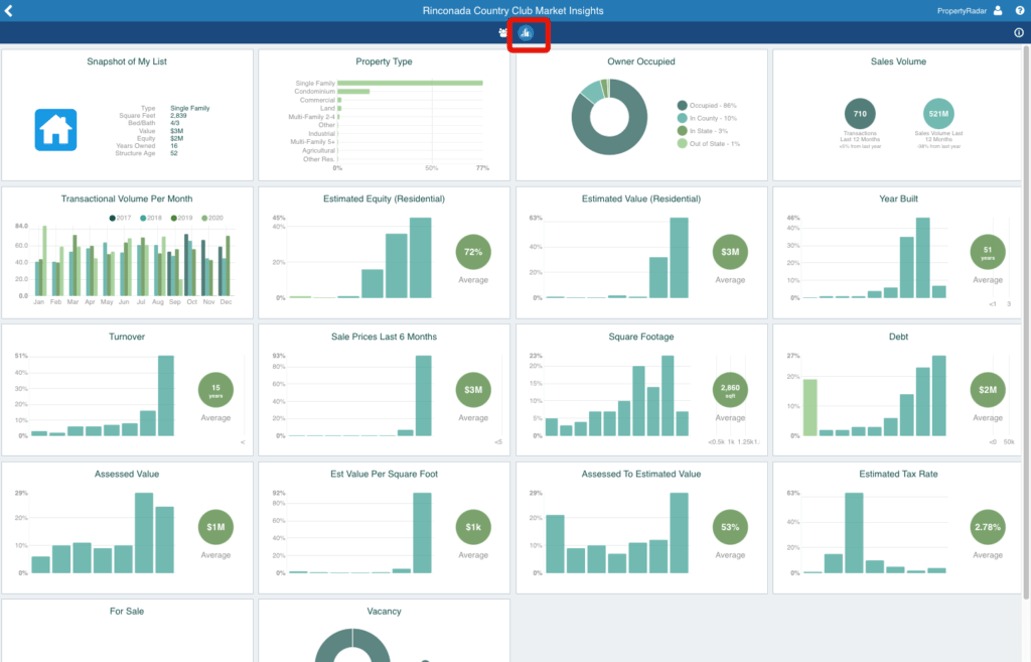 Between the criteria you select to build your lists and the deep insights you get for every list you'll have more information and data about your audience that you could never find using the industry's typical 'flat-file' approach.
With this new powerful data at the ready, writing tailored cold calling scripts, craft compelling marketing messaging for mailers, and designing eye-catching personalized creative assets will be easier than ever.
Autofill Klenty with High-Quality Leads
Imagine logging into Klenty and seeing you have new, high-quality leads waiting for you to reach out. Seem like a dream? It's not. Integrate PropertyRadar with Klenty and that's exactly what you can expect.
That's because PropertyRadar's dynamic mailing list can update themselves with new leads when prospects match criteria you set for a list.
There are hundreds of thousands of life events occurring every day. PropertyRadar processes those daily events, aka – data, and delivers them to our customers, giving them faster access to new data every day.
The end result is the ability to alert you quickly to the best new opportunities, and to automate actions against those opportunities for you. No one else in the industry offers anything close to this capability.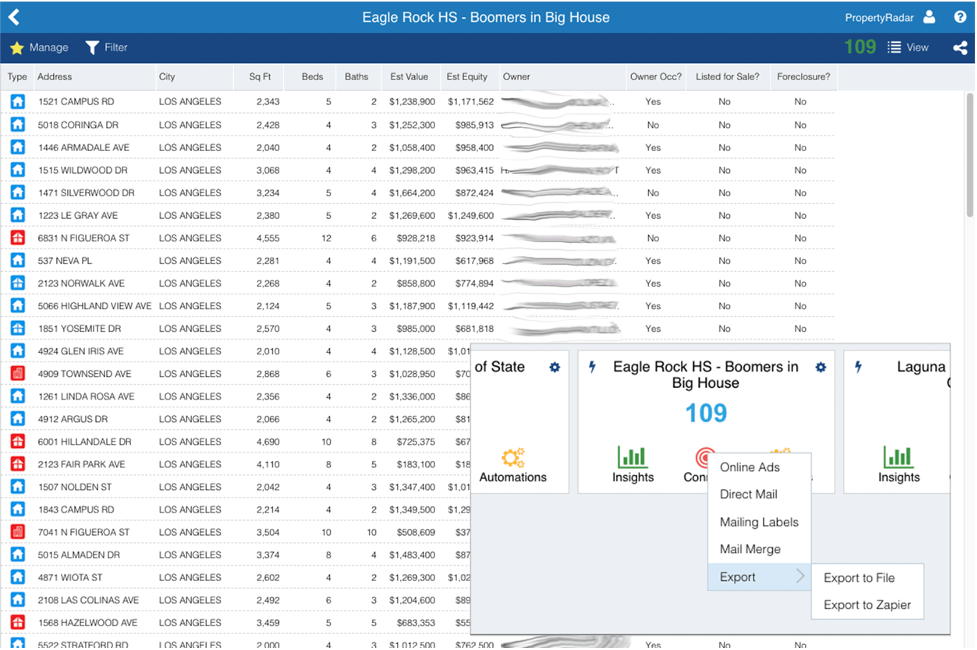 PropertyRadar makes keeping Klenty continually and persistently full with new, high-quality leads possible.
Klenty Integration with PropertyRadar Use Cases
Use Case #1: Home Services
For high-ticket home services business, your ability to zero in on your target market defines your ability to grow. PropertyRadar completely re-shapes how you go about prospecting and sales, acting like a boost of adrenaline to your sales processes.
There are certain traits that make some homes a better prospect than others when it comes to home services. For instance, a recently purchased home might be a good leading indicator of someone in need of your services. Prospects in higher-income areas may provide larger opportunities. Or perhaps, homeowners with lots of equity may be more likely to invest in home updates or upgrades.
Examples of criteria you might select to zero in on your ideal prospects for your home services business include:
New homeowner (purchased in last 30 days)
50%+ equity
2,500+ square feet
No HVAC system
Includes pool
Large lot
More
If your business is HVAC, you're targeting homeowners of properties without HVAC systems. First step is identifying homes without HVAC systems. In this case, we'll navigate to Criteria> Property > Characteristics and select HVAC where we can then select 'Yes' or 'No' as to whether a property has a heating, ventilation, or air conditioning system.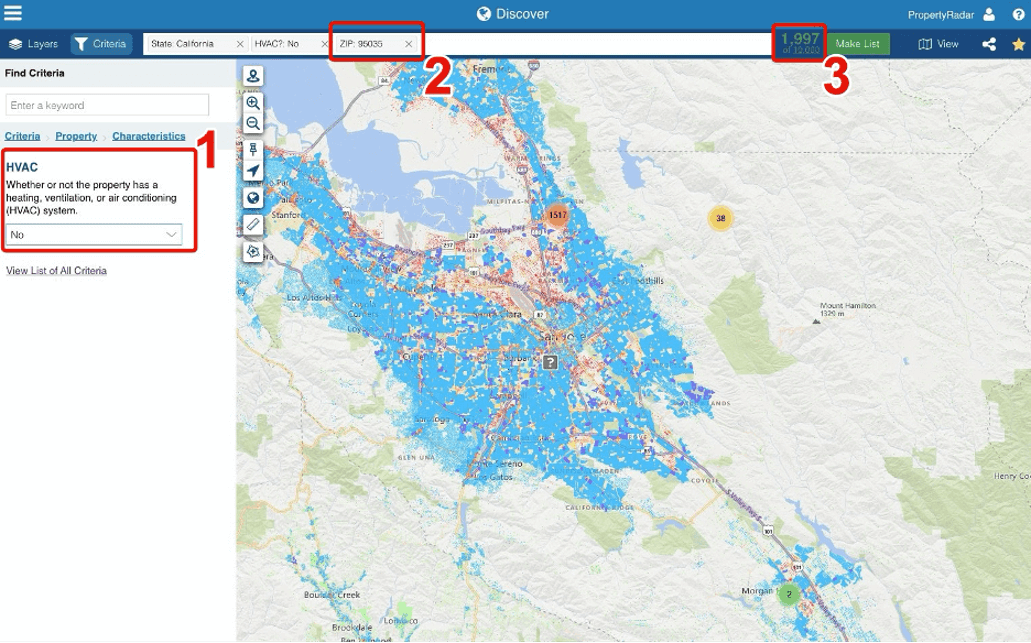 Using the ZIP code of95035 for Milpitas, CA, we discover 1,997 homes in this ZIP code that do not have an HVAC system and might be receptive to installing one. Add additional criteria like 40% or more equity and now your chances of selling your services just improved.
Conversely, you can identify homes that do have HVAC systems and would likely be open to your maintenance and repair services. The possibilities are endless.
Use Case #2: Real Estate Agents
For real estate agents, a consistent flow of new leads into your Klenty systems is critical for connecting with new clients and helping them find the property they've been searching for. But keeping your Klenty CRM filled with new leads is a full-time job, and buying third-party lists can, well, you know.
As a professional real estate agent, you'll be interested in criteria, like:
Specific geographic areas
Just listed properties
Just sold properties
Absentee owners
Free & clear owners
Cash buyers
more
Using PropertyRadar's Quick Lists, real estate agents can quickly generate prospect lists to get off to a fast start. It's not a magic 'Easy Button', but if you're a motivated professional with a message that converts, tapping into PropertyRadar could be like striking gold.
Here's an example. Using the PropertyRadar polygon drawing tool, select a specific market to target, isolating specific neighborhoods you want to farm.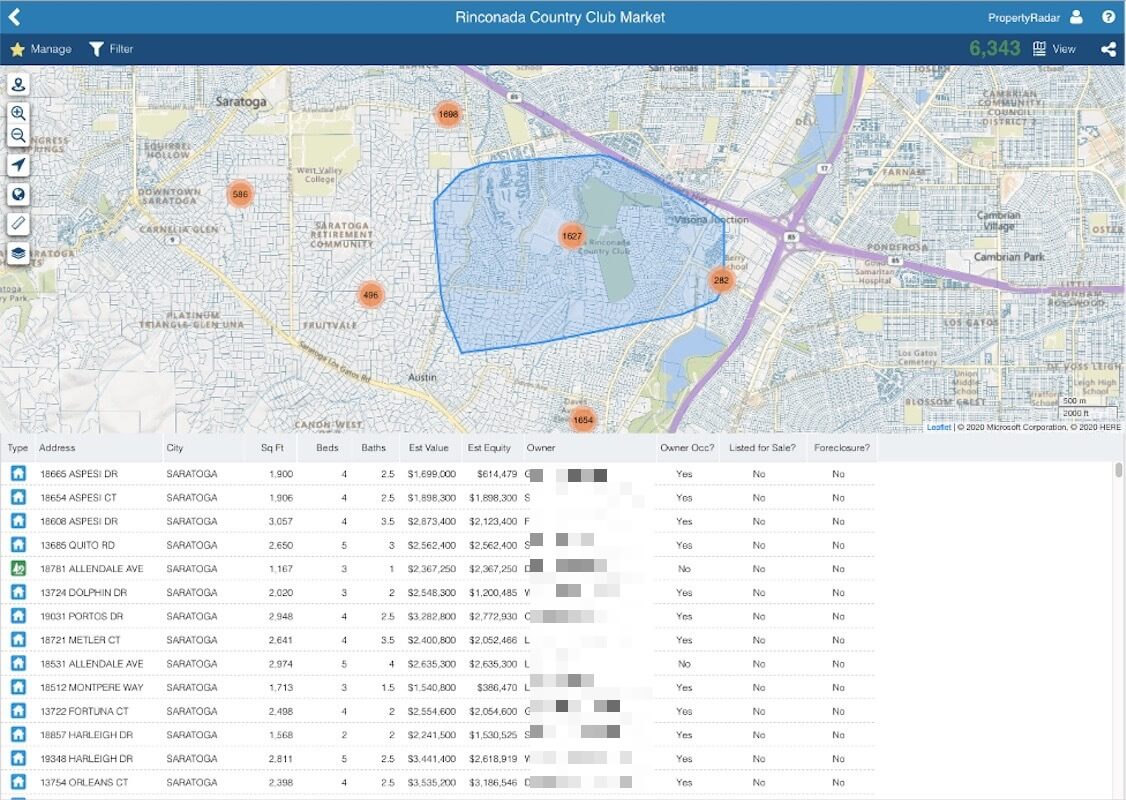 With hyper-targeted prospect lists, keeping Klenty filled with high-quality leads for you and your sales reps to follow-up on and close more deals is more possible than ever.
Use Case #3: Real Estate Investors
Whether you invest in commercial or residential properties, the PropertyRadar and Klenty integration is an invaluable tool to help you identify more opportunities in your target area.
Some example criteria that you could select includes:
Property value or equity
Absentee owners
Vacant properties
Estimated return on investment (for property owners)
Mortgage status
A Recent change in ownership
Pre-foreclosures
Foreclosures
Death of joint tenant
More
Let's say you are a professional real estate investor and absentee owners happen to be one of your target audiences. Here's an example of what that would look like for you with the added criteria:
Location – Washington, US
Absentee owner – lives in a different county than the property
Age – 60y/o+
Equity – 40%+
2,000+ sqft
PropertyRadar generates a list of all of the properties that meet your specifications for being a good investment opportunity.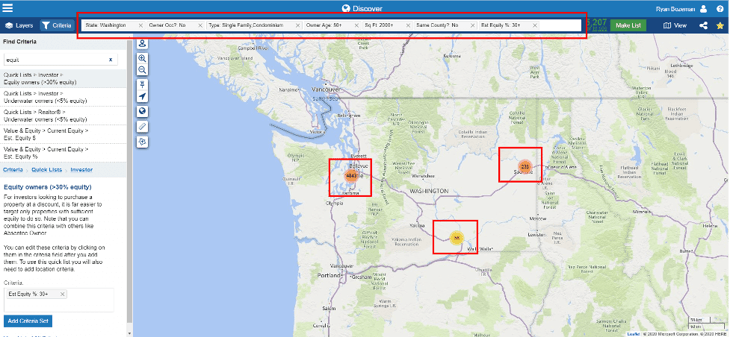 Using PropertyRadar and Klenty integration ensures not only that you are targeting the right prospects, but also engaging with them in the most effective way. The automation and process streamlining offered by Klenty make it ideal for sales teams, while PropertyRadar ensures that Klenty is always ready to go with new leads.
How to Integrate Klenty with PropertyRadar using Zapier
Zapier makes setting up your PropertyRadar and Klenty integration easy. That said, if it's your first time setting up a marketing automation workflow, be sure to set aside some time to learn how it works and its handy filtering and formatting features.
Before you begin connecting integrations, we recommend you create a workflow chart to help you understand how the data is shared between the two platforms. Here is an example of a workflow chart that you might see for PropertyRadar and Klenty integration: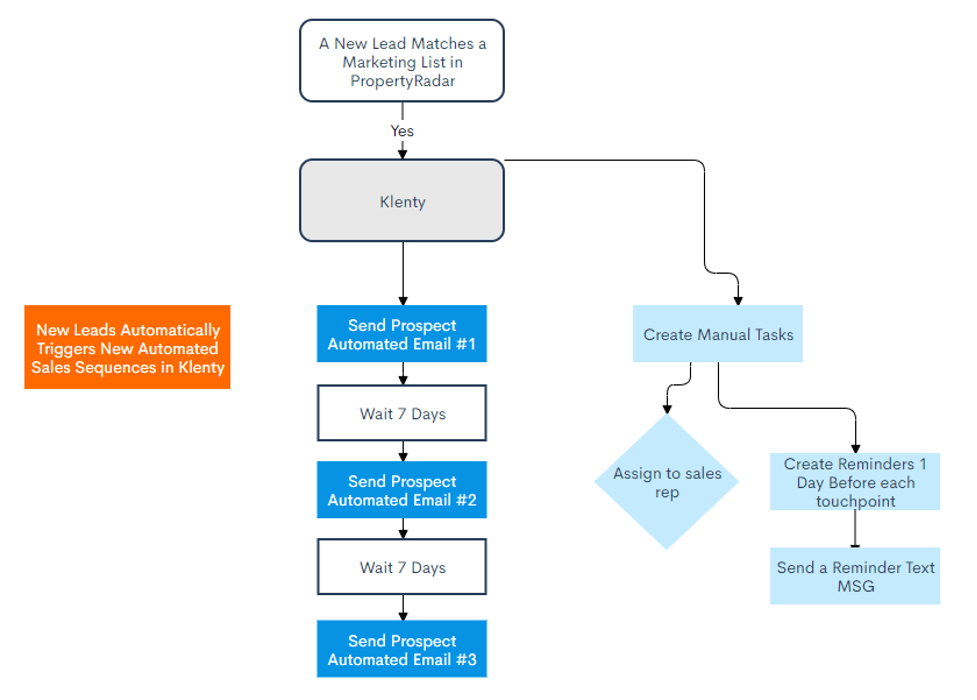 You can always make changes to your connections if you want. Nothing is set in stone.
A simple workflow diagram like this helps you visualize the communication that needs to take place between the two platforms. Thereby giving you a clear picture of where you need to make the data connections. A little upfront planning makes the setup process much easier.
For video tutorials and more detailed instructions about how to automate marketing using Zapier integrations with PropertyRadar, visit this article here.
Automating the boring, time-consuming tasks of the marketing process, freeing you up to close in on higher-quality leads is a game-changer. In a year, maybe even months, you will save hundreds of hours (and who knows how much money) on prospecting and lead generation with the PropertyRadar and Klenty integration.
Conclusion - New Klenty Integration with PropertyRadar is a Perfect Match
Klenty is the industry standard when it comes to sales team performance and CRM software. By integrating Klenty with PropertyRadar, you can automate prospecting and ensure that your sales team always has a full list of high-quality prospects to begin connecting with, helping them to close more deals.
‍