Get Paid

When You Share PropertyRadar
Join PropertyRadar's Real Estate Affiliate Program and add an additional income stream to your business. You'll earn monthly recurring revenue by sharing PropertyRadar with your network. So apply today and become a trusted industry voice while earning extra every month!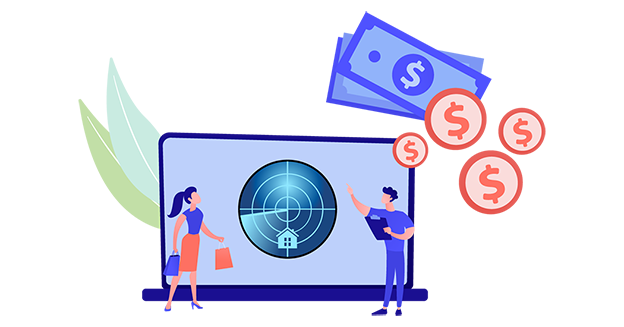 Maximize
Your
Earning Potential

With our clear and straightforward structure, your earning potential grows as you refer more and more people. Whether you're a seasoned affiliate marketer or just getting started, our program is designed to reward your efforts and help you reach success.

Submit your application. Once approved you will receive a custom link that can be placed on any platform you wish. You will have access to a personal dashboard to track your earnings, submit referrals and download marketing materials.
Use your custom link to share PropertyRadar with your network of real estate professionals. You'll earn a share of the revenue for every qualifying customer you refer. A 90 day tracking cookie is placed on anyone who clicks your link - so if someone leaves and comes back to the site later to sign up, it will still be credited to you.
You can view your referrals and earnings via your partner dashboard. Payouts are automated via PayPal every month.
Recurring Commission
You'll earn a monthly recurring commission for every new customer you refer. With our tiered structure, the more customers you refer, the more commission you make!
90-Day Tracking Cookie
We track referrals using cookies via your affiliate link. This stays on your referral's browser for 90 days so you can get the sale even if they don't commit right away.
Free Marketing Materials
We provide you with logos, banners, copy and more to help you promote PropertyRadar. Need something particular? We're happy to help figure out the best materials needed for you to optimize your referrals.
Dedicated Affiliate Manager
Have questions about your tracking link? Dashboard? Payments? As a partner, you'll have access to a (real life) dedicated partner manager who is just an email away.
Co-Marketing Opportunities
Opportunities for co-marketing include PropertyRadar's blog, podcast, email campaigns, strategic partnerships, and more.
*Commission for one individual sale is recurring for 12 months
Who Are Our Partners?
PropertyRadar sets you and your clients up with a trusted and customizable solution to grow your businesses.
Coaching & Training Providers
Complimentary Software & Services
Brokers & Real Estate Brands
Home & Property Services
Marketing Agencies
Frequently Asked Questions
What happens after I sign up?
Once you sign up, you'll receive an email with a link to sign into your dashboard. Be sure to save this link. Once signed in, you'll need to select the payment method of PayPal. (If you do not have a PayPal account, click here to set one up.)
What do I need to be successful in making referrals?
The most successful partners will have an established community of followers, subscribers or clients who are in alignment with the real estate industry and PropertyRadar. They also engage with their community on a regular basis.
Can I customize my referral link?
Yes. You can change your default link name on your dashboard.
Can I sign up using my own referral link?
No. Self-referrals are strictly prohibited. The aim of the program is to encourage partners to spread the word about PropertyRadar, not to get discounts.
My friend/client signed up without using the referral link. What can I do?
What's the referral cookie life?
The referral cookie life is 90 days. If a user purchases the product after 90 days since the first referred visit, the conversion won't be tracked anymore.
When will I get paid?
Payouts are on the 15th of every month and are issued for all referred active subscriptions older than 31 days. There is a $100 minimum balance to reach before you are paid. If you have not accumulated $100 in commissions, any unpaid commission will be held until you accumulate $100, at which time it will be paid out.
Why is there a payout minimum?
Our system works on a minimum payout threshold of $100. If you would prefer a larger bulk payout, please reach out and let us know.
How can I get paid if I don't have a PayPal account?
Sorry, we only pay out commissions through PayPal. If you do not have a PayPal account, click here to set one up.
Become A PropertyRadar Affiliate Partner Today