Field sales software and apps for home and property services businesses come in many forms and names, such as mobile CRM, or door-to-door (D2D), and driving for dollars (D4D). Mobility, versatility, and access to property data and owner information are critical components to any field sales software.
However, home and property professionals struggle with traditional CRMs because they are not property-centric. The time and effort to create and customize fields, import all property and owner data leads, and then organize those leads into efficient routes is overwhelming, if not impossible. And keeping everything up-to-date? Impossible.
The problem is, you never know when an opportunity will present itself. If you don't anticipate unexpected opportunities, you end up scratching out notes to follow up and do research on later. This often leads to missed opportunities or worse, wasted time and money chasing unqualified leads.
That's why the ability to instantly qualify or disqualify a potential opportunity while in the field is a key component that any home or property services professional must consider when evaluating field sales software.
In this post, we'll cover:
What Is Field Sales Software?
Field sales software gives outside sales reps the ability to effectively manage their time in the field, as well as manage their prospects, leads, and customer data. Instead of stacks of notebooks, maps, pens & pencils, binders, spreadsheets, and who knows what else, field sales software replaces all of that.
Given that there are a number of tasks, activities, and responsibilities that outside sales reps have to manage, there are equally as many field sales apps available to choose from. So how do you choose?
How To Choose The Right Field Sales Software For Home & Property Services Professionals
When it comes to evaluating field sales software to power your business, home and property services businesses tend to make their decision based on the following factors:
Mobility – features and data available in the field from mobile app
Versatility – ability to modify and integrate
Access – to critical data about potential customers
Any field sales rep will tell you that at the end of the day, it's about selling and closing deals. So, when you consider that most sales reps spend just about a third of their time actually selling, the first and most important question to ask yourself is, what field sales software is gonna help me find more quality leads so I can close more deals?
That's where PropertyRadar sets itself apart from traditional field sales software. Whether at home making lists of high-quality leads to reach out to or in the field qualifying unexpected opportunities on the spot, PropertyRadar helps ensure you and your team have a productive day in the field.
Improve Field Sales Productivity Before You Head Out
As a sales professional, you know success is about generating more leads and closing more deals – efficiently. That's why making sure the prospects you meet with are worth your time is so important. Because meeting with 3 prospects who are highly likely to want or need what you offer is more valuable than meeting with 20 who would likely have little or no interest.
So, how do you make sure the list of prospects you're meeting with are prospects most likely to want what you're offering? By using PropertyRadar.
With comprehensive data on millions of properties and property owners, PropertyRadar has over 200 filtering criteria for you to use to drill down and find only those prospects who are most likely to want what you offer.
Even better, you can build as many prospecting lists as you need. Segment your prospecting lists by the quality of leads, by location, by potential value, and more. Knowing the quality or type of prospects that make up a specific list lets you adjust your messaging and effort accordingly.
Using Quick Lists – Prebuilt Prospecting Lists
All of your future customers are in PropertyRadar. But with so much data at your fingertips, it's hard to know where to start. That's why we created Quick Lists.
Quick Lists are pre-built lists with predefined criteria. All you need to do is add the area you're targeting and you're good to go. Quick Lists were specifically designed to help you hit the ground running until you get used to managing all the data.
Here are a few examples of Quick Lists you'll find in PropertyRadar: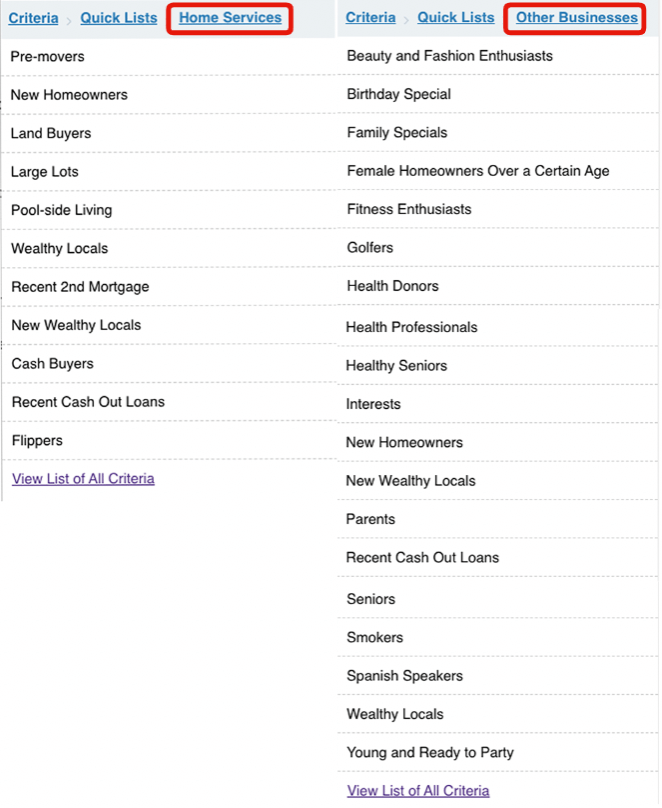 Examples of High-Value Prospect Lists for:
Roofing Companies
There are a number of ways to identify whether a particular homeowner is ready for a new roof or not. Let's start with the Quick List, NEW Wealthy Locals. Simply add your location criteria and you're done. In this case, we'll add the ZIP code of 95035 – Milpitas, CA.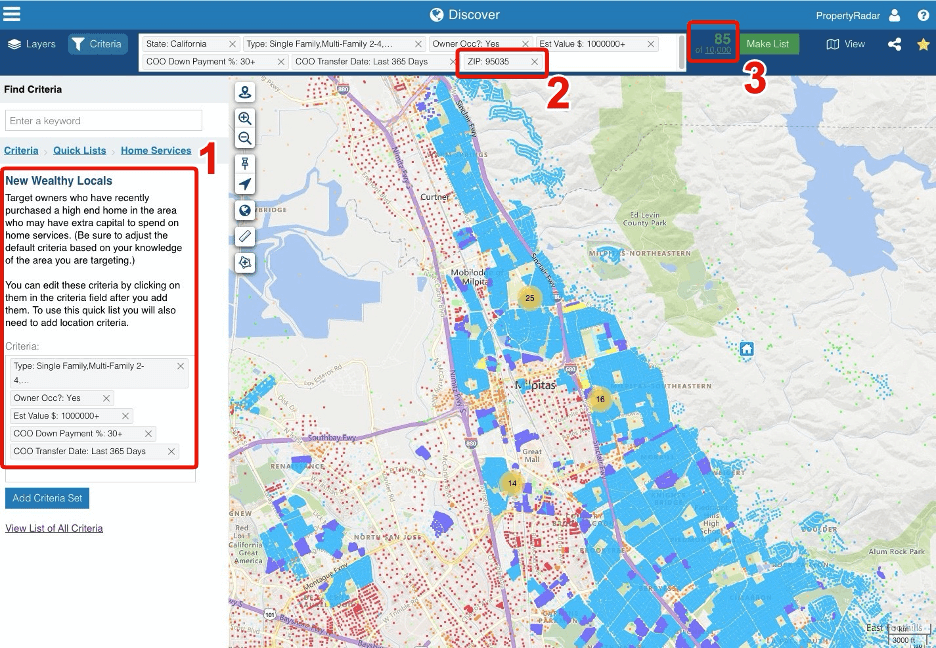 Based on these criteria, we've identified 85 property owners who've, in the past year purchased a $1-Million home with 30% down. These 85 prospects likely want, and can afford, to protect their investment with a nice new roof, making them quality roofing leads.
Landscaping Services
Homeowners with large lots are great prospects for landscaping services. In this example, we'll look at a Quick List for Large Lots with the same ZIP code of 95035 – Milpitas, CA.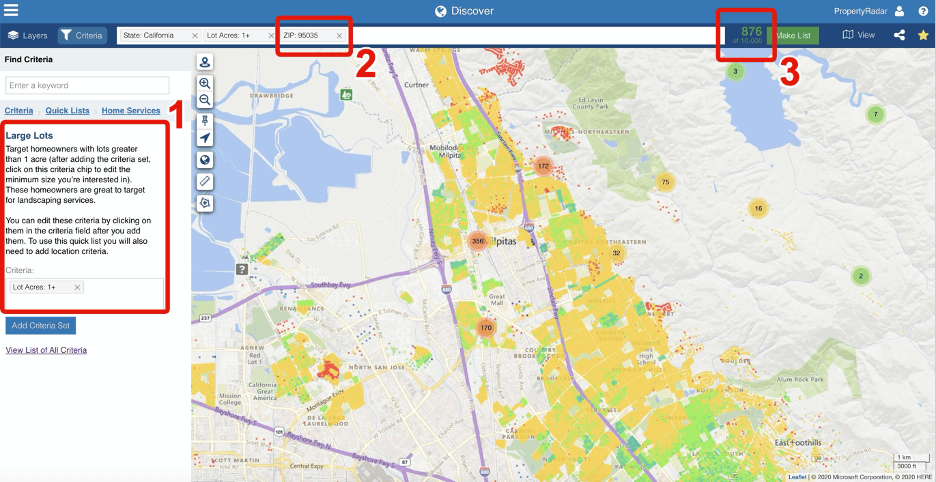 Based on these criteria, we've identified 876 property owners with large lots. Maybe you want to further qualify these prospects by targeting older homeowners who are 60+ years old. Simply add the age criteria to further refine your list until you get what you're looking for.
HVAC Install/Repair
If your business is HVAC, you're targeting homeowners of properties without HVAC systems. First step is identifying homes without HVAC systems. Fortunately, PropertyRadar makes it easy to identify those homes. In this case, we'll navigate to Criteria > Property > Characteristics and select HVAC where we can then select 'Yes' or 'No' to whether a property has a heating, ventilation, or air conditioning system.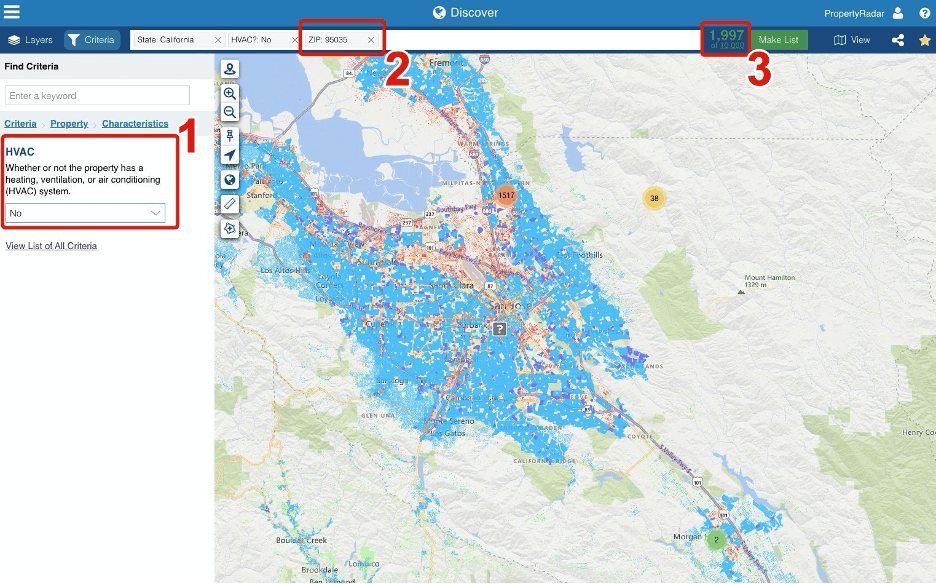 Using the same ZIP code of 95035 for Milpitas,CA, we discover 1,997 homes in this ZIP code that do not have an HVAC system. Conversely, you can identify homes that do have HVAC systems and would likely be open to your maintenance and repair services.
Creating your lists for each of the examples above is as simple as clicking the big green button at the top right corner of the screen that says 'Make List' – it's as easy as that.
Get Deep Insights with Every Prospect List
Each list you create generates obvious and not-so-obvious insights about the properties and property owners on that list. With deeper, better insights, you'll be better prepared to talk and connect with prospects.
Owner Insights
Each list has Owner Insights, where you get a snapshot overview of the owners on your list as well as a visual representation of the following owner details:
Snapshot (overview) of your list
Owner Type
Gender
Age
Education Level
Marital Status
Ethnicity
Interests
More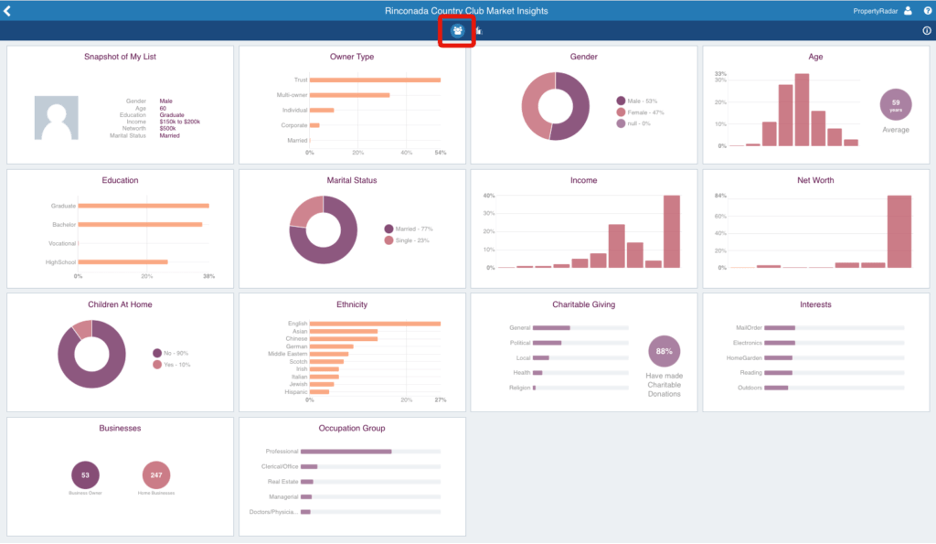 Property Insights
And each list has Property Insights, where you get a snapshot overview of the properties on your list as well as a visual representation of the following property details:
Property type
Owner occupied
Transaction volume per month
Estimated equity
Assessed value
Estimated tax rate
More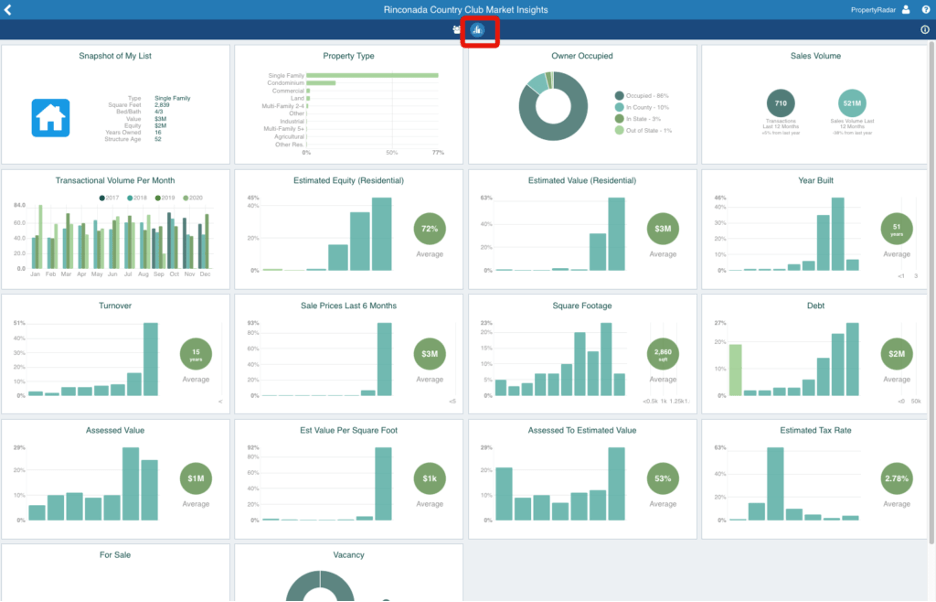 With more information and better information about your prospects at your fingertips, the better opportunity you have to craft a compelling sales pitch that can turn cold leads hot, or better yet, can close deals.
Once you've created your various prospecting lists, it's time for you and your team to head out into the field. And as with any effective field sales software, PropertyRadar improves your efficiency and increases your productivity out in the field.
Optimize Your Driving Routes for Efficiency
With your various mailing lists at the ready, you can now set optimal driving routes using PropertyRadar's GPS mapping feature. Select the list you want to drive for the day, print out your route and you're ready to go.
As you drive your targeted neighborhoods, you can use the Layers feature to access dozens of heatmaps to better understand the properties and neighborhoods you're visiting.
Watch this video to see the power of PropertyRadar's mobile features:
Qualify Leads in The Field In Seconds
Conduct Property & Owner Research In Seconds
You never know when opportunity will knock. With field sales software like PropertyRadar, you can find and review critical details about a property and property owner in seconds to make sure the opportunity is the right one for you.
For example, if you're a roofer and you spot a shoddy roof, before you go knock on the door or leave a postcard at the door, it would be helpful to know if the property is owner-occupied or not. No point in wasting your time talking to a renter, right?
A quick scan on the PropertyRadar mobile app will instantly show you if the property is owner occupied or not.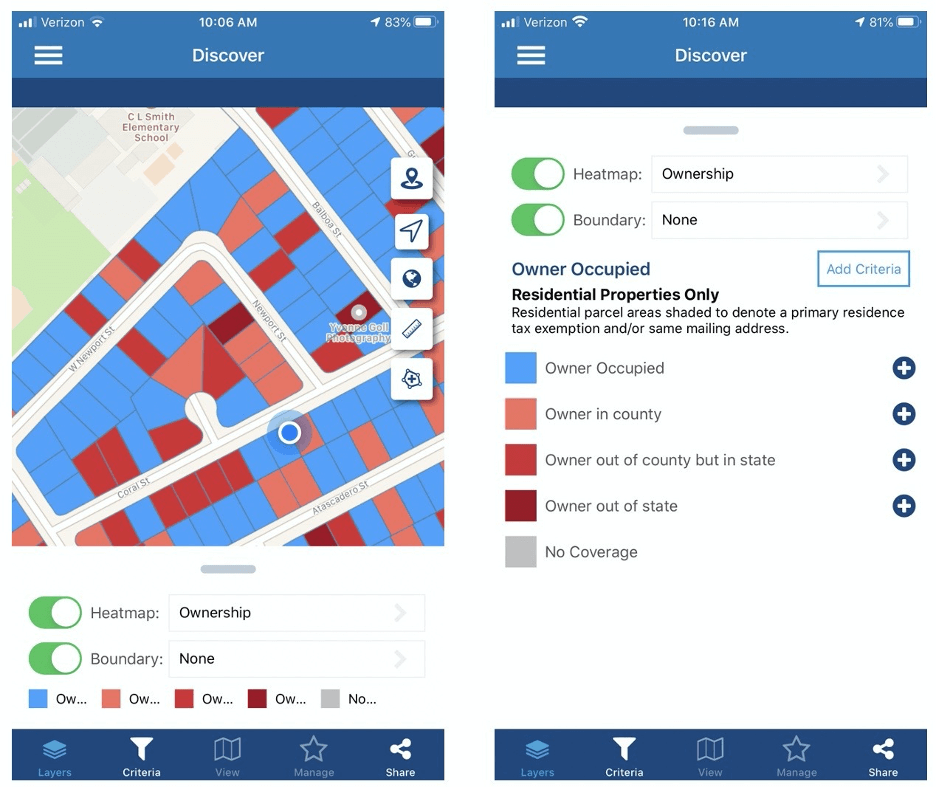 Now you know if door knocking or leaving a postcard is a good idea or if you'd be better off sending a mailer to the owner who happens to live out of state.
And you can further qualify your leads by adding additional criteria. Maybe you only want to pursue owners with more than 20% equity. Or only owners who are under 60 years old or older. The possibilities are practically endless.
The point is, if field sales software is about making you more efficient and productive while out in the field, PropertyRadar makes it happen. What better way to be efficient than by qualifying a prospect in seconds right from your truck? What better way to be productive than by targeting only prospects who are most likely to buy what you're offering?
Quickly Capture Lead Details
When you're out in the field meeting with prospective customers or stopping to assess a potential opportunity, it's important to have the ability to capture some details to dive deeper into at a later time. Scribbling notes down on a piece of paper or napkin isn't going to cut it – not if you're a professional, anyway.
With the PropertyRadar mobile app in hand, capturing important details for further review and organization by your or your team at a later time is easy and convenient.
Take Notes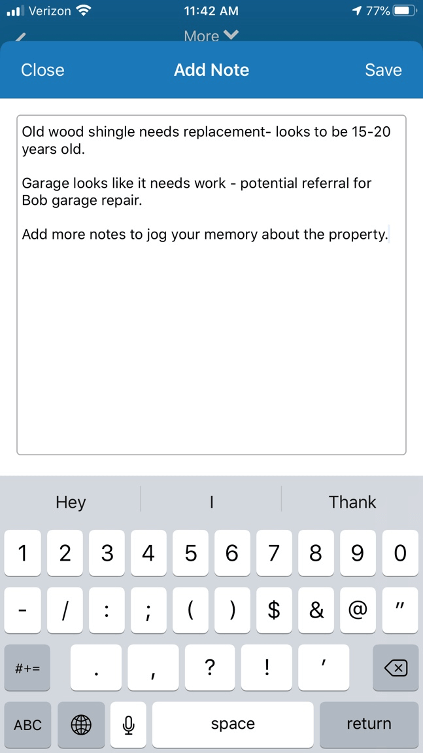 Add Pictures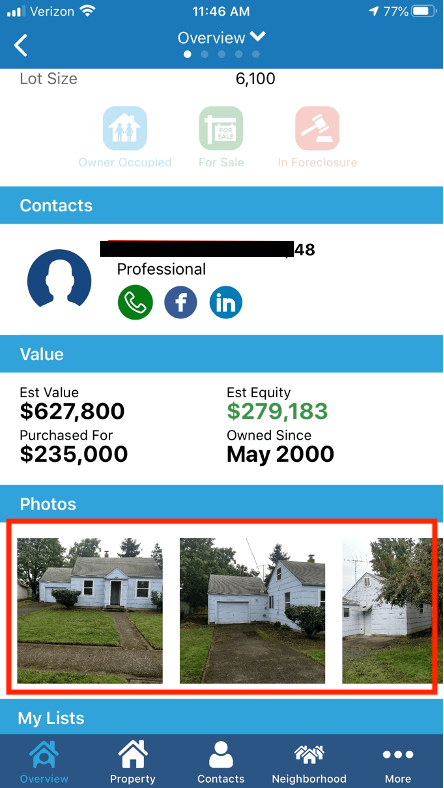 Set Status Updates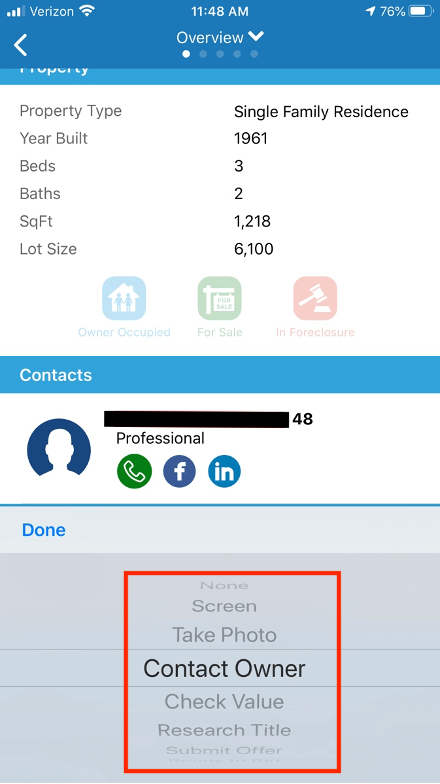 View Comps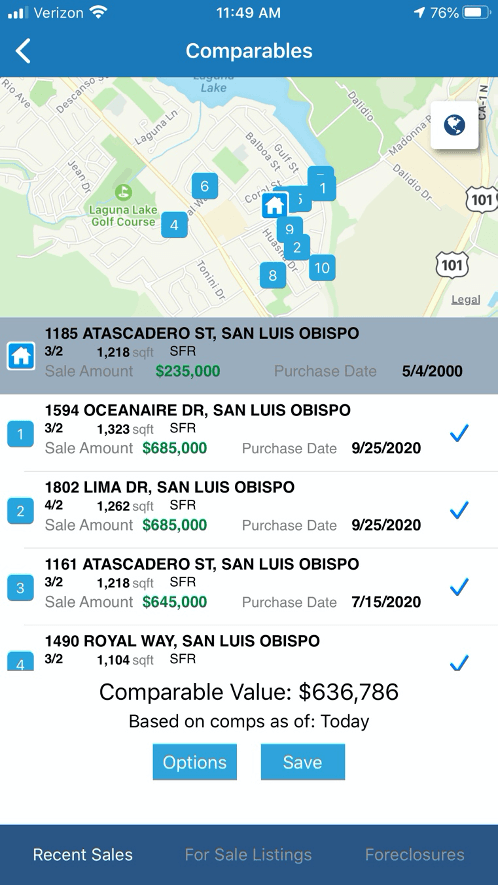 You can also conduct an investment analysis, do a preliminary title search, view transaction history, and much more, all right from your phone.
Automate Marketing Follow Up
What's the most important step you can take towards closing a deal – it's the next one. That's why automating your marketing outreach is critical. It helps you automatically take that next step.
Whether your first action connecting with a prospect out in the field is making face-to-face contact, leaving a postcard behind, or simply capturing their contact details, the most important next step is whatever you've deemed to be the most appropriate one.
The next step might be sending direct mail like a postcard, a letter, a text message, or even a phone call. But whatever it is, marketing automation makes it super simple to follow through on that next step.
There's no better way to ensure you stay top of mind with your prospects than with an effective, multi-channel, multi-touch marketing campaign. Fortunately, PropertyRadar makes it possible and convenient.
That's because PropertyRadar integrates with over 2,000 marketing and productivity apps, services, and software. Build a custom field sales software platform and a custom marketing automation stack that suits your needs.
Everything You Need to Take Immediate Action
Field sales software and apps come in many various forms with various features. But mobility, versatility, and access to comprehensive data on potential customers are key components to any field sales software.
With PropertyRadar as a central part of your field sales software stack, you'll have the ability to
discover new opportunities and leads
build unlimited prospecting lists with deep insights for each list
optimize your driving routes for maximum efficiency
qualify and disqualify prospects in the field
capture details for new leads while on the go
automate your marketing outreach
Tap into the power of PropertyRadar's field sales software capabilities by signing up for your free trial today.