Finding enough quality roofing leads to turn into roofing sales to keep your fleet busy is a constant challenge. And regardless of how full your pipeline is today, an empty pipeline 'tomorrow' always feels like it's right around the corner.
That's why when it comes to generating new roofing leads consistently, you can never have too many irons in the fire. And that's precisely what we're going to cover today.
In this post, we'll cover:
5 Ways to Generate Roofing Leads
1. Inbound Marketing
Inbound marketing is a passive way to get both residential and commercial roofing leads. While 'inbound' sounded nice at first, you quickly realized that building a website isn't like building the field of dreams – just because you build it, doesn't mean roofing leads will come.
After you built your website, you had to find ways to drive potential customers to your site. You're using search engine optimization (SEO), Google Ad campaigns (PPC), social media marketing, and email marketing with the hope that at least 2 or 3 out of every 100 website visitors decide they like you enough to call or fill out your form.
In the meantime, while you're passively waiting for new roofing leads to find you, who knows how many of them are contacting your competitors.
It takes a lot of time, money, and effort to make inbound marketing work. And even when it is working, you feel like it could always be working better. But be that as it may, you still need that 'iron in the fire'.
2. Directory Websites
Directory websites offer another means to generating leads, but they too are a passive approach to getting roofing leads. In fact, you're actually adding an obstacle for potential leads to get to you. You're competing with your competitors on those sites for the attention of potential leads, and that's not great.
The big sites like HomeAdvisor, Angie's List, Thumbtack, RoofingContractor, and others are where the eyeballs go. And if you want to get found on those sites, you typically have to pay to play, which means paying anywhere from $20/month to $1,000s/month.
You also have to consider your customer reviews. As you well know, you can have a thousand satisfied customers, but it only takes one to damage your brand's reputation.
Ultimately, you have to decide if the cost-benefit of having this iron in the fire is worth it.
3. Referrals
It goes without saying that referrals can be your best form of roofing leads. Anytime word-of-mouth advertising sends someone your way, it's practically a done deal. But yet again, referrals are a passive means to generating roofing leads.
The challenge for many business owners is they don't know how to generate referrals effectively. You have to build a system and a network. And that means building relationships with people, so they know and trust you. And even then, you're still solely relying on someone else to send business your way.
But once you have a system and network in place that will consistently send you referrals, it's another iron in the fire (but one that needs constant stoking).
4. Buy Roofing Lead Lists & Pay Per Leads
Buying mailing lists is a popular method to get more roofing leads. Why? It's a straightforward, direct approach. You have control (kind of).
In theory, you buy the list, make the call, sell your service – get the sale (hopefully).
But there's the small matter of the quality of those lists & leads. How good is the data you're buying (because that's what you're truly buying…is data)? Is the data accurate? Is it fresh and up to date? Some list vendors boast they refresh their data every 90 days – yikes. A lot can change in 3 months!
And what constitutes a "quality" roofing lead? Because how your definition of "quality" can be significantly different than someone else's definition. It's not uncommon for many of these so-called leads to turn out to be tire-kickers. People who are interested, but not right now…they're just checking prices for when they're ready to replace their roof…next year sometime…ugh.
Plus, the cost of lead lists and pay-per-lead methods are on the rise.
So yes, while buying lead lists and paying for roofing leads is a more direct approach, it doesn't necessarily make it a better approach. You can't control the data you're buying, and you often can't define the "quality" of roofing leads you're pursuing. This is why many professionals turn to property data and owner information platforms.
5. Property Data & Owner Info Platform
If you're a motivated professional, you're not afraid to peek under the hood of where many list providers get most, if not all, of their data – public records. That's why for data-driven professionals, advanced property data and owner information software is an absolute must.
Home and property services businesses, like roofing companies, benefit significantly from the continuously updated records and all the advanced functionality that these platforms can provide. More importantly, these platforms give you control and the ability to discover quality leads based on the criteria that make them a "quality" lead for YOU.
Pros:
Ability to mix and match property data, mortgage information, and demographic insights to create hyperlocal mailing lists whenever you like
Explore leads and refine marketing lists based on visual cues and insights
More advanced capabilities include links to social media profiles, skip tracing, emails & phone numbers for appending
Mobile app with GPS functionality, ability to add notes, images, files
Mailing lists that auto-update themselves with new leads (set-it & forget-it prospecting)
Robust integration and automation functionality
More
Cons:
These platforms are not free – usually subscription-based with additional charges for specific record types like documents, emails, and phone numbers.
Not for beginners. These platforms take time to explore and get used to the vast amount of data that's available.
Advanced features like integrations and automation capabilities can be intimidating. Sometimes requires 3rd party support.
Pro Insights – Roofing and other home services professionals are quickly learning that having access to Wall Street-style data and tools are a must to stay competitive. It's far more affordable than it's ever been, and it allows the data-driven pros to focus on what they do best. PropertyRadar often says our ideal client has a CRM system and needs help filling it and keeping it full of high-quality leads.
PropertyRadar accomplishes this by giving you the ability to build unlimited mailing lists using an industry-leading 200+ filtering criteria to target your best customer profile(s). Even better, you can give each dynamic mailing list you build the ability to automatically send a postcard or letter to each new lead that hits your list. Helping you beat your competitors to new opportunities – more on this in a minute.
How to Find Roofing Leads in PropertyRadar
You have many options to find your ideal customers in PropertyRadar. With data on hundreds of millions of properties and property owners and an industry-leading 200+ filtering criteria, finding your ideal customer profiles isn't a problem. The challenge is, with so much data, where do you start? That's where our Quick Lists come in handy.
Watch our video on how to find and build a list of your ideal customers:
‍
But before we get to QuickLists, let's touch on a couple of the basic building blocks to help you start pinpointing both residential and commercial roofing leads in PropertyRadar.
Finding Properties by Location
Finding roofing leads based on your location is easy in PropertyRadar. In fact, it's the most obvious place for you to start; we even have a little '(Start Here)' prompt: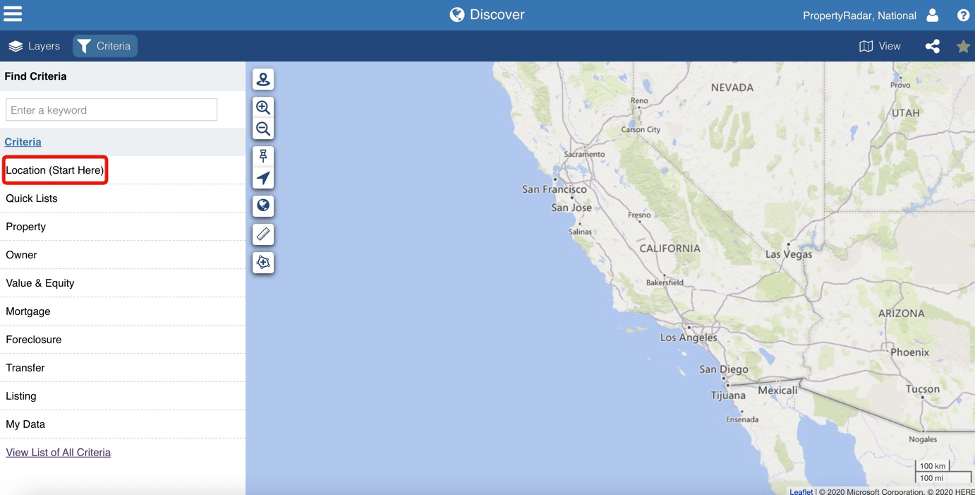 Once you click on Location, you have 3 categories to choose from: Address, Map, and Other.
'Map' lets you visually draw shapes around areas of interest. 'Other' gives you more advanced options to select areas by APN, Subdivision, Tax Rate Area, and more.
Let's use the most common method, Address. Clicking Address presents you numerous options, as shown below: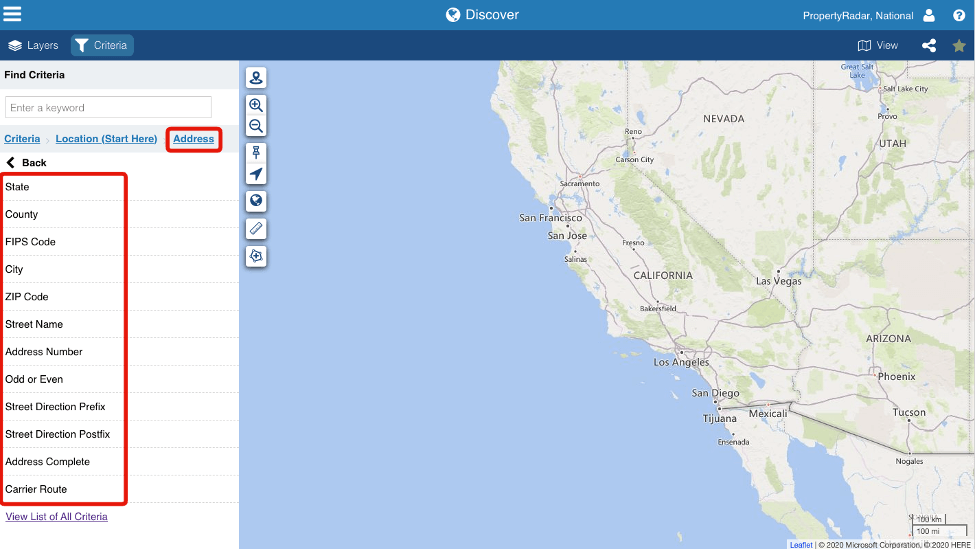 Selecting Zip Code will automatically select the State for you. So, no need to select State, City, Zip Code.
You'll notice that as you type in a zip code, it will automatically populate for you. Simply click on the one you're interested in: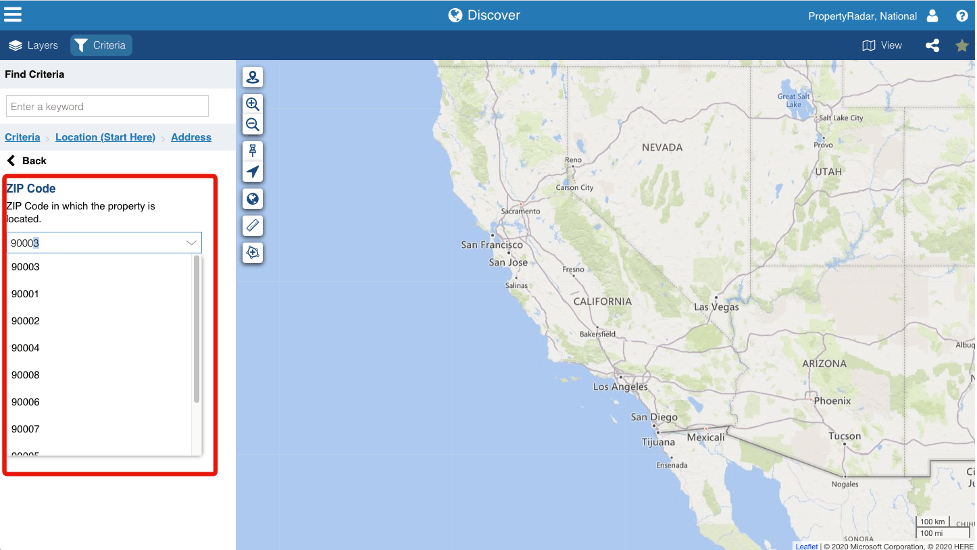 In the image below, you'll see we've selected Zip Code 90001, which turned up 8,661 properties: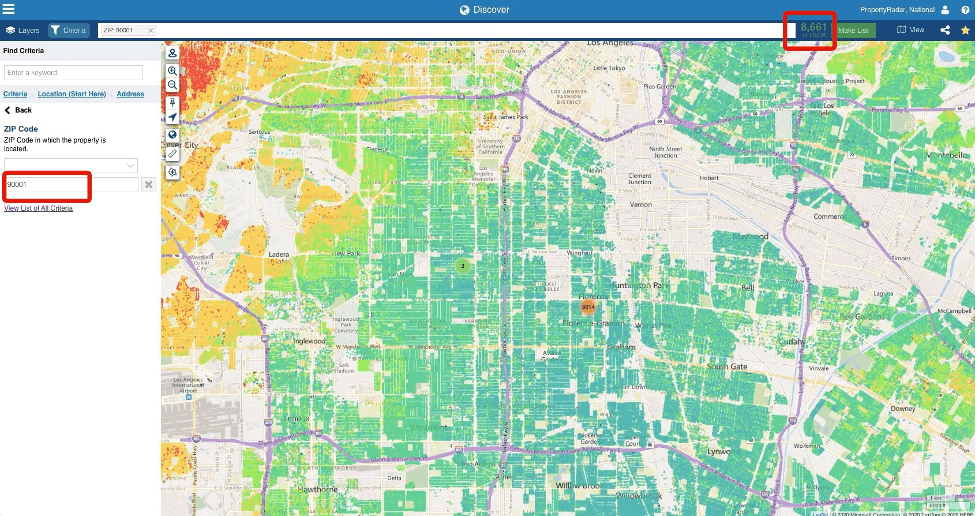 You'll also notice in the image above, we're using a heatmap. In this case, we've selected the heatmap to indicate the 'Value of Residential Properties.' You can set the heatmap to indicate Year Built, Square Footage, Property Type, Equity Amount, Ownership Age, Ownership Type, and a number of other indicators you deem to be important.
The heatmap is especially helpful when you want to visually identify high-end neighborhoods, or properties with specific lot sizes, etc. And using the heatmap on the PropertyRadar mobile app is super handy when you're out in the field. More on that in a minute.
Find Properties By Property Type:
If you specialize in a specific property type, you won't have any problem finding what you're looking for in PropertyRadar. Under Criteria, you'll navigate to Property. Here you'll find 3 options: Site, Structure, and Status.
By selecting Site, you'll find the following options: Basic, Advanced, Lot Size (SqFt & Acres), Zoning, and View Type.
Under Basic is where you'll likely want to start your broad search.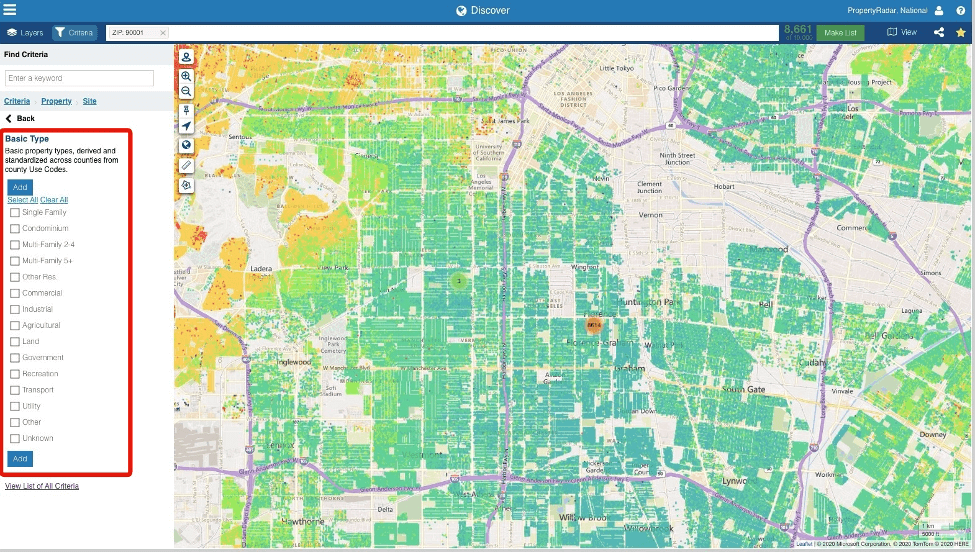 Selecting 'Advanced Type' breaks the Basic type properties down even further. Here, you'll find dozens and dozens of different types of properties to choose from: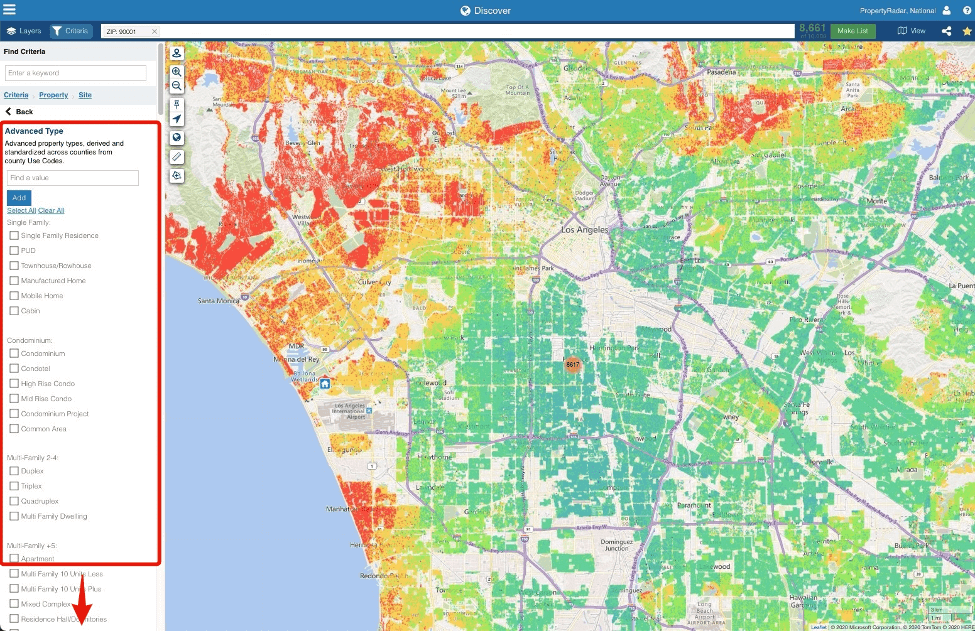 Find Properties by Roof Type:
Perhaps one of the most popular criteria to add to your list when looking to get more Roofing Leads is, of course, the type of roof. To add roof type criteria, you'll navigate to Property > Structure > Roof Type. Once you select Roof Type, you'll discover a list with dozens of roof types to choose from.
Below is a partial list of all the various roof types you can choose from: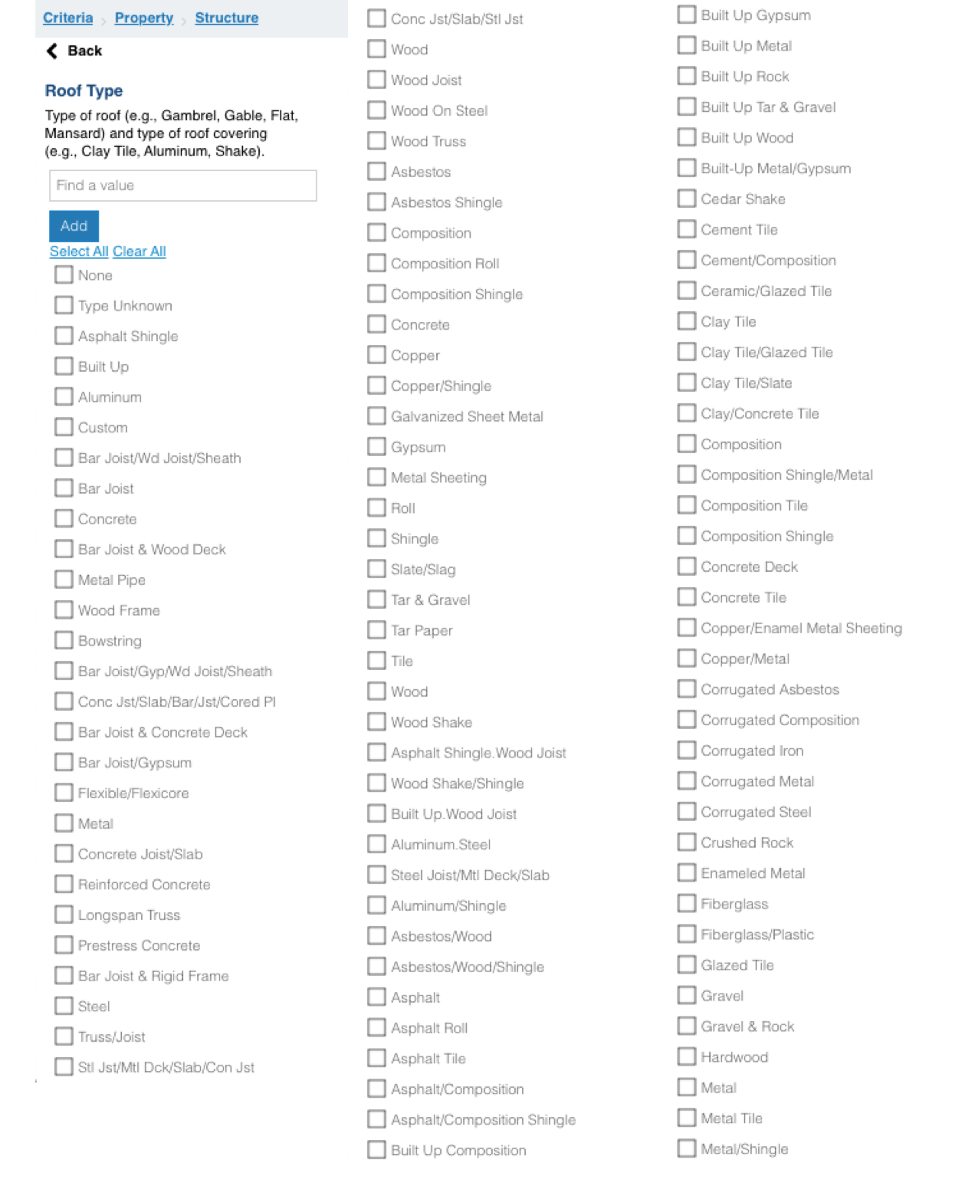 Find Properties by Structure Characteristics:
Roofing leads come in all shapes and sizes…so to speak. You may have a preference to target properties over a certain age, size, or both. Adding those criteria and others is not a problem in PropertyRadar.
Navigating to Property> Structure, you'll find the following criteria (and more) to dial in the properties that make the perfect roofing lead for your business:
Square Footage
Year Built
Age (years)
Stories
Construction Type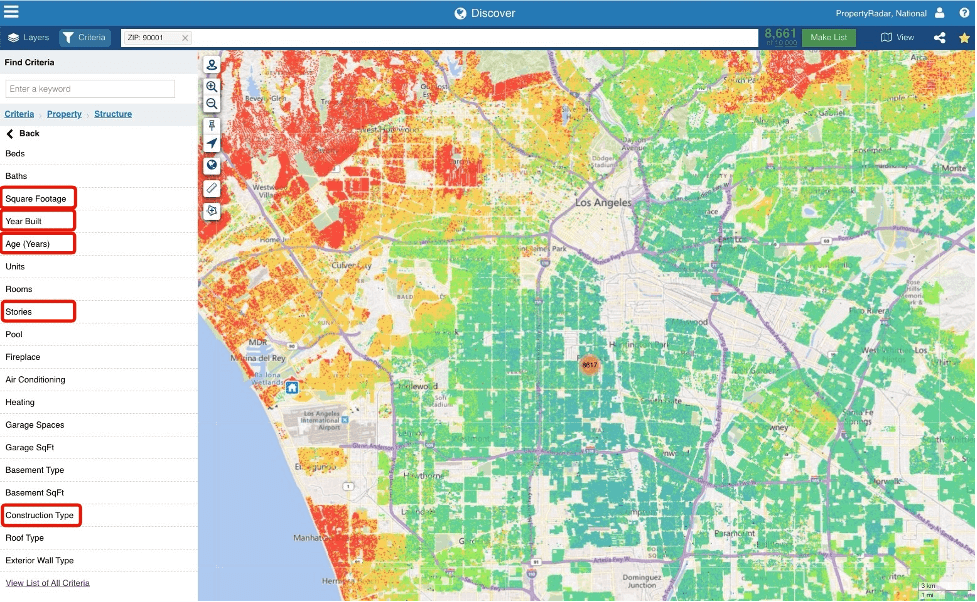 Qualifying Your Leads Using 200+ Criteria
You have specific criteria that you use to determine if a prospect qualifies as a lead worth pursuing. In fact, like most professionals, you probably rate your leads based on project size, urgency, location, and many others.
With PropertyRadar, you can qualify your residential and commercial roofing leads and build multiple lists segmented by properties & property owners based on how many criteria qualify them. In fact, with many of the available criteria, you can find sub-criteria to get even more granular.
Age
Ethnicity
Marital Status
Mailing Address
Education Level
Household Income
Household Networth
Occupation Group
Interests/Hobbies
Property Value
Current Equity
Mortgage Loans
More
Building Your Lists of Targeted Roofing Leads
As a motivated professional, you can't waste time chasing any old property built before 2010 or that is simply over 2,000 sq/ft. You need to qualify leads before spending time and money marketing to them.
For instance, you likely want to know if a property is owner-occupied and if so, does the homeowner have the purchasing power? Both are great criteria to add to qualify your leads. But before we get too far down the road, let's talk about PropertyRadar's Quick Lists.
Quick Lists are prebuilt-built marketing lists that have predefined criteria already built-in for you. So all you have to do is add your area of interest, and you're good to go.
There are dozens of Quick Lists available to help you get started, with many created for home and property services professionals, like roofers.
For example, our Recent Cash-Out Loans – Quick List might be a great starting point for you. This list shows you all homeowners who've taken out an equity line of credit of $20,000+in the last 90 days.
PRO INSIGHT: Want to find homeowners who've cashed out in the last 30 days? No problem. All the tiles in your criteria bar are clickable. Click on the tile you want to modify and adjust accordingly.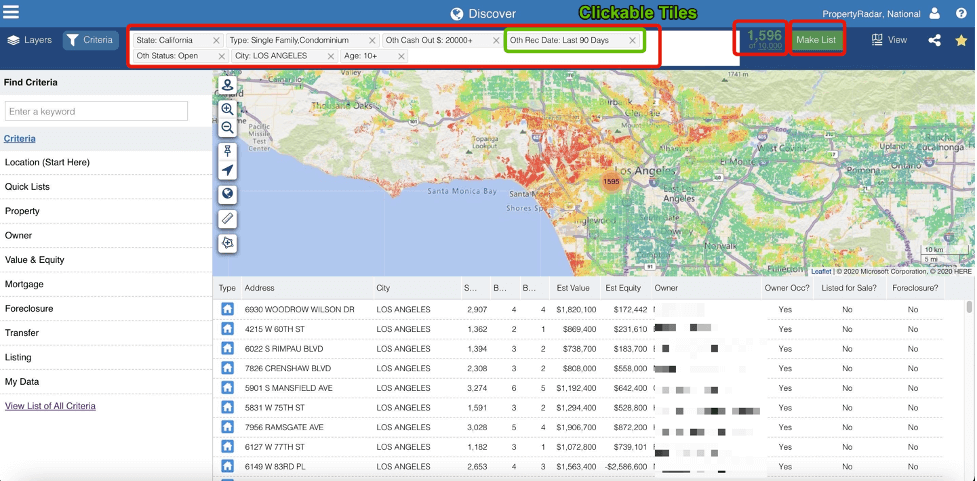 Above you find the results when we use the Quick List, Recent Cash-Out Loans, and add the location criteria, Los Angeles City. Then we added structure age as a criteria: Property Structure, 10+ y/o.
We discover 1,596 properties that match this criteria. We can make this our Master List for this area by clicking the big green button 'Make List' and name it whatever we like.
Once you've built your master list, you can add additional criteria to segment it into smaller lists that are more refined. This gives you the ability to turn a list of roofing leads who might be interested in your services into a list of roofing leads who are highly likely to be interested.
Use Case 1: Wood Shake Shingles
Let's say you want only to target the properties in our master list that have Wood Shake. Copy your master list, navigate to Criteria > Property > Structure > Roof Type and select Wood Shake, click update and this is what you get: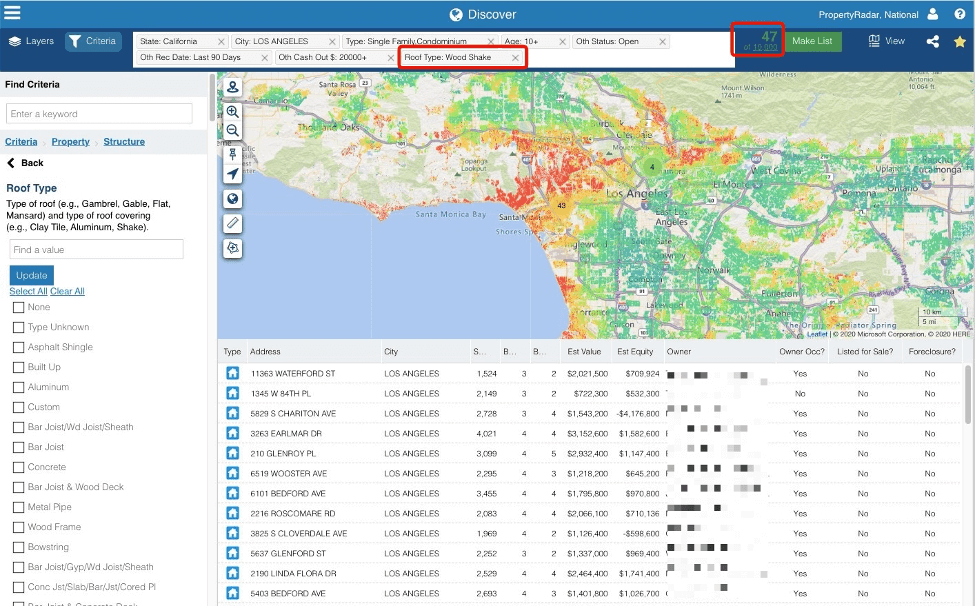 In the example above, we find that by adding the criteria 'Wood Shake' to the existing criteria from the master list, we end up with 47 properties.
Now, when you go to call, send a postcard, or another marketing piece, you can tailor your message about wood shake presenting a fire hazard and how a new roof can boost their home value.
Use Case 2: Pre-Movers
Buying a new home can be a good trigger for investing in a new roof if the previous owners did not replace it. On the other hand, someone who just put their house on the market might need to replace their roof to increase the value or simply sell it.
In the case of finding people who just listed their homes, you can use a Quick List. You'll navigate to Quick List > HomeServices> Pre-movers as shown below: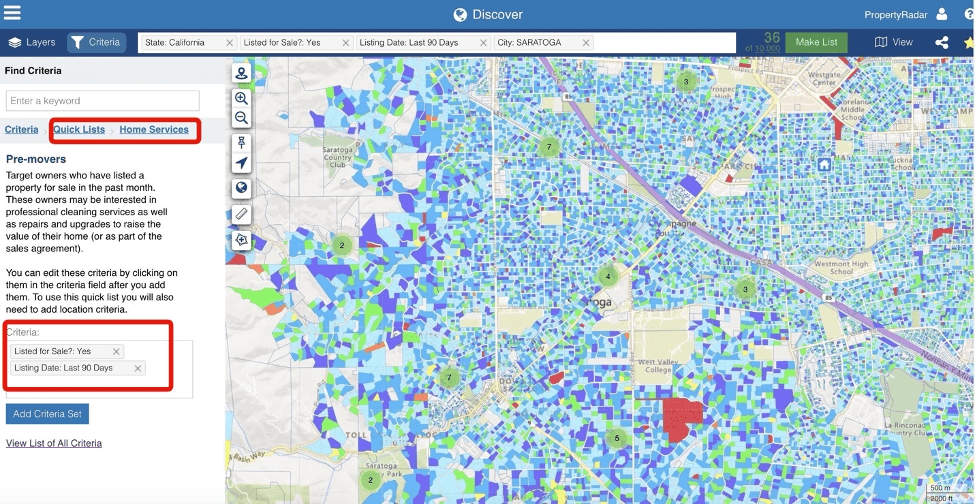 In the case above, we've selected properties listed within the past 90 days. You can, of course, change the number of days to suit your needs.
Use Case 3: Equity
Targeting homeowners with lots of equity in their homes can make a great list or a great building block to a more refined list. In this case, we'll build a list of homeowners with 60% or more equity in Raleigh, NC, specifically ZIP code 97606. This will ensure any homeowners fitting these criteria indeed have the equity to afford a new roof.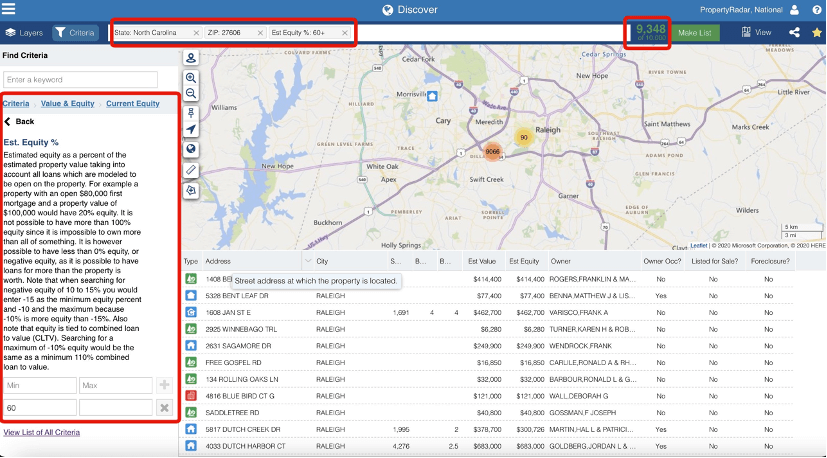 Now, if we want to refine this list, we'll know with certainty that as the list gets more targeted, we'll have the peace of mind knowing that the homeowners can afford the cost of a new roof.
The ability to mix and match your criteria within PropertyRadar to stack your lists and cross-reference them is unlike anything you'll find with any other platform. The versatility to segment and build as many mailing lists as you need is unmatched.
But it only gets better. Because with PropertyRadar, with every list you build, you get insights about your lists that you won't find anywhere else.
Mailing Lists with Comprehensive Insights
With every list you create you get deep insights into the list's profile. You'll better understand the commonalities of a particular list for both the property and property owners. Click 'Insights' on your list: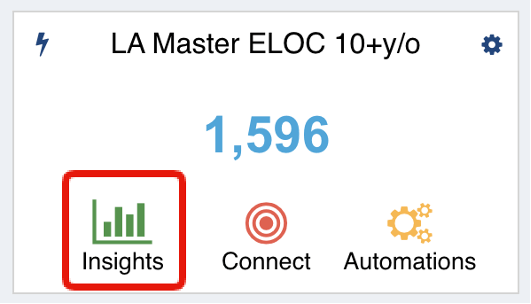 After you click Insights, you'll see obvious and not-so-obvious insights and knowledge about properties and property owners that you can't get anywhere else.
Overview of Property Owners Making Up A List
Within Owner Insights, you get a snapshot overview of your list as well as a visual representation of the following owner details:
Snapshot (overview) of Property Owners making up your list
Owner Type
Gender
Age
Education Level
Marital Status
Ethnicity
Interests
More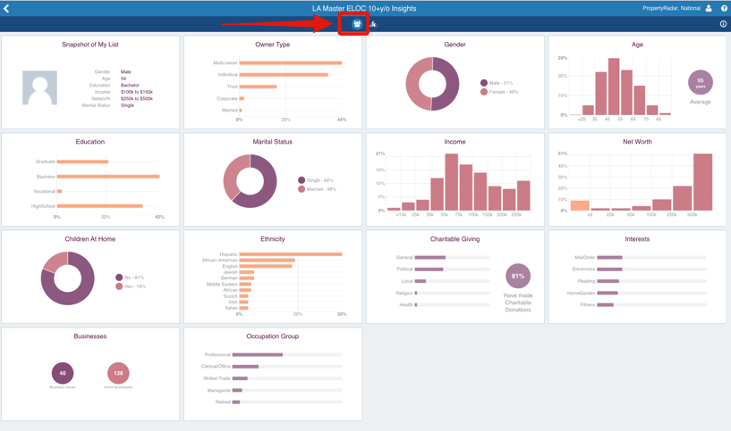 Overview of Properties Making Up A List
Within Property Insights, you get a snapshot overview of your list as well as a visual representation of the following property details:
Snapshot (overview) of Properties making up your list
Property type
Owner-occupied
Transaction volume per month
Estimated equity
Assessed value
Estimated tax rate
More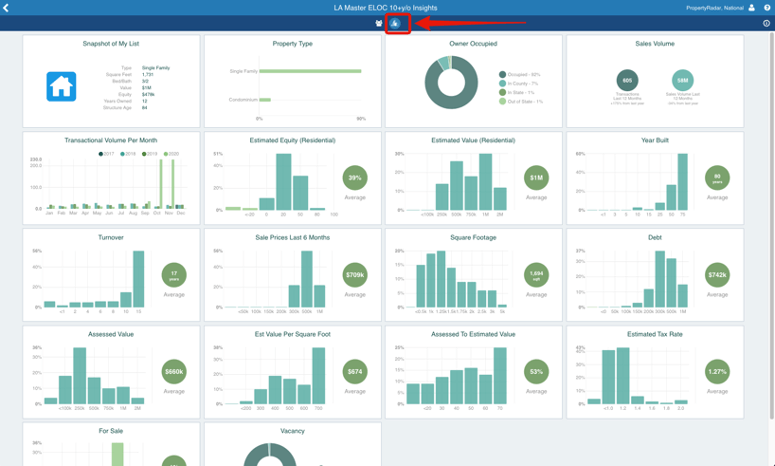 Of course, you may want to know specific details about a property, the owner, and the mortgage and equity. Clicking each property will give you all the details you need to intimately know and understand the owner to tailor your messaging accordingly, especially if it's a potentially high-value account.
Reviewing Owner Details & Contact Information
Clicking on the address bar below the map to get the critical contact information you're seeking along with other critical insights into the property itself.
As a professional, you know that having as much information about the owner and the property you can get is vital to setting up a successful marketing campaign.
Click on the 'Contacts' tab to pull up the owner's age, gender, phone number, email, and social profiles (if available).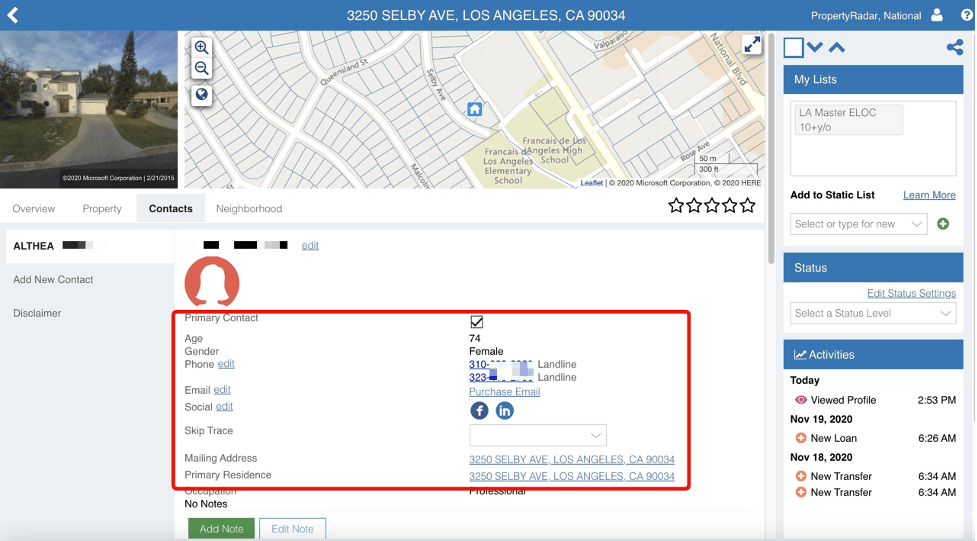 Additionally, we've built in skip tracing to help you find and connect with property owners.
You can also click on the street view of the property in the top left corner for a closer view: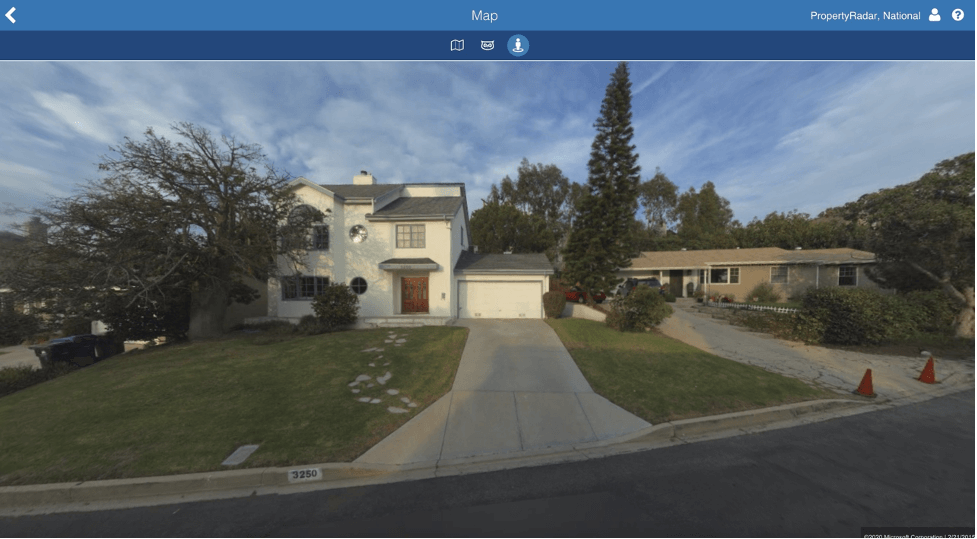 Plus, you can toggle from the Street Map View to the Aerial Map View where you can zoom in and get a closer look at the roof if you need to, as shown below: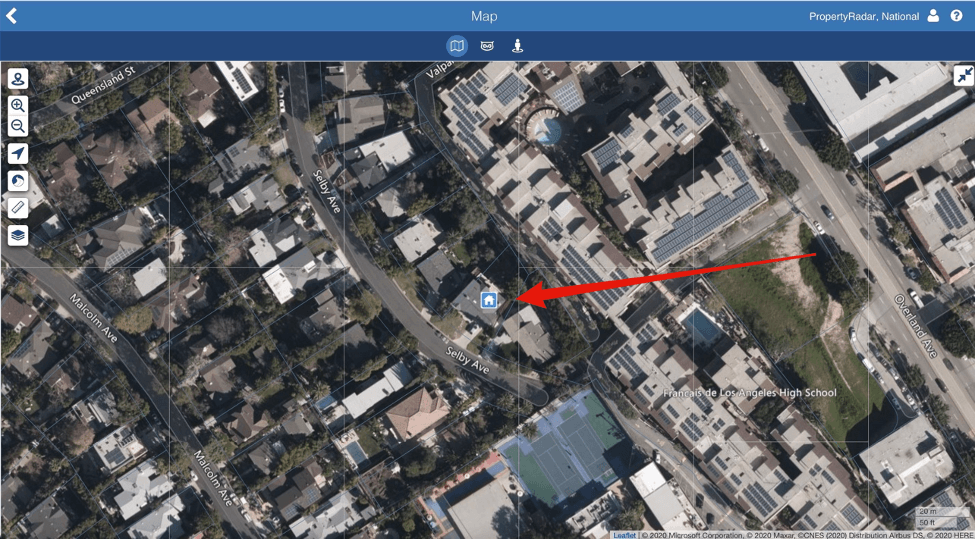 Reviewing Property, Mortgage, Equity Details
Clicking on the 'Property' tab pulls up critical information to help you make data-driven decisions. Here, among other important information, you'll find Site and Structure. And of particular importance perhaps is the amount of equity, which you can find in the Value section: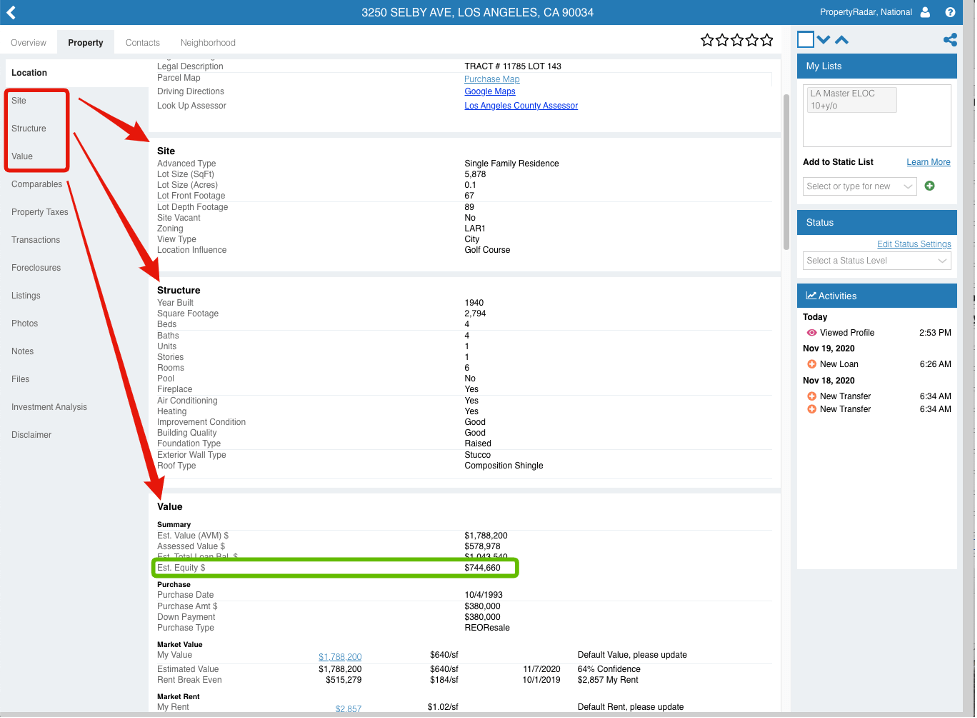 PropertyRadar Mobile App as Your Field Sales Software
When you, or a team member, are out in the field working, meeting with prospective customers, or evaluating potential projects, having the ability to capture and save images, notes, and even files on the fly can help save you time and money. Even better, it ensures you don't miss out on an unexpected opportunity.
PropertyRadar's mobile app is your field sales software tool you can turn to capture those crucial details to dive into deeper later – or to have your team back at the office run analysis for you.
Take Notes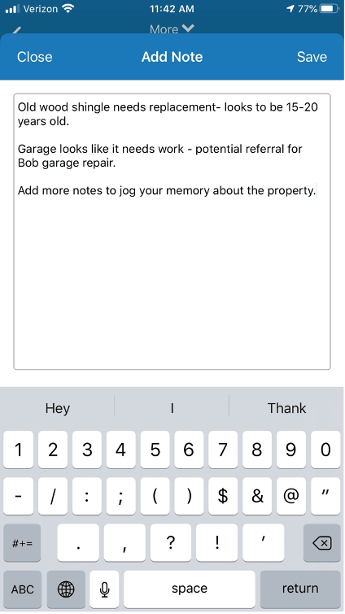 Add Pictures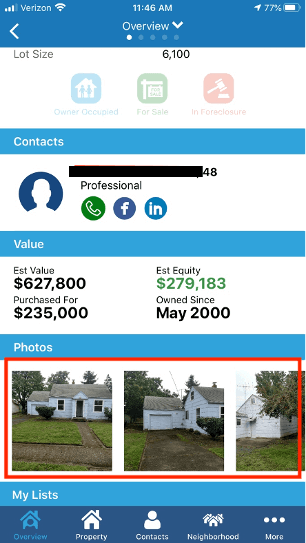 Set Status Updates
Keeping track of the status of where a prospect is in your sales funnel is important. That's why PropertyRadar lets you set 10 unique statuses for your leads. Even better, you can customize those statuses to more accurately reflect how you keep track of your roofing leads and customers.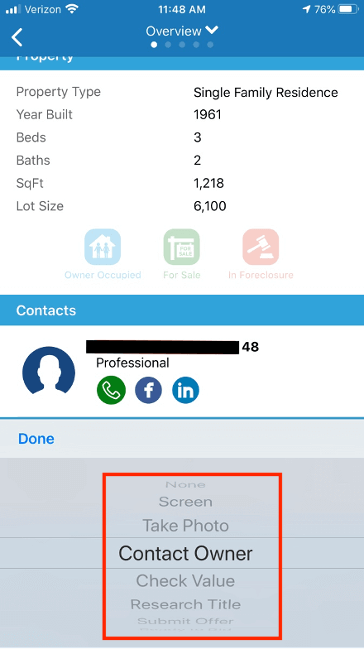 Turn Roofing Leads Into Roofing Sales
Now that you have your lists of leads ready to go, it's time to turn potential into profit. It's time to reach out with a postcard, letter, trifold, or maybe even a phone call. So, whatever messaging and marketing workflow works best for you, it's time to put it into action.
Several things determine your direct marketing success. Two of which only you can figure out:
Your Marketing Message – What's your elevator pitch? What sets you apart from all the other roofing companies? Why should anyone choose you over your competitors?
Marketing Workflow – Do you send a postcard first or call? Do you follow up with a letter and then another call or postcard? Maybe an email or text? Your workflow must be optimized to move prospects through your sales funnel to turn them into paying customers.
Since you've been doing this a while, you surely have a marketing message and workflow that works (if not, you'd better get busy 😉).
The next step is turning those lists of potential into lists of profit. That's where PropertyRadar sets itself apart.
Beating Your Competitors to New Opportunities
What's the #1 law of marketing? Well, as Al Ries and Jack Trout point out in their book The 22 Immutable Laws of Marketing, "It's better to be first than it is to be better." Of course, if you can be both, that's great too.
The key to your long-term success is turning that actionable data you get from PropertyRadar and turning it into successful direct marketing campaigns. Here's how you do that:
Build Dynamic Mailing Lists
Unlike traditional mailing lists that grow old the second you buy them and require lots of manual effort to make them work, PropertyRadar's dynamic mailing lists actually work for you by:
Alerting you about new leads by sending mobile push notifications or emails
Sending single-piece direct mailers or triggering multitouch, multichannel marketing campaigns
Updating themselves daily with new roofing leads and opportunities – so they're always fresh and up to date.
PropertyRadar's dynamic mailing lists help put your direct mail marketing campaigns on cruise control.
Autofill Your Pipeline with Roofing Leads
Stay productive by keeping your pipeline, and roofing CRM, full of quality leads. Automatically import high-quality leads from your dynamic mailing lists into your CRM, project management, and productivity tools and apps. With over 2,000 apps & software products to integrate with by using Zapier, there's a ton of versatility to customize your marketing automation stack.
Setup Marketing Automation
Once you've got your marketing workflow down, then you can automate your roofing marketing efforts. To be clear, if you're not automating anything, you're hurting your business. Without marketing automation, you'll continuously be at the mercy of tedious, redundant work that keeps you busy and makes you feel like you're productive, but you're not. Learn more about marketing automation here.
Map Out Multi-touch, Multi-channel Marketing
Can you send a one-piece mailer to a prospect and be successful? Sure, it happens. But your chances are better when you follow up (more on that in a second). The best direct marketing campaigns reach out to their audience multiple times across multiple channels. For example, with our PRINTGenie integration, you can use their multi-channel campaign templates to send a letter, followed by an email, a text, and a postcard.
Follow Up, FollowUp, Follow Up
The most successful roofing businesses are excellent at following up – not giving up. You can't send one mailer and ever feel like it's enough. You have to guide your roofing leads through your sales funnel, and you do that by continuously following up. You might be the first one knocking on their door, but you will lose to your competitors if you don't follow up. And setting up your marketing automation to automatically follow up (see above) is the best, most effective way to turn those roofing leads into roofing sales.
The Roofing Lead Generation Secret Weapon – PropertyRadar
Hopefully, you've found this post helpful in directing you on how to generate more roofing leads based on your standard of quality. While some like to sit on their hands waiting for leads to fill their pipeline, motivated go-getters like yourself, like to, well, go get.
That's why PropertyRadar is the ultimate secret weapon to generating roofing leads. When you've got your marketing message dialed in and you have an established marketing workflow, it makes go-getting a lot easier. With PropertyRadar, you can…
Find more, high-quality roofing leads
Build unlimited mailing lists of all your leads
Use the mobile app to capture unexpected opportunities
Get alerts about new roofing leads when they hit your lists
Beat competitors to new opportunities with integrations & automations
Don't just put another iron in the fire – BE the fire, with PropertyRadar.
If you want to generate more roofing leads, take your roofing sales to new levels, and do more with less, then start your free trial with PropertyRadar today.
‍