As a successful Realtor® with a team of hungry agents, you can never have enough ways to generate real estate leads. Let's solve that issue, shall we?
Between you and your team of agents, you've likely tried most everything under the sun, including:
Buying leads from Zillow
Creating video walkthroughs
Publishing useful blog posts
Building 'Squeeze Pages'
Buying Google Ads
Implementing social media marketing
Running Radio & TV ads
That's just the tip of the iceberg. There's a whole slew of other marketing tactics you've surely used to generate leads that I didn't mention.
The challenge isn't finding a creative way to generate more leads. The challenge is actually keeping your pipeline full.
In fact, chances are you have a successful real estate farming strategy in place that has paid off time and time again. But even a successful farming strategy can only bear so much fruit. So, what do you do when your farming efforts hit a dry spell? What then? And farming takes time, so how do you get leads today while you wait?
Well, you find homeowners who are motivated to sell – RIGHT NOW!
And here's the thing. There are property owners who are openly motivated to sell and ready to go. But there are also owners who have an unrealized motivation to sell but haven't discovered that motivation quite yet – that's where you, the local real estate pro, come in.
No, I'm not talking about using sneaky, sleazy sales tactics to scare them into moving. I'm talking about legitimate reasons like improving their quality of life in some way, perhaps moving to a better school district, downsizing, upgrading, and more.
Farming for Real Estate Leads VS Hunting for Leads
The most significant difference between farming for real estate leads and hunting for them is the amount of time it takes to generate results.
With farming, you spend a lot of time cultivating. You're cultivating trust and respect so that your prospects will think of you first when it comes time for them to buy or sell their home. It's all about taking time to nurture relationships and then waiting patiently for those relationships to pay off by turning into hot leads and ultimately into closed deals. Farming is what you do to become the dominant player in a market over time.
Hunting for real estate leads on the other hand is all about getting listings now. Building a relationship is not the main goal here – the transaction is. And that's what this post is all about.
Learning how to properly hunt for motivated sellers so you can efficiently track down prospects, get listings and feed your business right now vs. farming to feast later – because sometimes waiting just isn't an option.
Hunting for Real Estate Leads
As previously mentioned, when you're hunting for motivated sellers, you have two options, sellers who are motivated due to some form of distress, and sellers who are motivated by an opportunity.
Let's take a deeper look at these two types of owners.
1) The Distressed Property Owner
Distressed property owners are usually in a tough spot financially. Typically you can find distressed property owners in one, or a combination of the following:
Preforeclosure and Foreclosure
Delinquent taxes
Vacant rental owner
Tired landlord (usually due to problem tenants)
Hoarder homes,
Inherited homeowners
Divorce and family problems
Disrepair and blight
Legal trouble
Bank owned properties
Financial problems
For the owner, selling the property in these situations often eliminates stress and allows for financial recovery. When it comes to hunting for the two types of motivated sellers this type is the easier of the two options.
With that in mind, as a real estate agent, your main objective when pursuing these seller leads is to offer assistance. You're presenting a possible solution to their problems.
You'll want to come across as kind, considerate, and understanding of their situation. For the most part, these sellers will only consider becoming a potential client if they sense that you are in their corner (and that you're not going in for the kill).
There are 4 cues you want to look for when trying to find properties in distress. Learn about them in our post, 7 Ways To Find Distressed Properties & Turn Them Into Deals.
2) The Opportunistic Property Owner
Often, these property owners are doing just fine financially and initially don't see any reason to sell.
They often don't yet know about incentives, opportunities, or even disruptions that upon learning, would help them realize their motivation. As the local real estate market expert, you can bring these things to their attention. Worst case, you'll build credibility with them by demonstrating your market expertise and increasing your odds they'll call you when they are ready to sell in the future. Best case, you'll get a new listing.
The key to being successful is finding the opportunities most likely to interest latent sellers, and then reaching out to those most likely to be interested in that opportunity.
Here are some examples of information that might interest someone in talking to you about selling right now:
Active buyers who are looking for homes like theirs
Tax incentives for those who make a move
New opportunities for seniors who might be looking to downsize
Available properties in better locations, especially sought-after school districts
The state of the real estate market, especially when it favors sellers
Zoning changes or upcoming local projects that can be disruptive or change what attracted them
Hunting for Distressed Property Owners
We have some tremendous in-depth posts about finding motivated sellers here and finding distressed properties here. But since you're already here, let's quickly find some motivated sellers for you.
With data for 100's of millions of properties & property owners nationwide (including demographic insights) and an industry-leading 200+ criteria, PropertyRadar's database is incredibly comprehensive and actionable.
Let's start with a quick list created explicitly for Realtors®, the Absentee Owner – Out of State Quick List, aka, Landlords list. Then we're going to add additional criteria to refine it into a list that gives us a good indication that we'll be reaching out to owners who are likely to be highly motivated to sell.
Here are the criteria:
San Jose, CA
Absentee Owner – Out of State Quick List (criteria includes: Non-Owner Occupied, SFR, Condominium, Does Not Live In Same State as Property Owned, Not Listed for Sale, Not in Foreclosure)
Age: 60+
40% or more in Equity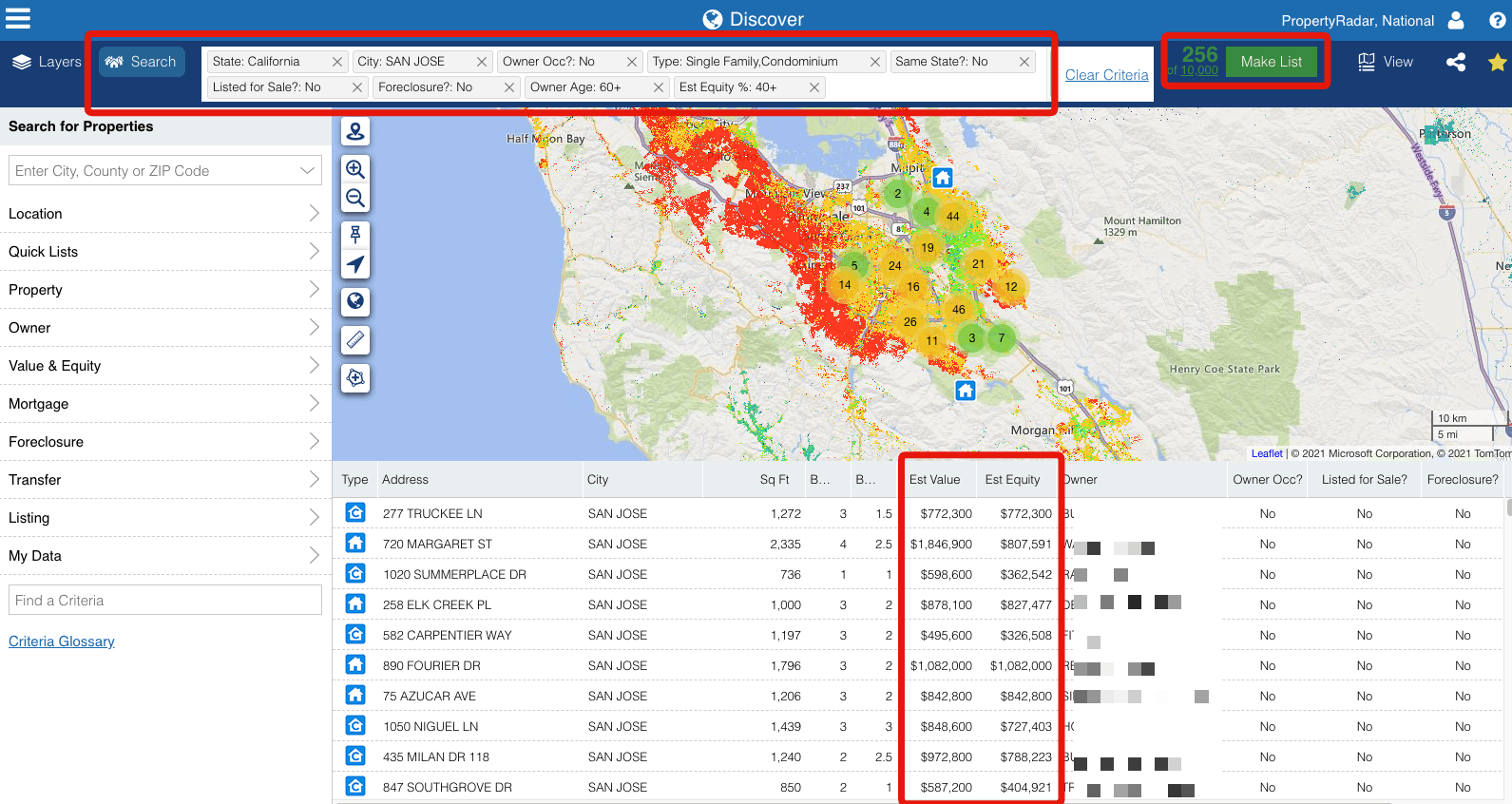 In the image above you can see that based on the criteria we've used, we have 256 properties with 60+y/o owners who live out of state and have a good amount of equity in the property. It's a fact, older owners are net sellers of properties. At some point taking care of the rental is just too much and it is time to enjoy the equity.
This is just one example. From here you could add Vacant Property status, remove the age criteria, adjust equity, and more. Make and refine as many different lists as you can dream of.
Hunting For Opportunistic Property Owners
Who can be motivated to sell, and why, will look different for you than it will for another agent in another city, state, or heck, even across town. For example, having a strip mall built in town can motivate someone to sell and move to a quieter neighborhood. A new school development might motivate a new family to move closer to said school.
Again, the reasons will vary. And being the real estate expert that you are, you're dialed into local zoning updates and planned city developments, so you know who to approach and why.
While we aren't the expert in your market, let's use a hypothetical example to explore how this works.
If the housing prices are skyrocketing in the market you're in, you might consider building a list of seniors who live in large properties. They might be interested in downsizing and cashing out while the market's hot.
Here are the criteria we'll use…
San Jose, CA
Age: 62+
Single-Family
4,000+ Square Feet – Property
11,000+ Square Feet – Lot
Owner Occupied
NOT Listed for Sale
50% or more in Equity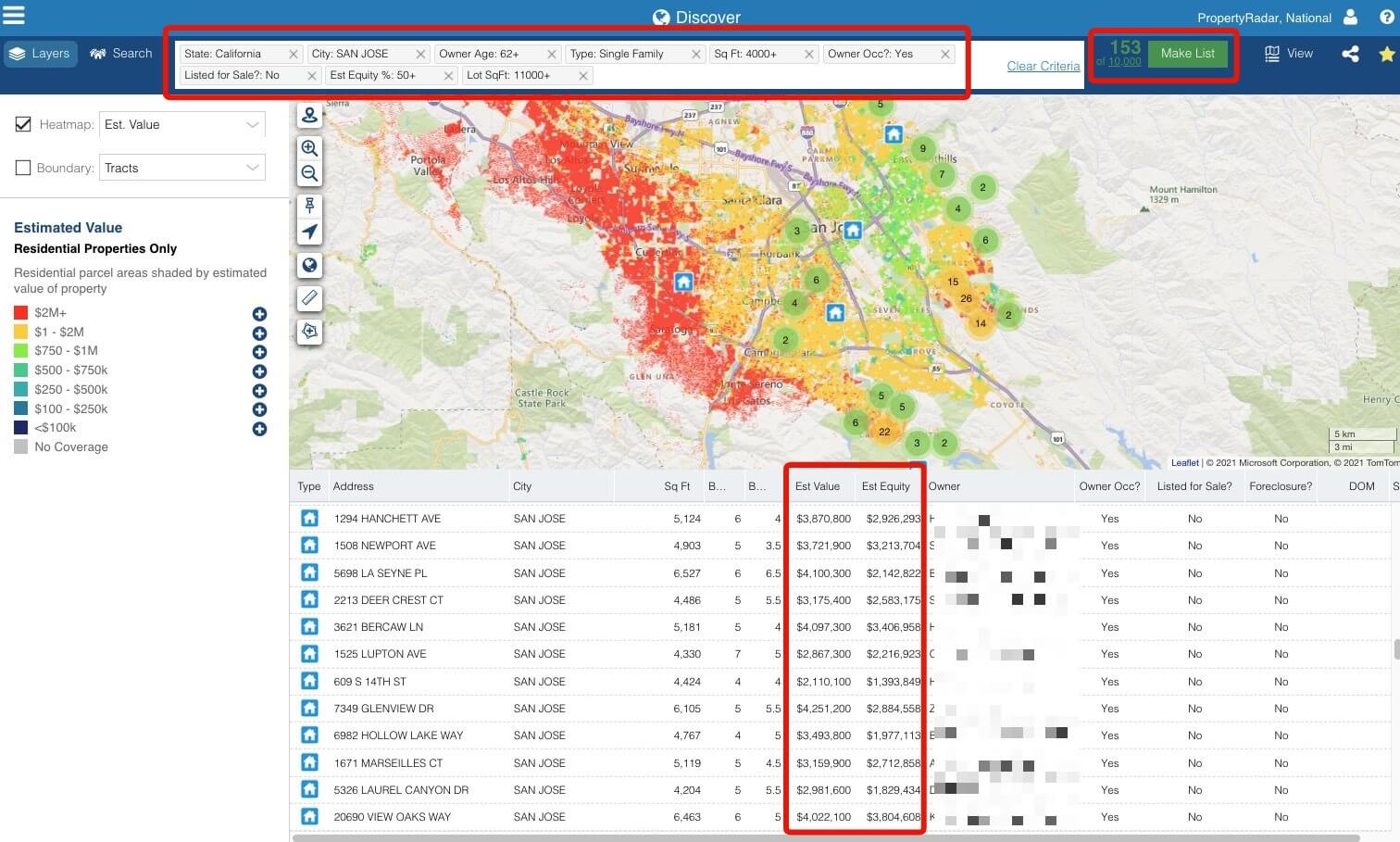 As you can see in the image above, we have all of our criteria listed in the Search Bar. The criteria we've used has returned 153 property owners who are likely retired or nearing retirement and could potentially be motivated to sell under the right circumstances.
Just click the big green button that says 'Make List', name it, and you've created your first list.
Understanding Your Leads With Robust Property & Owner Data
Now that you've built your lists, it's time to reach out and connect with your leads.
You likely have your unique selling message dialed in. But being the professional you are, you know that understanding everything you can about your audience is key to tailoring your message so that it's received favorably and elicits a positive response.
In the example above, our discovery criteria returned 153 results. Each result provides you a property profile, property owner profile, and neighborhood profile, which includes the following:
Property Tab (under property profile)
Here you'll find great insights and information like:
Outstanding loan balance and type of loan
Loan history
Estimated property value
Equity
Year built
Number of rooms and bathrooms
Square footage
Lot size
Number of units on the property
Presence or absence of a pool
Presence or absence of a garage
Property taxes
Comparables
Plus, you can snap pictures of the property and easily add them under photos. Add personal notes and upload files. And much more.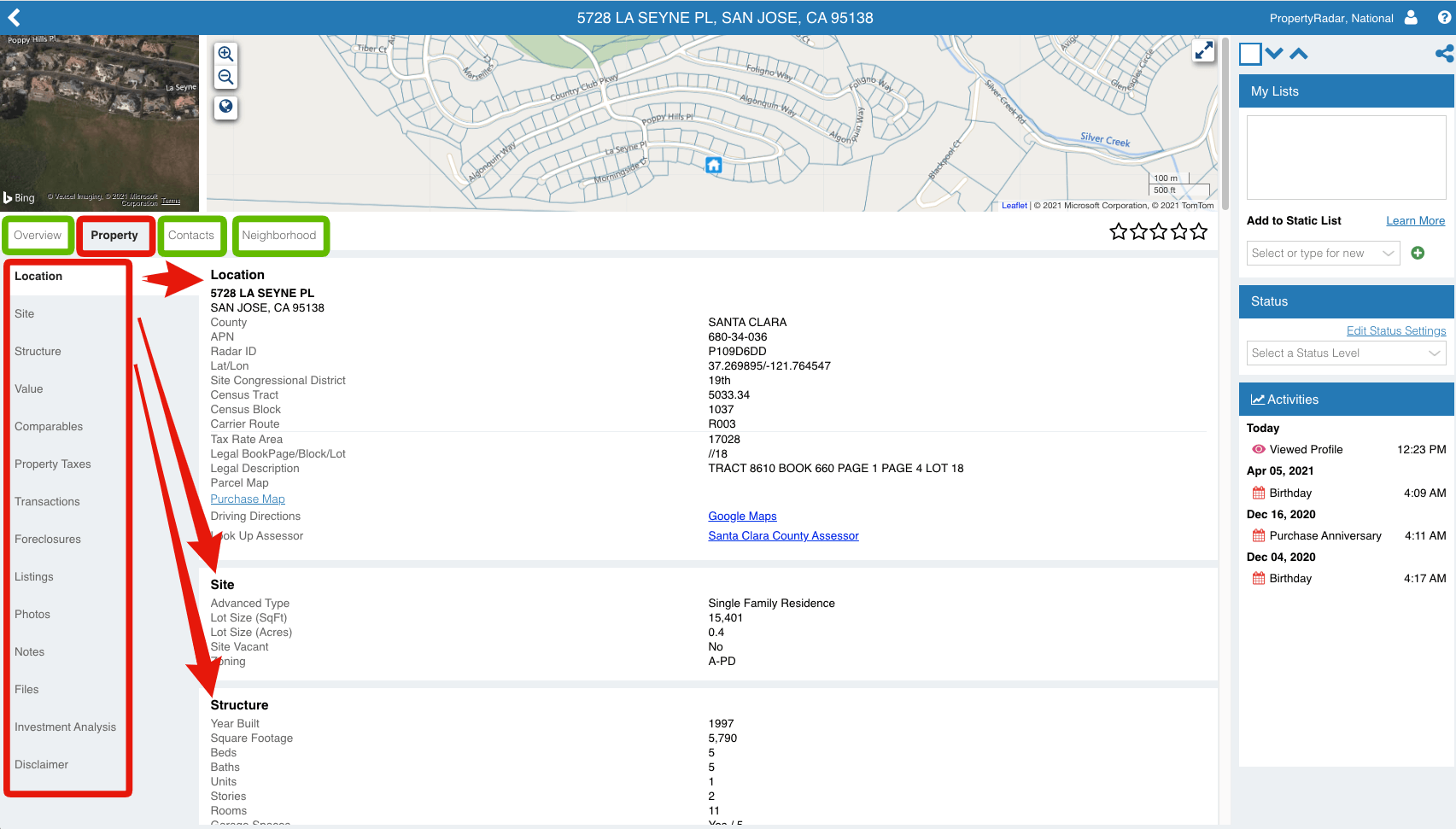 Property Owner Profile (Contacts Tab)
Under the Contacts tab, if available, you'll find:
Names
Phone numbers
Email addresses
Mailing Address -Primary and Other property addresses
Demographic information
Social media links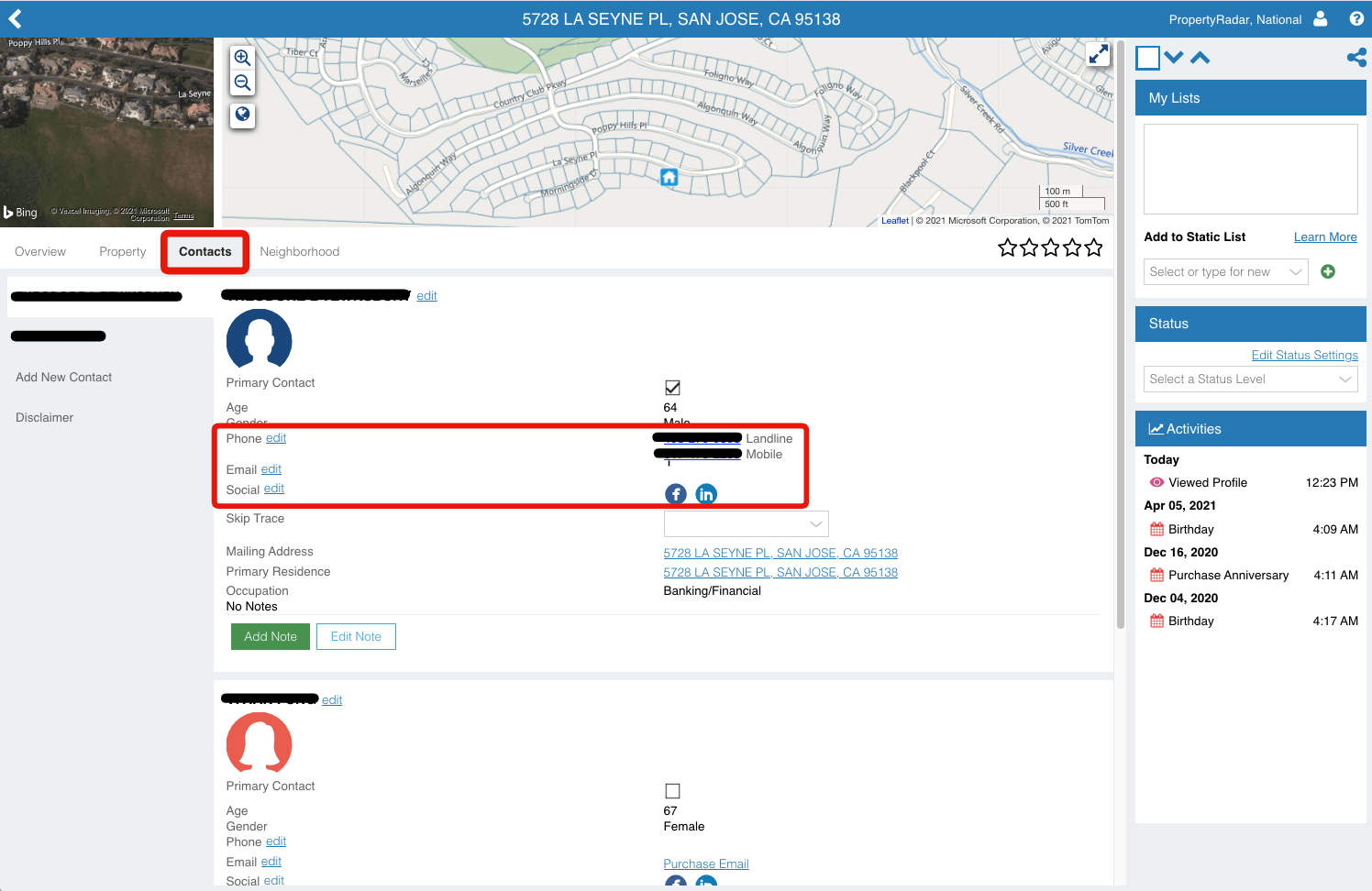 Neighborhood Profile
Under the Neighborhood tab, you'll find incredibly helpful info such as:
Demographic data
Housing insights
Housing Risk
Environment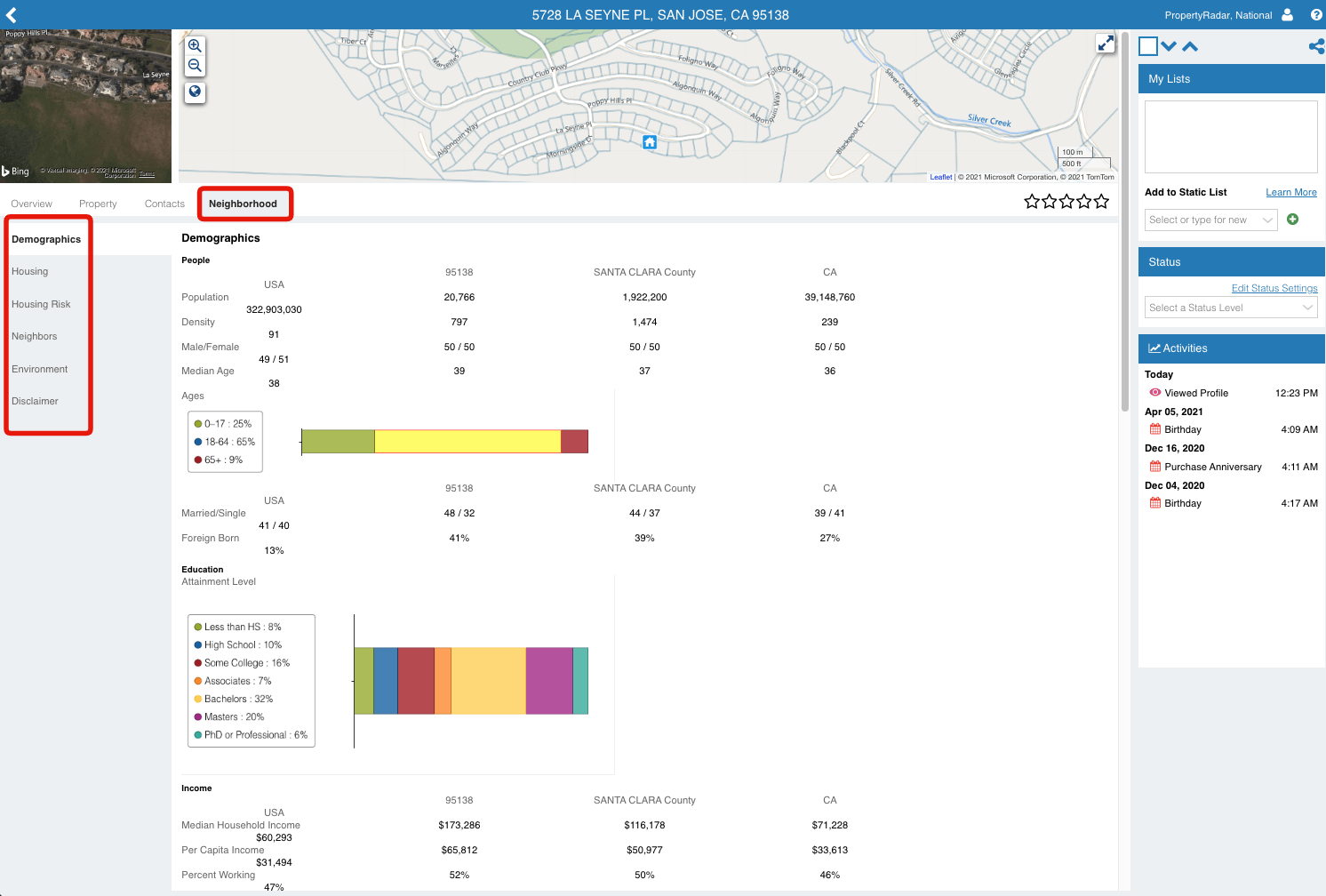 Powerful Lead Lists with Deep Insights
When you buy a list from a typical list vendor, you get a list of names and addresses based on the criteria you want that list to encompass. Beyond that, you don't get much more.
But when you create a PropertyRadar 'Monitored Mailing List', you get deeper insights into that list that you simply can't get from anyone else.
With 'Monitored Lists', you can click on the 'Insights' icon as seen below.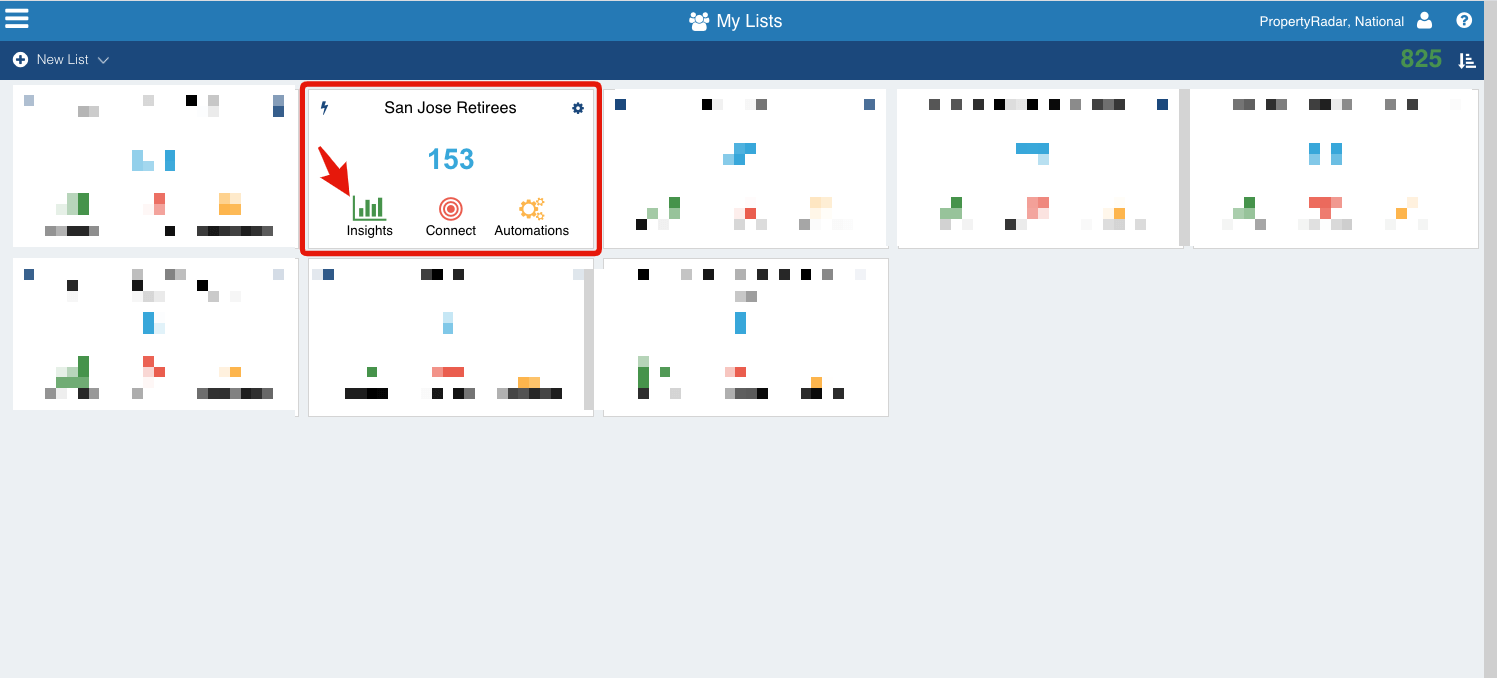 Here you'll find two icons, a 'people' icon, and a 'buildings' icon.
Toggling between the two tells you a visually compelling story about the property owners and properties that make up your list. This is a fantastic way to better understand your list before you develop your marketing campaign. By understanding everything from typical home size to the owners' education level you'll be able to hone your marketing message to perfectly fit your audience.
Under the 'Properties Owners' icon, you'll find the following insights about the owners of the properties on your list:
Snapshot (overview) of your list
Owner Type
Age
Marital Status
Income
Ethnicity
Businesses
More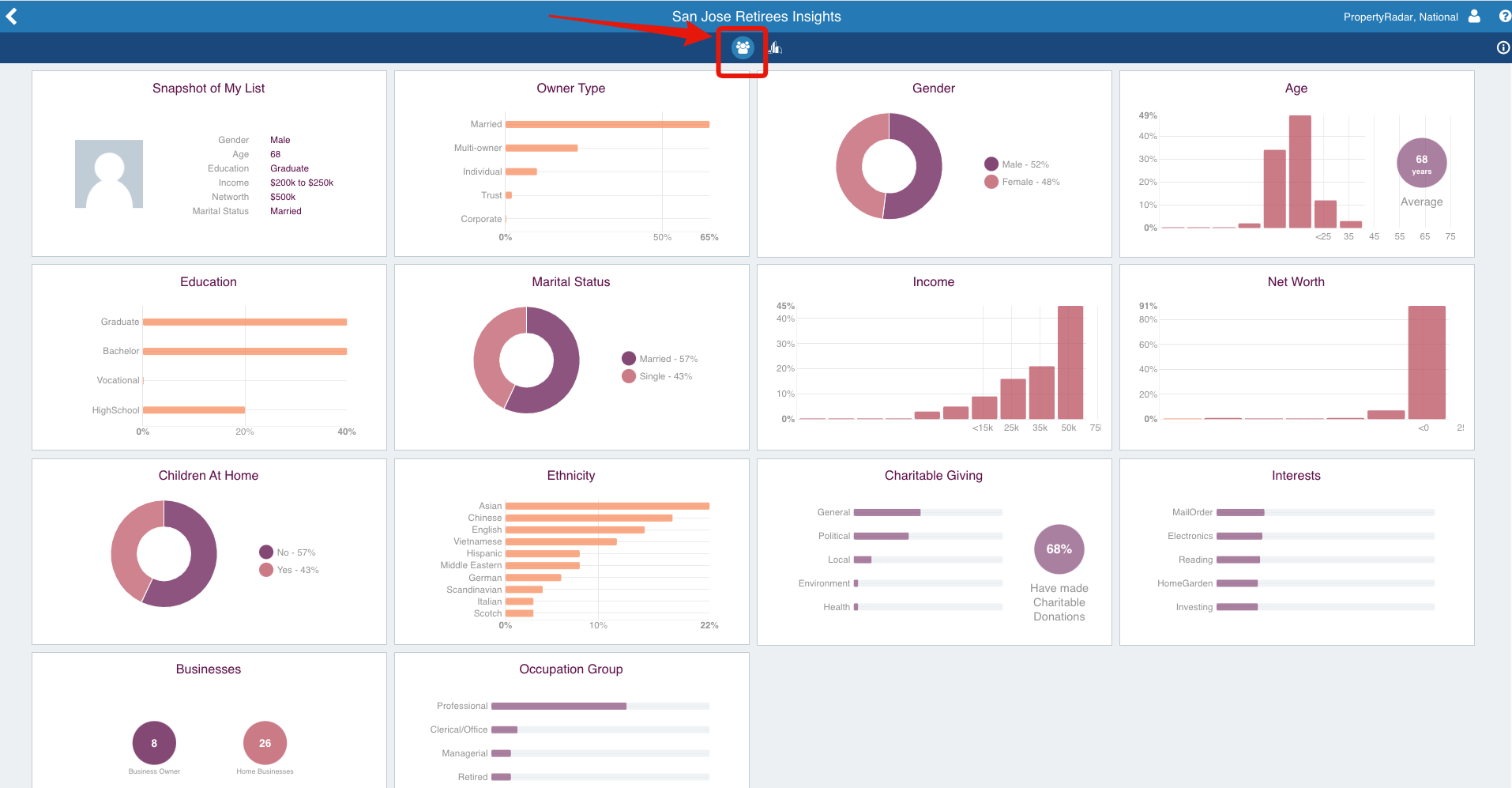 Under the 'Properties' icon, you'll find the following insights about the properties on the list:
Snapshot (overview) of your list
Property type
Sales Volume
Turnover
Estimated equity
Assessed value
Estimated tax rate
More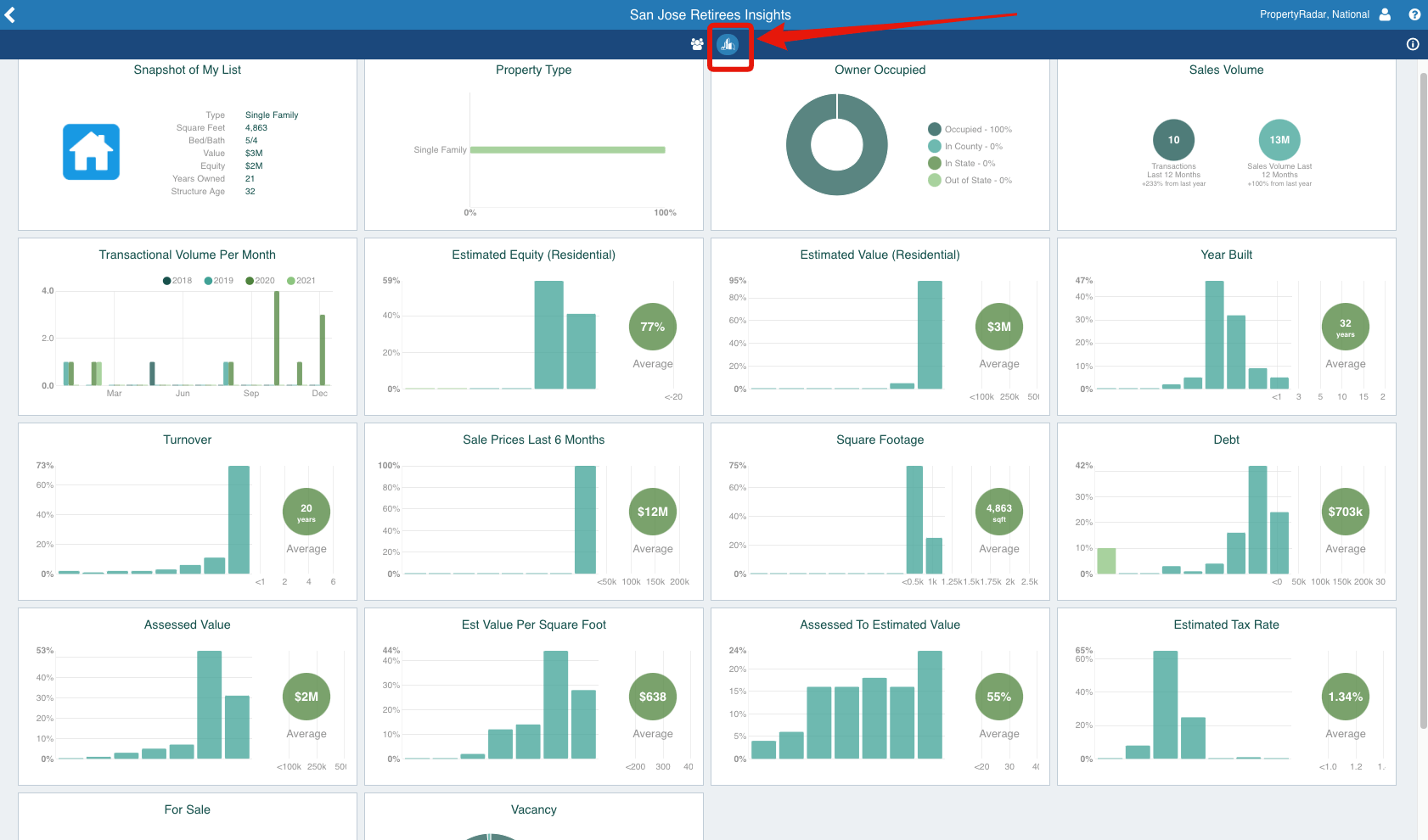 Connecting With the Owners on Your List
Unlike typical a list reseller or title company that only gives you a name and address, PropertyRadar gives you multiple ways to connect with owners, including by email and phone!
Direct Mail - Send a postcard introducing you and your company, hit on what you do and how you can help;‍
Email – Follow up with an email with messaging and content tailor-made for your lists;‍
Text Message – Follow up with a text to let them know you're available to help anytime.‍
Cold Call – Close the deal with a call from the brand that's top of mind thanks to your consistent marketing outreach.
Whatever your preferred method of contact, you are now better prepared to have a smart, insightful conversation with the owners on your list. And the better you can connect with them, the better your chances are of turning that warm lead into a closed deal.
What's better, is beating your competition to make first contact. And that's where PropertyRadar's Monitored Lists is a game-changer.
Beat Your Competitors to the Best Leads - Automatically
Finding high-quality real estate leads is one thing. But having them find you is quite another.
How's that possible, you wonder? Well, PropertyRadar's Monitored Lists are automatically updated with new leads when the criteria of a property or property owner changes and it matches the criteria of the lists you build.
Even better. You can set up your MonitoredLists to automatically alert you to those new leads via email or push notification – instantly! Here's how…
Click 'Automations'

A screen will open up where you can enable automations (more on that in a minute), activate triggers, set up Zapier integrations, and more. It looks like this:
Activate Settings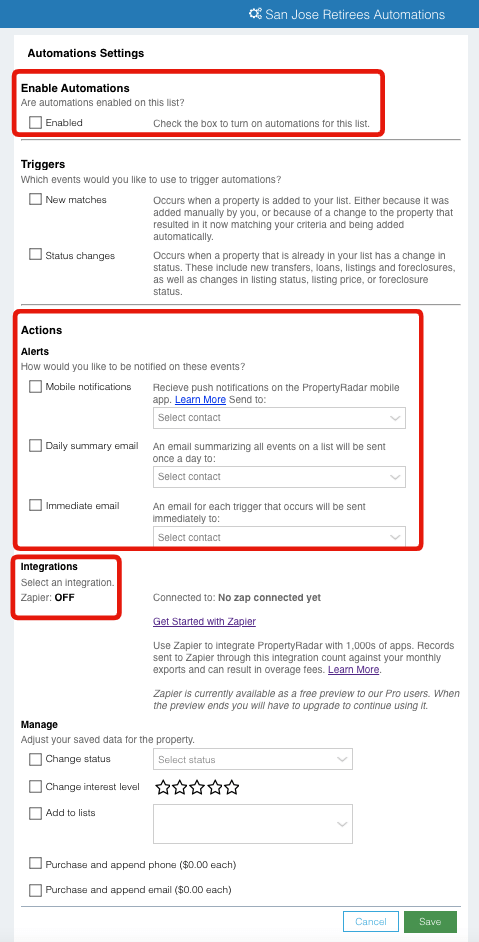 Now you can get instant alerts via mobile push notifications or email the instant a new lead hits your list.
Think about it.
While your competitors are spending hundreds and even thousands of dollars buying and targeting all the same real estate leads from outdated lead lists, you're enjoying the benefit of having fresh new leads, tailored to your specifications, sent directly to you.
And if that's not enough, how about this? With all the integrations PropertyRadar offers, you can have the PropertyRadarMonitored Lists…
Automatically populate your CRM
Automatically send a postcard
Automatically trigger entire marketing campaign
Automatically send a voicemail
Automatically send a handwritten letter (yes you can even hire service for that!)
With over 2,000 integrations, the possibilities are endless.
This is how you beat your competitors to the best opportunities. And this is how you create hot new real estate leads from the magic that is public records.
Conclusion
Planting the seeds of real estate leads and cultivating them until they're ready to harvest is the smart, long-term play of any professional Realtor®. But when you are first getting started, and from time to time throughout your career, your farm won't produce as much as you need it to and that's when you'll need to rely on your hunting skills.
Hopefully, this post has provided you with the skills you need to hunt, track, and feast on a new source of listings until your farm pays off.
And with the help of PropertyRadar, you'll have everything you need to do it better than the competition.
So if you're ready to cut out the middleman and start driving new clients and listings directly to grow your business, and not Zillow's, then you're in the right place.
Finding motivated sellers and generating all the leads you want and need is easy…