To become a local real estate market expert, you need experience, but you don't need two decades' worth.
Things change rapidly, so as a newer agent, you can upstage agents who have been in the business for far longer than you have.
In this blog post, we're going to teach you how to be a local market expert in a variety of scenarios. Driving through neighborhoods certainly isn't going to cut it and instead of attempting to call upon your memory or local expertise, just open an app on your phone and you've got everything you need to look like an expert.
These examples will show you that you don't have to "fake it til you make it." With the right tools, you can instantly access data that turns you into an expert.
How to look like a local real estate market expert...in your email newsletter
Sending out an email newsletter is a smart way to keep in touch with prospects and former clients who are not actively selling or buying right now. You can use email marketing templates to make this faster, and there are plenty of free email marketing tools so you don't have to add to your monthly expenses.
But there's always the question of what to say…?
You want to add value to your email subscribers, pique their interest to keep them engaged, and also showcase your local expertise so that when they are ready to buy or sell, they do it with you—and not some other realtor.
Inside of PropertyRadar, draw a map of your local market. Start by searching an address, city or zip code to home in on your market, and then use the drawing tool to specify your local farm.
You can add countless parameters, such as type of property, transfer date, owner income, and more to get a more detailed view of your market, but for now, let's look at the market as a whole.
Here's a map of Truckee, California.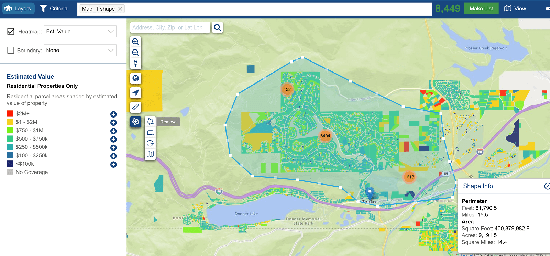 After you define your market, you can then click "Make List" to save the list of every property that qualifies. Your list will be continually updated, say if a parcel is split in two.
After you've created your list, you can get insights, by clicking the insights icon on the list you want to analyze.

There are tons of different insights you can gather on your local market. You could include one specific insight in every single newsletter. This way, you're not only highlighting yourself as an expert, but you're also helping your clients and potential clients be more real estate savvy.
Here's an example insight you can share: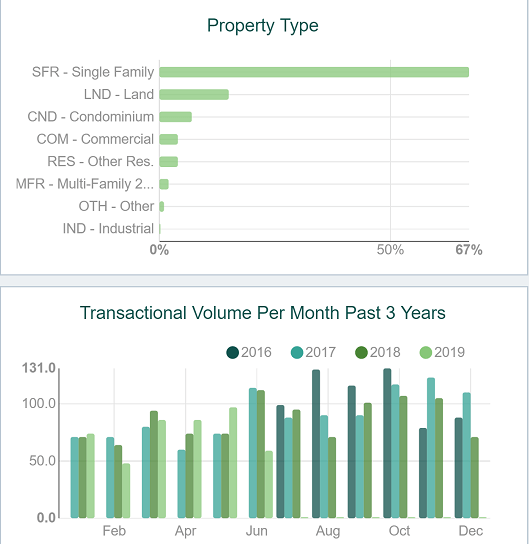 When sharing local market insights in your email newsletter, write something like this for the email content:
‍So far in 2019, the sale of single-family homes makes up 67% of all transactions in Truckee. There have been a few months this year that saw lower transactional value than last year. February, March, and June all experienced lower transactional volume. June's volume was markedly lower. As a whole, transactional volume is down 55% from last year, but we still have a little less than half the year to go.
It's still too soon to tell if the market here is slowing down or if it will keep pace with last year. I'll update you on this in the fall! As we all know, transactional volume is one of the many indicators of economic health, and everyone is starting to wonder about the next downturn.
‍At the bottom of every email newsletter, you should include your phone number and encourage readers to call or text you to get in touch.
How to look like a local real estate market expert...in your blog
Does blogging bring in quality real estate leads for Realtors®? That's debatable. Many real estate agents find that blogging brings in new leads via SEO and that it helps them nurture prospects who are learning about the local market before deciding to buy. Still, other agents feel that it's a waste of time.
If you want to look like and actually become the top expert in your market, however, you'll need to figure out how to make sure that blogging doesn't waste your time, and instead produces results.
To do that, you should:
Focus your content only on your local market, so you showcase your expertise while helping clients and prospects learn about the market as well
Share your blog posts in your email newsletter to nurture prospect and client relationships
Focus on quality over quantity—one post per month or even one per quarter will add up over time to help you build your search traffic and your brand
It's essential that you not blog about any random topic to do with real estate. Instead, stick to market insights and market education.
‍You could share a blog post about this year's average sales and square footage, and how buyers need to move quickly on properties that are below these amounts due to limited inventory.
‍You could also share insights into what average square footage statistics can reveal about your market. For example, in Truckee, 23% of home sales are for properties of less than 500 square feet, showing that the purchase of raw land trumps other types.

How to look like a local real estate market expert...during a listing appointment
You definitely want to look like a local market expert during a listing appointment. If a seller sees you flounder or appear confused, you can assume that you won't get the listing. Sellers want to be 100% confident in your abilities and they'll be on the lookout for red flags.
One of the best things you can do before a listing appointment (apart from vetting that the person you're about to meet is the rightful property owner), is to review liens, mortgage information, equity amount, and comparables for recent sales.
In addition to building property lists and analyzing market insights, you can also use PropertyRadar to lookup individual property owners for both listed properties and off-market properties.
When you look up any address, you'll instantly see an overview of the property, in-depth details of transaction history and market value, as well as comps.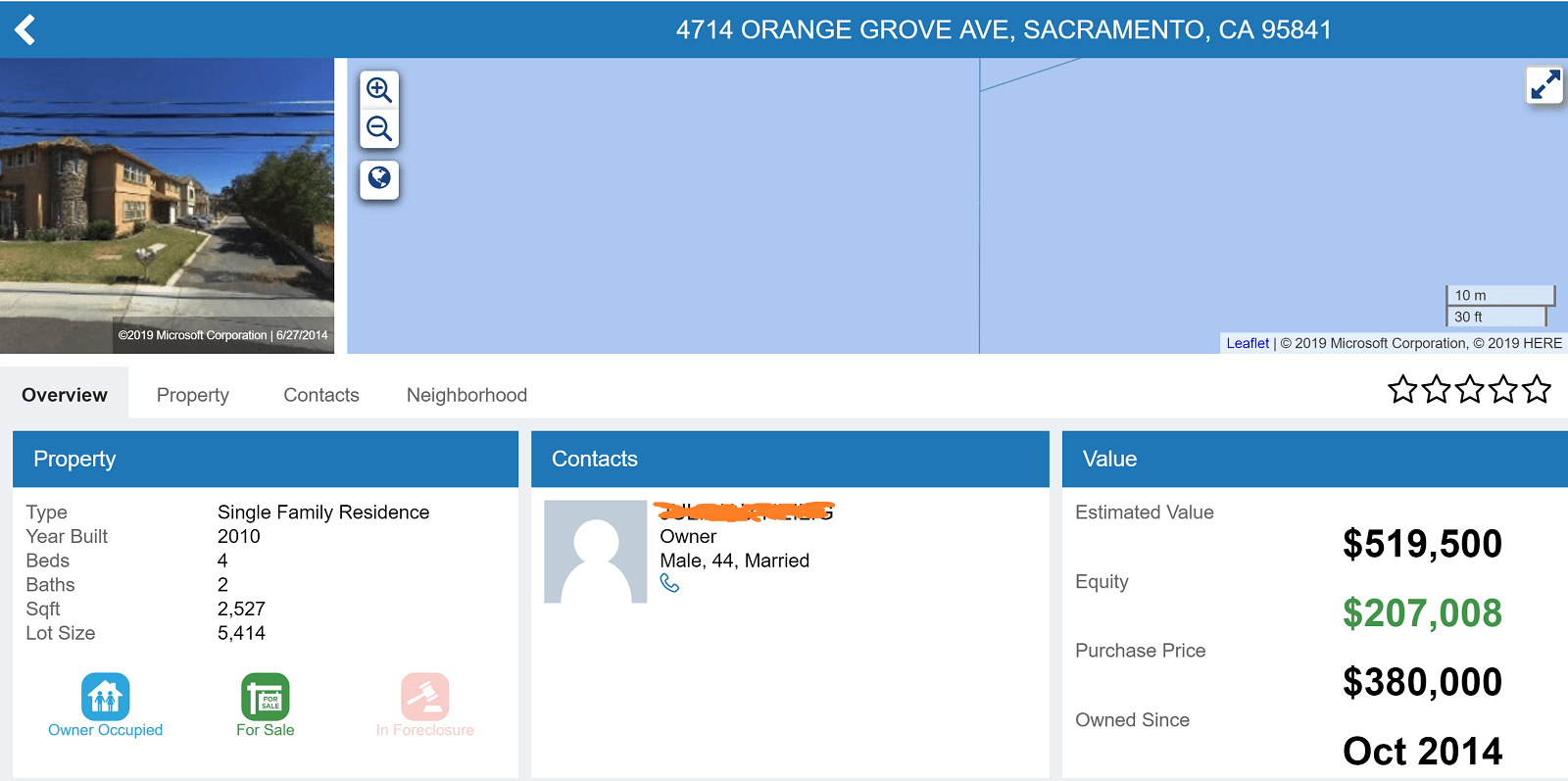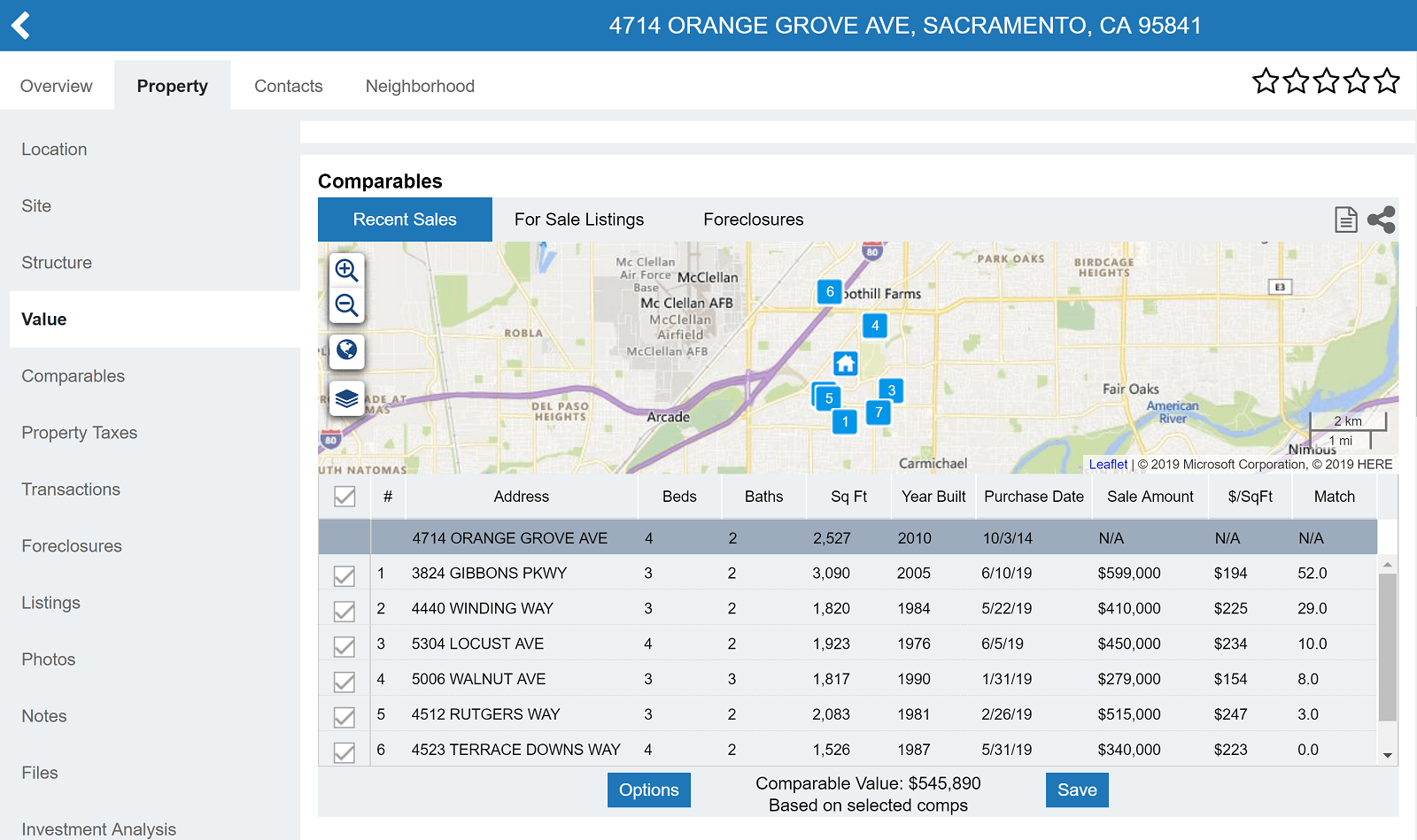 If you're feeling unfamiliar with the specific neighborhood or area, you can even do a similar search of all the neighboring properties to get a better idea of the right cost per square foot or anything else.
How to look like a local real estate market expert...at the office
Let's say, you're in a meeting and you learn that your brokerage's marketing team is prepared to focus the majority of their marketing budget on Millennials because they want to attract new, young buyers.
You'd be able to counteract that move by showing that while the average age of property owners in your local market is 62 years old, the average age of buyers from the past 365 days is actually 53 years of age. Yes, that number is significantly lower and shows that there are younger home buyers in your area, but the majority of buyers are between the ages of 45 to 55.
‍In fact, 33% of single-family home transfers were for people between the ages of 45 to 55, and very few homes were purchased by people under the age of 35.

This data shows that the marketing budget, particularly paid advertising with age filters, would be better targeted to people between the ages of 35 and 65.
The increase in Gen X buyers and younger Baby Boomers shows that people are buying in advance of retirement. Most likely, they're looking to buy something they can use as a vacation home until they retire.
Here's another comparison of all owners versus all just owners from single-family property owners from the past 365 days.
All buyers in Truckee (average owner profile and owner types):

Single-family transfers from the past 365 days in Truckee (average owner profile and owner types):

With this information, you're well-armed and have proven yourself to be an expert, regardless of how many years' of experience are under your belt.
How to look like a local real estate market expert...at a party
As a real estate agent, you get a lot of clients and leads from your personal network. Heck, some of your best leads come from backyard barbeques.
Sometimes it helps to have something interesting to say. Let's say you live in a popular tourist or retirement town. All the locals know that many homes are unoccupied during the off-season. But they have no idea just how many homes aren't occupied by their owners.
During a conversation about all the tourists coming into town or about how dark and quiet all the neighborhoods are at this time of year, you could mention that only 17% of homes are owner occupied. You'll have the data to say an exact number, not just a random guess or a cliché joke about the difficulties of trick-or-treating.

In another conversation, you might mention that there are just as many cash buyers in your local market as people who take on 300 to 500k mortgages. Or you might say that 72% of home sales are between $500k and $1m.
We're not saying that to be an expert, you have to turn into an obnoxious know-it-all. But as a real estate agent, you never know when you're going to need to impress someone or answer a question or offer advice. It helps to have real data at your fingertips when you do so.
How to look like a local real estate market expert...in your direct mail
Outbound marketing, particularly direct mail, can help you grow your business reliably, without having to passively wait around for leads. You can search for lists of your best prospects and do market research to help you tailor your outreach.
In Truckee, 25% of single-family home transfers over the past 365 days were purchased by single people. The vast majority (75%) of home buyers are married. A whopping 94% of single-family home purchases are by people who don't have children at home. Again, this connects back to the market being focused on retirement homes and vacation homes.
‍Instead of sending a generic direct mail postcard, you could write something like this:
‍Ready to buy the vacation home that will become your retirement abode, with plenty of room for your favorite visitors?
‍When you cater to your market, you establish a real connection with prospects.
When prospects feel understood, they are more likely to convert to a lead. Even better, PropertyRadar lets you create dozens of mailing lists so you can create different postcards that cater to different groups.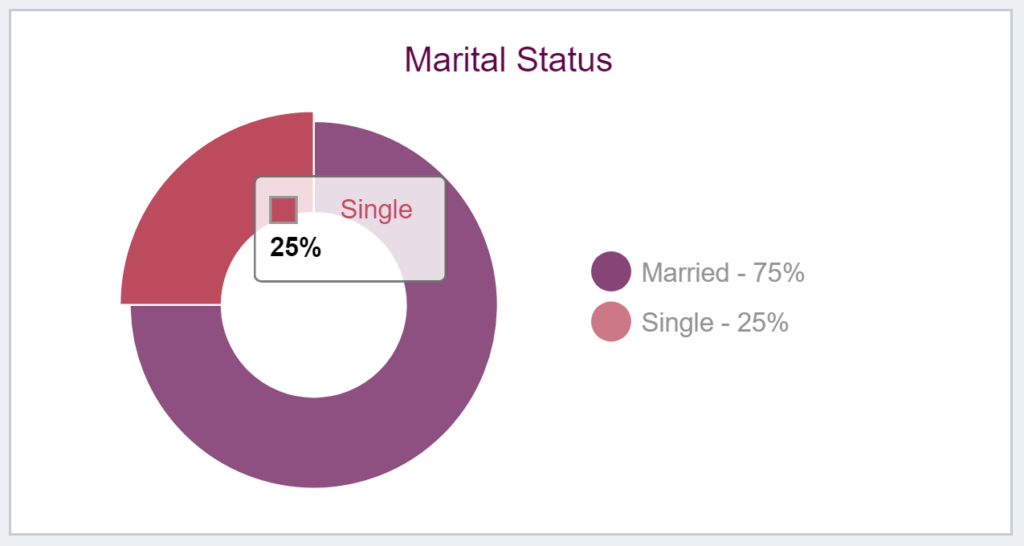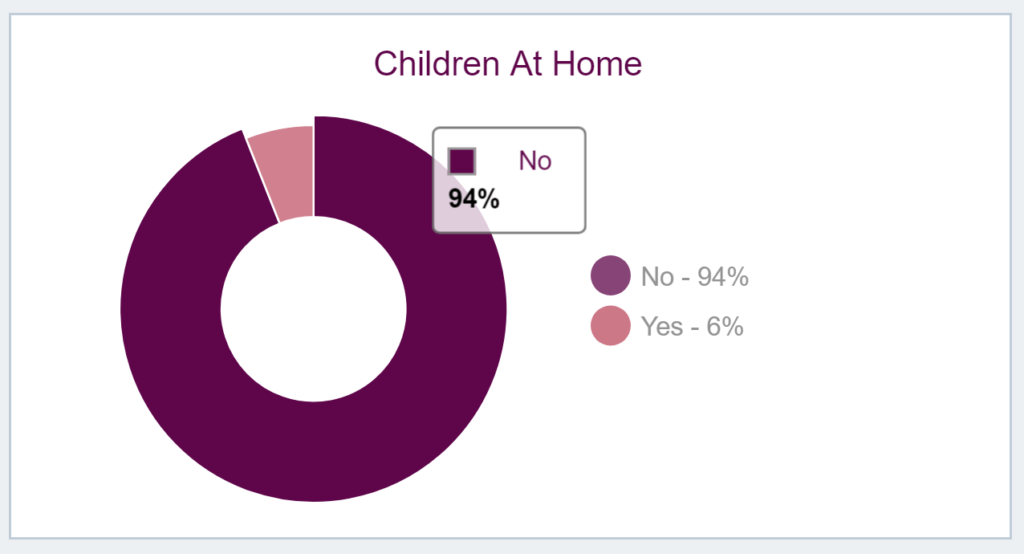 First, start with market analysis to get the inspiration for your direct mail campaign. Then create various subsets to give the right postcard to the right potential prospect. A postcard about retirement shouldn't be sent to a 35-year-old.
As you can see, researching and understanding real estate property data is a pretty awesome compliment to your real estate experience.
You'll amass a wealth of local expertise over time. Whether you've been in the business two months, two years, or twenty years, you're always going to need accurate, up-to-date information on individual properties and your local market.
Become an expert in your local real estate market. Review our plans and pricing and sign up for your free 3-day trial.