PropertyRadar Focus on Southern California
Southern California 2016 Year-to-Date Home Sales Down 1.8 Percent from 2015
September Median Price of $490,000 Hits 9-Year High
Southern CALIFORNIA, OCTOBER 27, 2016 – Southern California September home sales fell 10.7 percent from August and were down 4.2 percent from September 2015. Year-to-date (January through September) sales were down 1.8 percent relative to the same period in 2015. Year-to-date sales have trended mostly sideways since 2009.
"With most of the 2016 real estate season behind us, a look at year-to-date sales through September reveals a decidedly lackluster market," said Madeline Schnapp, Director of Economic Research for PropertyRadar. "Sales in Southern California are lower than last year while prices continued to move up to the highest in 9 years."
The September median home price was $490,000 the highest in nine years. Prices were up 1.0 percent from August and up 9.6 percent from September 2015. Despite recent gains, prices remain 8.4 percent below the April 2007 bubble peak of $535,000.
Southern California Home Sales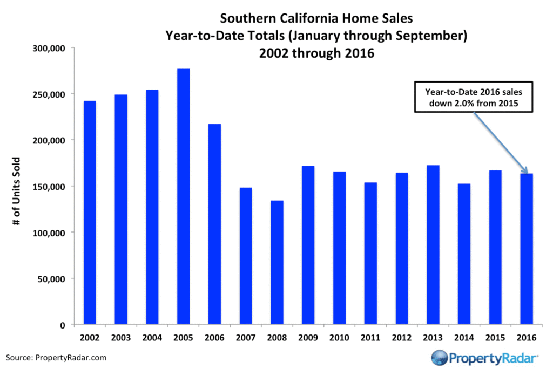 Year-to-date sales were down in all five Southern California counties, Los Angeles, Orange, Riverside, San Bernardino, and San Diego, with declines ranging from 0.7 percent in San Bernardino County to 2.6 percent in Los Angeles County.
Southern California County Year-to-Date Sales Summary(January through September Totals)


Despite the decline in sales, median home prices continued to rise. Annual increases ranged from +3.8 percent in Riverside County to +9.6 percent in San Bernardino County. In Southern California, median home prices were the highest in Orange County at $725,000, only slightly below the record high of $746,500 reached in June 2007.
Southern California Median Price Summary(January through September Totals)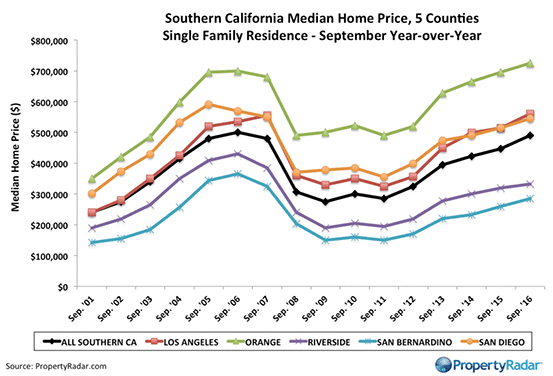 "While median prices in several Bay Area counties soared past their previous bubble peaks two years ago, Southern California prices remain below their bubble peaks," said Schnapp. "That suggests prices will likely move higher in the region for the foreseeable future compared to the Bay Area where price increases are beginning to slow."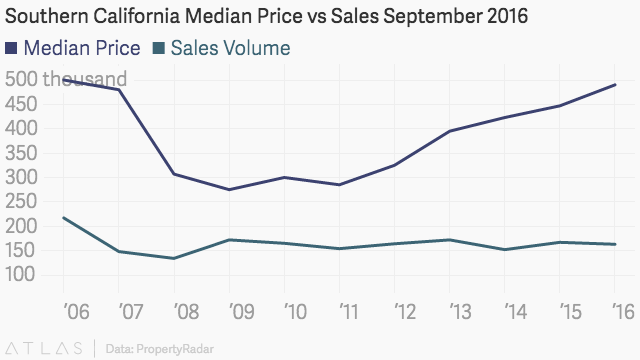 Lack of available inventory is a consistent complaint about California's housing market. Recent data from the US Census Bureau point to a rise in California permits that suggests some of the inventory challenges may improve in the next couple of years. The improvement in inventory varies regionally, however, dependent on the health of the local economy and the ease and cost of obtaining building permits.
"Building permits in the greater Los Angeles area are up 12.0 percent year-over," said Schnapp. "Recent reports suggest that builders in both Orange and Los Angeles have projects in the works that will add new inventory over the next couple of years. Permits in the San Diego area, however, are down 19.3 percent year-over-year suggesting that inventory in that area will likely remain tight."