You use PropertyRadar's property data and owner information to find more clients who own homes and commercial properties in your service area.
You know all about how easy it is to conduct a property owner search with PropertyRadar is and how accessible our public records data is to help you find the exact right fit clients.
But do you know the best way to manage the lists of leads that you create inside of PropertyRadar?
If you're taking manual notes, or creating tons of versions of lists just to sort out your favorites, then we invite you to stop what you're doing and try a better way.
The tips below will help you succeed at lead qualification and follow up.
Why use statuses?
Statuses are the fastest way to sort and filter the leads within each list.
You likely have different criteria for your lists. For example, one list might be recent second mortgage takers who are over 60 years old and have 50%+ equity. Another list might be recent second mortgage takers who are under 35 years and have 10%+ equity.
You've created those segments so that you can tailor your marketing messages to their different needs.
However, within each list, wouldn't it be nice to sort the individual properties?
With statuses, you can group the properties in your list however you like. This is a great way to keep track of your lead qualification process.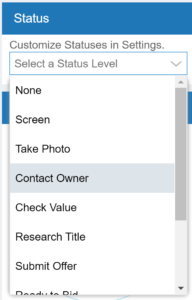 How to customize statuses
Inside of property radar, you can create up to 10 custom statuses.
Just click Menu > Settings > Statuses.
You'll see the Status Settings where you can write the names of your 10 statuses.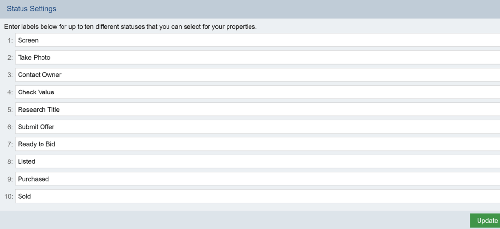 Different businesses have different ways of managing and categorizing leads. That's why we wanted to leave the status titles up to you. You don't have to use all 10. Create whatever statuses will help you sort the properties on your lists.
10 common statuses
Need some inspiration for the names of your custom statuses? How about these 10 common statuses used by PropertyRadar customers:
Need to vet
Vetted with photo
Need to contact owner
Contacted owner
First follow up with owner
Second follow up with owner
Consultation upcoming
Follow up after consultation
Became client
Move to long term follow up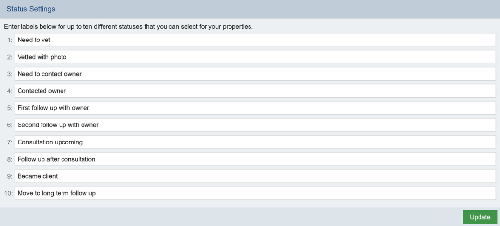 Real estate investors will have different statuses than painters, who will set different statuses than roofers.
Think about how you move a prospect to a client and create statuses for that process.
How to use statuses in your lead qualification
There are so many ways that you can use statuses during your lead qualification process. Here are a few of them:
Set a status for "not interested" if a property appeared on your list and after reviewing it inside PropertyRadar or driving by in person, you've decided it's not a good fit for your services.
Keep track of which prospects you have called or knocked on their doors and which ones you haven't.
Keep track of prospects that are near your current projects so you know to prioritize them with your outreach marketing efforts.
Keep track of which prospects have converted to leads and have responded to you to tell you that they're interested in learning more.
Remember which leads you need to follow up with and how many times you've already followed up with them (i.e., first follow up, second follow up, third follow up, etc.)
You can change the status for a property at any time. So as you move a prospect through your sales cycle, just update its status. This is how you can utilize PropertyRadar not only as a property information discovery platform, but also as a CRM.
Other tips and tricks for qualifying leads
Aside from custom statuses, there are other ways that you can use PropertyRadar to help you manage and qualify your leads.
Let's take a look at some other easy-to-use features.
Set interests
The five-star rating system you see in every property view is to help you rank your own interest in the property.
Is this property a top-notch opportunity? Give it five stars.
Would they be an okay client, but not ideal? Give it three stars.

At any time, you can sort and filter your lists based on interest level. When you first create a new list, you can go through and rate each property based on its unique characteristics (or based on an in-person drive by). Then later, just sort out your 4- and 5-star ratings so you know which properties to prioritize with door knocking and cold calling.
For example, a commercial roofer prioritizing his roofing leads can use our ruler tool to take the square footage of any roof. For large roofs on buildings that are 20 to 30 years old, you'll likely want to give that a 5-star interest rating.
Add photos and notes
Are you a real estate investor, remodel contractor, roofer, or painter? You might want to drive by properties from your lists that are in your area or near your recent projects to learn more about them and see if they're a great fit for you.
You can upload photos and take notes for each property.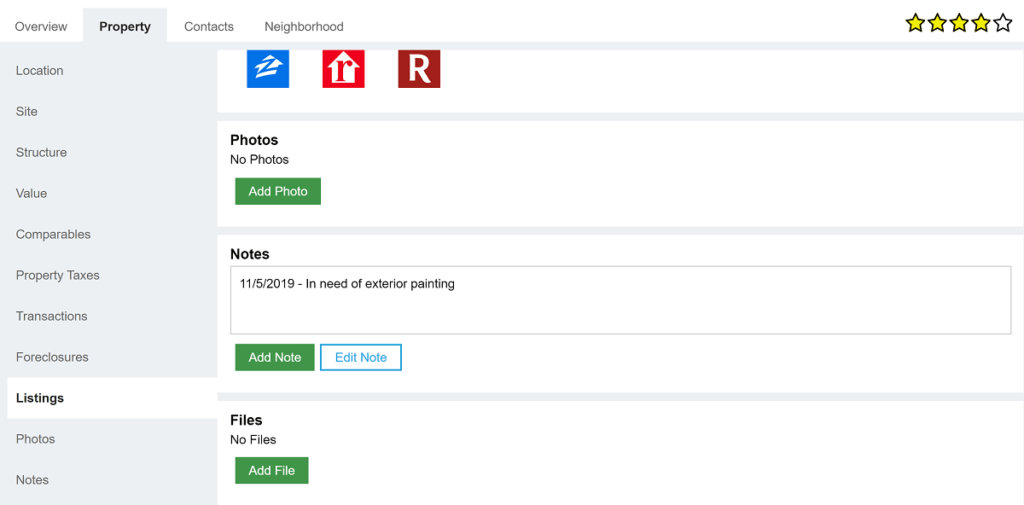 This helps you keep track of your best opportunities, so that when you get in contact with the owner, you remember exactly what you want to discuss with them.
Get notified of new matches
You can also get email notifications of new properties that match your criteria. Let's say you've created a list of recent 2nd mortgages in your area.
When another homeowner takes out a second mortgage, you want to be the first to know, so you can get in contact with them before your competition.
Just hit the alert button on that list.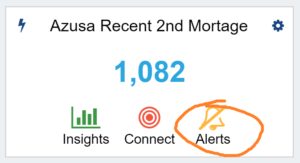 Then you can create alerts for new matches or for status changes (such as when a property on your list changes ownership).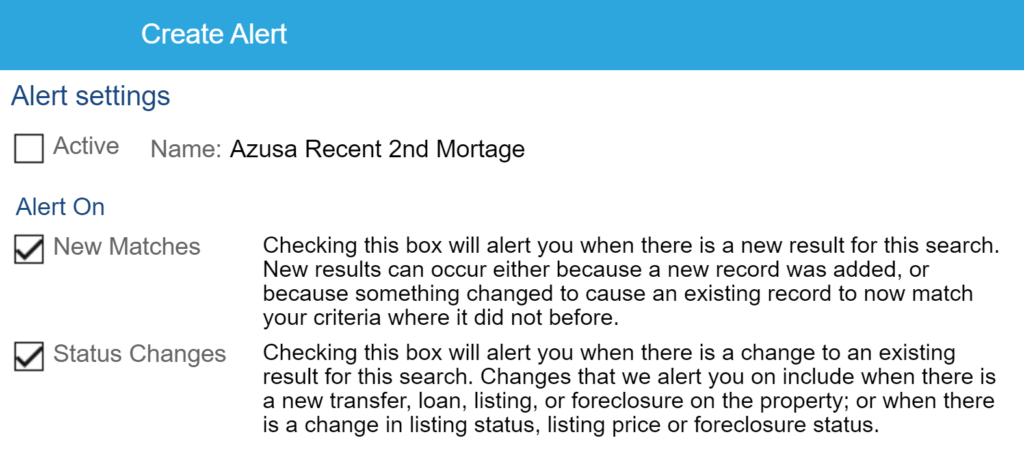 Automate your marketing actions
Imagine this: every time you set a status to "Need to contact" a direct mail postcard or letter gets sent automatically, or the prospect's contact information gets sent to your CRM or power dialing tool so you can contact them later when you're actively cold calling.
We're currently designing new features that will make this a reality. And it's coming soon!
The custom statuses you set will act as triggers so that you can automate your marketing across a variety of channels and platforms that you already use.
Customers, we'll notify you as soon as these automation features are live.
New to PropertyRadar? Learn more about how our property data and owner information platform can help you discover your ideal clients and connect with them directly.