San Francisco Bay Area Home Sales Tumble in 2016
Down 10.3 Percent from 2015, Lowest Since 2008
CALIFORNIA, AUGUST 11, 2016 – In the first half of 2016 (January through June), San Francisco Bay Area single-family home and condominium sales fell 10.3 percent relative to the same period in 2015. Sales were the lowest since 2008.
Despite the slowdown in sales, median home prices continued to rise upwards to what might be described as new levels of unaffordability. Within the six Bay Area counties included in this study, San Francisco, Marin, Alameda, Contra Costa, San Mateo, and Santa Clara, the increase in median home prices from June 2015 to June 2016 ranged from a low 6.5 percent (San Francisco) to a high of 14.3 percent (Marin).
Change in Bay Area Home Sales and Prices (January through June Totals)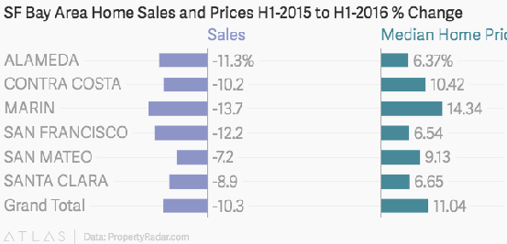 "It's no surprise that sales have slowed in the Bay Area. Median home prices in the Marin to Santa Clara corridor top $1 million. San Mateo County hit a confounding $1.26 million in June 2016," said Madeline Schnapp, Director of Economic Research for PropertyRadar. "Prices continue to rise but have definitely slowed from the double-digit increases of 2013 and 2014. The decline in sales suggests that prices may soon top, perhaps as early as next year."
"The slowdown in Bay Area sales has given rise to the concern that we are in the midst of another real estate bubble getting ready to pop," said Schnapp. "This time around, the factors that contributed to the 2006 real estate bubble are largely absent. Factors such as large numbers of poor quality borrowers, easy availability of high-risk adjustable-rate mortgages with 100 percent financing, and a Federal Reserve that was raising interest rates, are not in play today."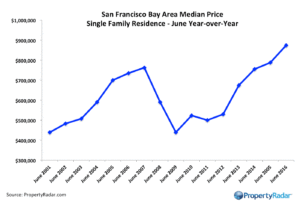 While the housing market may be showing signs of slowing down, California's economy, the sixth-largest in the world, remains robust. California's economic growth rate is near twice the national rate, nearly half a million new jobs were created in 2015, and the unemployment rate in June 2016 was 5.4 percent. In the Bay Area, the technology sector continues to add high-paying jobs and is likely to remain a dependable fuel source for California's growth engine. Despite the drought, tourism and farm-related industries remain strong as well.
"The biggest hurdle to the Bay Area housing market has nothing to do with the economy," said Schnapp. "Blame restrictive zoning and burdensome building regulations that limit building and add to the cost of construction. Until those issues are addressed, we expect sluggish sales to continue well into 2017."
"In our view, Bay Area real estate is a tough market that is largely unaffordable," said Schnapp. "That being said, we don't see the current trend of sluggish sales and high prices leading to a repeat of 2008."
San Francisco Bay Area Home Sales
Home Sales
– January through June (H1) totals of a single-family residence and condominium sales by year from 2001 to 2016
San Francisco Bay Area Median Home Price
Median Sales Price vs. Sales Volume
- Median sales price of a San Francisco Bay Area single-family home. June year-over-year comparison.