You search homes on an MLS-based website looking at listing after listing. Some have pictures, some don't. You check out the new neighborhood websites and find details about schools and amenities. You fly around the neighborhood looking at values in Zillow or Cyberhomes. Yet with all the data available, you are only partway to the truth about the neighborhood, the home, and the overall value of your prospective purchase. Here is what I mean: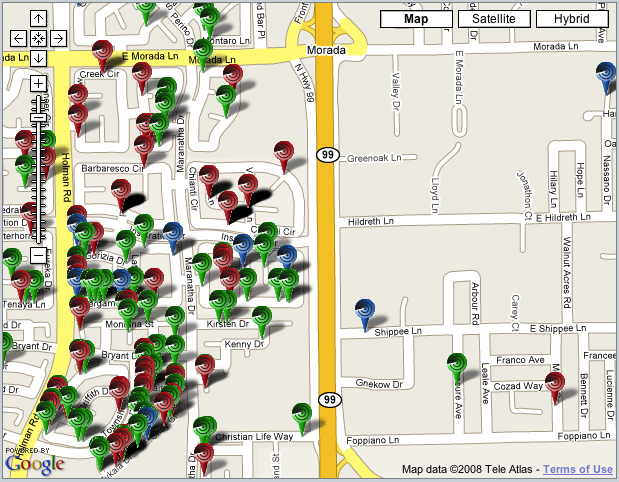 The image above is of a neighborhood in Stockton called Morada. Though sliced in half by Highway 99, everyone shops at the same grocery store, and their children go to the same middle and high schools. Reviewing neighborhood and property characteristics on services like Zillow for instance, you might determine that the right side of Morada, made of largely older and smaller homes is less desirable. Aerial photos further support that impression through funky streets, no sidewalks, and reasonably dense housing.
From this, you may conclude the right side is not the place to be. So you would think. Enter the foreclosure story. On the left side of Morada is an overdeveloped disaster marked by many foreclosed homes. On the right side, long favored by locals, you have almost no foreclosures due to long-term ownership and considerable equity.
With this one picture, the simple truth of desirability becomes clear. 33% of sales in CA are now REO (bank-owned) resales. Many more are short sales, and almost as many foreclosure auction sales exist as all other sales combined. Without access to foreclosure data it is arguably impossible to "know a market", set sales prices, make purchase offers or advise clients properly. Here is one neighborhood, divided by a highway, yet worlds apart when it comes to the truth about its value, its opportunity, and its story. There are thousands more just like it.