Marketing a small business in a vacation town is not easy. Half, or more, of the homeowners, are never home. They live elsewhere and only visit on vacation.
And the tourists? They come, and they go. Marketing strategies in a tourism-based economy tend to focus on brand building, awareness and inbound marketing.
These are all great strategies, but for small business owners in vacation towns, tourist towns, and mountain towns, these passive strategies are unpredictable and don't yield tangible results quickly or affordably.
Here's how local business owners can make use of hyperlocal marketing to drive new business directly and with greater persistence.
1. Data-driven direct mail
Of course, you know what direct mail is, but do you know about data-driven direct mail?
What is data-driven direct mail?
Data-driven direct mail is sent to a list of home and property owners that are most likely to be a customer based on precise targeting criteria. This isn't EDDM, or homes in a certain zip code or city. You can easily send direct mail to their primary residence where they live. Not their vacation home.
With hyperlocal marketing, a business can discover the property owners who are most likely to become a customer by using a variety of criteria, such as:
The vacation homeowner's primary residence location
Demographics such as age, interests, annual income, marital status
Transactional and event details such when they purchased, refinanced, and how much equity they have
Lookalike characteristics and attributes from existing customers
For many types of home and property-focused businesses, like home services, landscaping, and repair, property research can pull up even more valuable information for use in direct mail.
Identifying a specific list of vacation homeowners and refining by equity, recent second mortgage or HELOC, size of lot, and home features the types of criteria that help a small business owner identify their best prospects.
How can you use data-driven direct mail to market your business in a vacation town?
To market your local business in a vacation town using data-driven direct mail, here's what you need to do:
Build the best possible list of prospects – Steer clear of wide blasts that will blow your budget. Use an affordable research tool that features extensive criteria in order to find your best prospects. Maybe you're looking for wealthy locals that own a home in your town? If so, you need to find the address where they actually live. Maybe they live in Boston and vacation in Newport. Maybe they live in San Francisco and vacation in Tahoe. When building your list, you need to reach the person, not the vacation home. Why? The prospect is more likely to receive your promotion and can plan to make use of it during their next stay in their favorite destination, the town where they own their second home.
Design your direct mail – Use imagery and design that evokes the way people want to feel in your destination. Go ahead and make people feel a little jealous. Make them wish they were in their favorite vacation town. Make them wish they were in your restaurant or attending your monthly event. It's all about the vibe. How do people want to feel when they visit your town? Relaxed and invigorated, or relaxed and inebriated? 😉 (You get the gist.)
Send your direct mail – Now it's time to print and send your direct mail campaign. Printing costs can vary widely, from $0.05 cents to $2.00 per item, while distribution can cost $0.25 and up for each postcard. While you can use popular direct mail providers for design, printing and distribution, you should build your prospecting lists yourself to verify the use of your target criteria.
Track results – Tracking results for direct mail outreach is notoriously difficult, but it can be done. If possible, ask new customers and clients how they found you and log these responses in a Google Sheet that you integrate with a simple KPI tracking dashboard. If it doesn't make sense to ask people how they found you, then use direct mail (and no other channel) to advertise a special promotion, and track how many times the promotion was used.
Top tips for using data-driven direct mail to market your business in a vacation town
When sending direct mail for tourist town marketing, these are the takeaways you need to remember:
Don't just use location. Use other criteria like interests or home equity.
Don't send mail to homes that might be vacant. Send your direct mail to homeowners' main mailing addresses so they receive your mail before their next trip to their second home.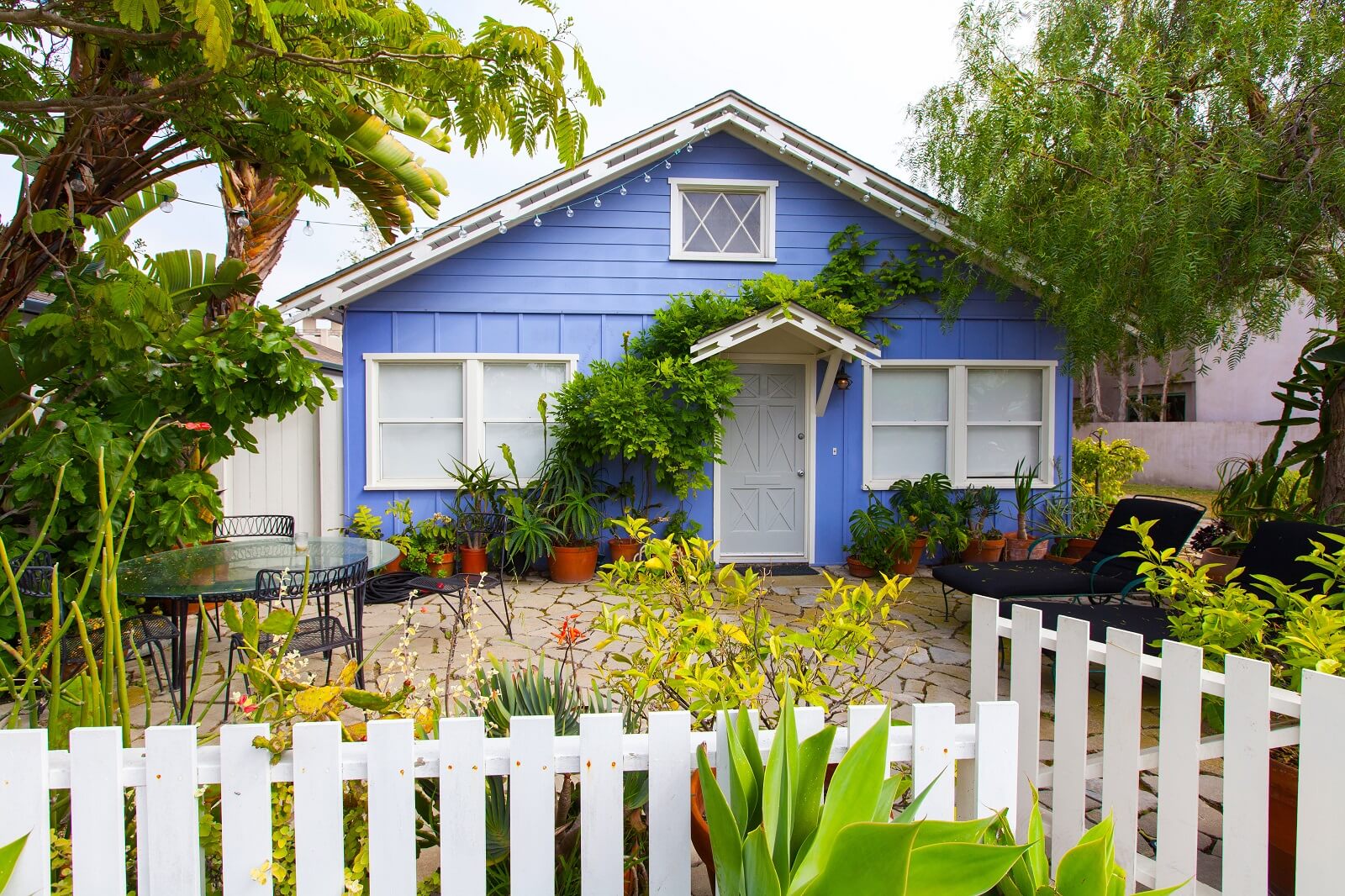 2. Relationship building
There are a lot of cool, fancy ways to market your local business. Instagram posts, Instagram Stories, Instagram videos. Those are your options just on one channel!
While you're busy doing all of this, are you keeping your relationships with fellow business owners strong? Are you making new connections? If not, you're missing out on an opportunity. Big time.
What is an offline relationship or partnership building?
Relationship building allows you to build up a network of business partners or referrals to help you reach new audiences and maximize the effect of word of mouth. Marketing strategies in the tourism industry should never bypass old-fashioned relationship building.
There are many different types of business relationships and they can be formal or informal. Here are some examples:
A hotel gives your restaurant menu or coupon to guests to be helpful to their guests (at no charge to you)
An Airbnb management company places your salon and spa menu on apartment coffee tables because you pay them a fee to do so
A boat tour company refers paragliders to you because they don't offer that service and you pay them a referral fee each time
How can you use relationship-building to market your business in a tourist town?
Sometimes you get lucky, and really great business relationships land in your lap. More often though, you need to get out there and make connections.
Here are the steps for forging more beneficial business relationships:
Come up with partnership ideas - Brainstorm the types of relationships you'd like to develop (mutually beneficial free exchanges, paid sponsorships or placements, free referral networks, paid referral networks).
Prioritize - After your brainstorming, choose the best two or three partnership ideas to prioritize based on the likelihood to succeed and the amount of effort.
Research businesses - For each partnership idea you want to pursue, make a spreadsheet list of all the local businesses that would be a good fit. Use sites like Google and Manta in addition to your local knowledge.
Find contact information - For each business in your spreadsheet, add contact information. For small businesses, you most likely need to contact the owner. For medium-sized companies, you may be looking for the marketing manager or business partnerships manager. To find contact information, you can search the business's website or directory listings.
Make contact - Reach out on a variety of channels to make contact: phone, email or in-person. You can even reach out directly on social media by sending a direct message.
Be friendly and brief - When you reach out, briefly introduce yourself and your idea for a business partnership. As you discuss this opportunity with your fellow business owner, be open to suggestions and changes to your original idea.
Keep going - Rinse and repeat! Get in the habit of doing this regularly. If your business is established, reach out to other business owners at least once a month. If your business is in its infancy, you should aim to make 10 connections a month or more.
For most successful local businesses, these types of partnerships are not a "nice to have." They're foundational. So, start building some yourself and bypass the overly hyped digital strategies that will sap your resources.
The next hot digital strategy will always appear. Meanwhile, your competitors can snap up the best relationships right out from under your feet. Make sure your priorities are where they need to be.
Top tips for building business relationships to market your business
To build successful business relationships, here's what you should remember:
Know what you want to propose before you reach out
Be willing to adapt your relationship concept or terms
Continually build more relationships over time
Forge a variety of business relationship types (mutually beneficial and free, paid, incentivized, etc.)
3. Geo-targeting ads
The problem with vacation town marketing is hitting the right people at the right time. Search engine ads allow you to market your business to users searching for a particular key phrase in Google or Bing, such as "Tallahassee massage."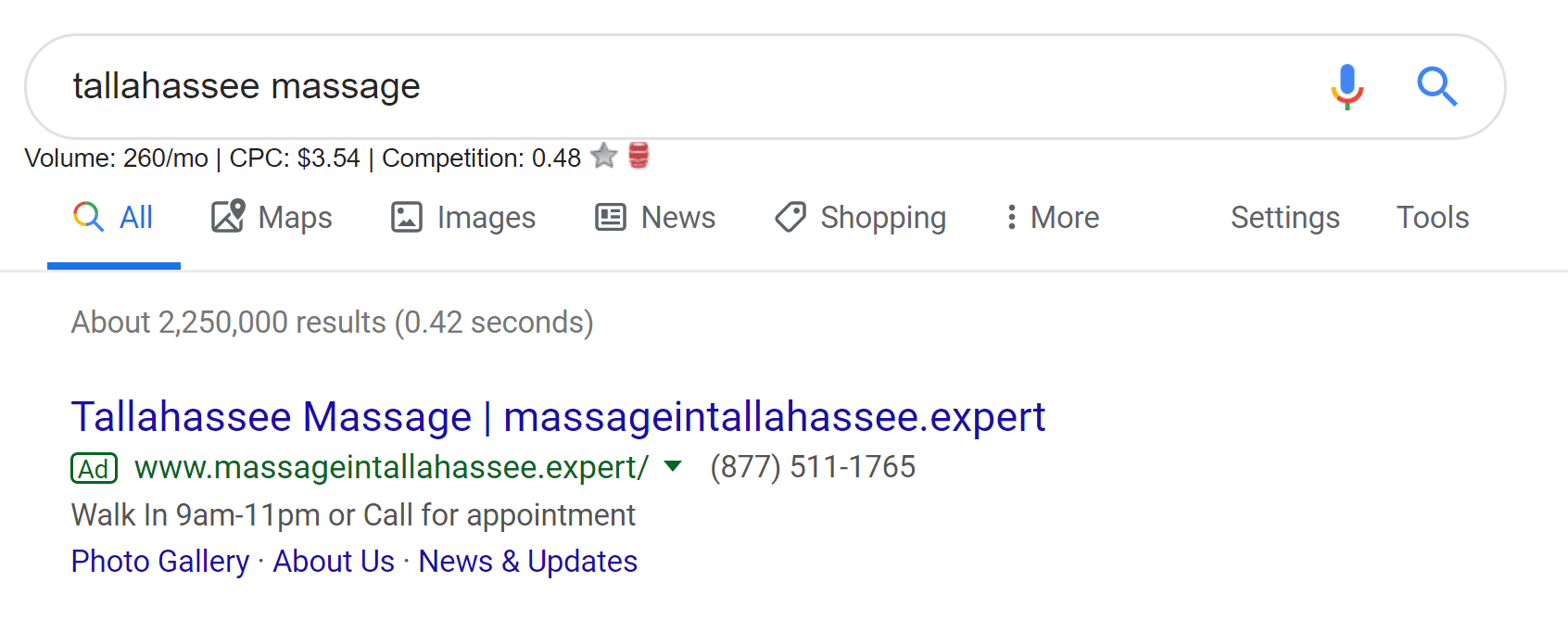 However, when you run search ads like these, you are targeting the keyphrase, not the person. The person could be located anywhere. They could be in another country, planning for a vacation when they don't even have their flight purchased yet. Probably not the best way to spend your marketing dollars, especially when you're paying $3 to $4 per click.
What are geo-targeting ads?
Geo-targeting ads show your Google ads (whether search ads or image display ads) only to people who are searching from a device that is in your desired location. This radius could be an entire county, city, or even smaller down to a neighborhood. You can choose a small radius around a certain location, like an airport or event center.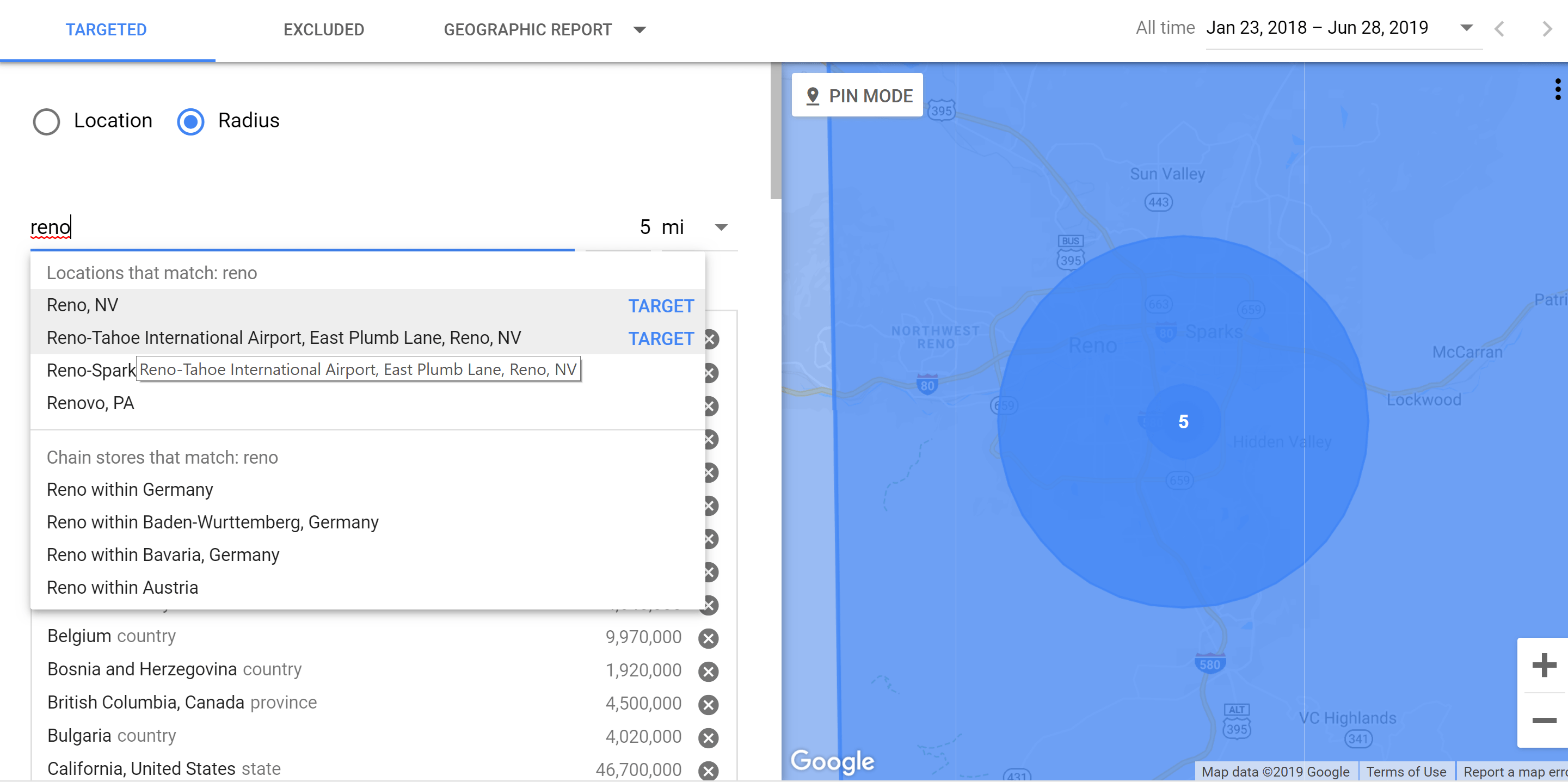 How can you use geo-targeting ads to market your business in a tourist town?
With geo-targeting ads, you can market your business via mobile search to people who are currently in your radius. For businesses that rely on foot traffic, this is incredibly effective. Let's say you own a fine dining restaurant with waterfront views. A woman is sitting in her hotel three blocks away reading the news. It's the afternoon, and she's hungry. She hasn't decided where she wants to eat yet. As she's reading, she sees your ad.
You can market to locals and tourists using geo-targeting ads. This strategy can work for:
Activities and events
Retail stores
Restaurants and nightlife
Salon and spa services
Top tips for marketing a vacation town business with geo-targeting ads
To make the most of geo-targeting ads :
Create one campaign for a small radius (5 miles) and one for a larger one (20 miles) to see what works better
Layer other targeting features together, such as location + interest, or location + keyphrase
To save money, consider only running ads during the days and times that you're more likely to drive foot traffic immediately
Use the other two strategies first (data-driven direct mail and business relationships) to get a strong foundation before running geo-targeting ads. Digital ads require continued experimentation, and you want to make sure your revenue is steady before you throw spaghetti at the wall to see what sticks.
Vacation town marketing is tough. But when you ignore the marketing hype and rely instead on these smart strategies, you can make your business growth predictable. As for those seasonal swings? Just get used to them.
PropertyRadar helps smart local business owners market to the right local people.