Notices of Default (NODs) in California fell 10.2 percent in May, their first decline since January. Last month's decrease resumes a longer-term downward trend that was temporarily interrupted by the implementation of the California Homeowner Bill of Rights, which went into effect on January 1.
Foreclosure Notices — Notices of Default plus Notices of Trustee Sale — were down 9.1 percent for the month and down 53.7 percent for the year.
Foreclosures are declining for two reasons:
Rising California home prices reduce the number of homeowners who owe more than their homes are worth, making them eligible to refinance or sell their homes.
The California Homeowner Bill of Rights prevents dual-tracking, which is lengthening the time to foreclose.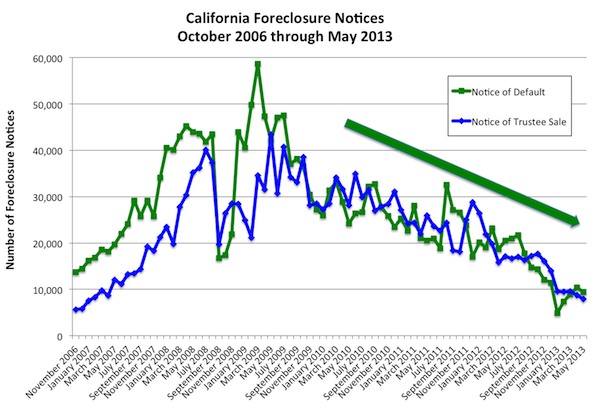 Source: PropertyRadar.com
‍Foreclosure Sales Fall in May Due to New OCC Rules
‍California foreclosure sales fell 23.1 percent in May and 63.6 percent for the year, reaching their lowest level since January 2007. Splitting May foreclosure sales into their respective components — Sold to Third Party and Bank to Bank (RE0) — Sold to Third-party sales fell 16.9 percent in May and 54.2 percent over the past 12 months, while REOs declined 29.7 percent in May and 71.0 percent over the past 12 months.
The dramatic drop in May foreclosure sales resulted from an Office of the Comptroller of the Currency (OCC) guidance letter that specified minimum standards for handling borrower files subject to foreclosure. Several of the largest banks either slowed or stopped their foreclosure sales in May while they digested the requirements of the new guidelines. As of the end of May, JPMorgan appears to have resumed foreclosure sales. Meanwhile, foreclosure sales from Citi and Wells Fargo Bank were down 50 percent and 75 percent, respectively, from their March and April levels. We expect foreclosure sales to pick up in June as banks incorporate the new standards.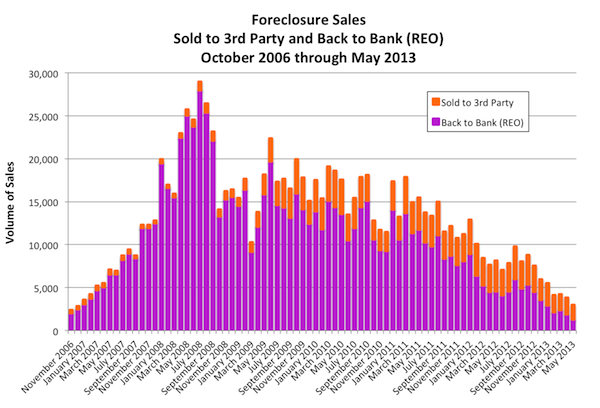 Source: PropertyRadar.com‍
May Foreclosure Stats & Trends, by State
‍For a complete summary of May foreclosure stats and trends, please click on the following links:
‍California foreclosure stats and trends
‍Foreclosure starts: 9,356 (+10.2%)
Foreclosure sales: 2,959 (-23.1%)
Time to foreclose: 336 days (+4.4%)
‍Arizona foreclosure stats and trends
‍Foreclosure starts: 2,305 (-29.2%)
Foreclosure sales: 1,431 (-24.5%)
Time to foreclose: 210 days (+4.0%)
‍Nevada foreclosure stats and trends

Foreclosure starts: 2,364 (-8.6%)
Foreclosure sales: 494 (-38.7%)
Time to foreclose: 278 days (+11.8%)
‍Oregon foreclosure stats and trends
‍Foreclosure starts: 90 (+66.7%)
Foreclosure sales: 12 (-47.8%)
Time to foreclose: 308 days (+2.0%)
‍Washington foreclosure stats and trends
‍Foreclosure starts: 2,267 (-14.0%)
Foreclosure sales: 1,508 (-14.0%)
Time to foreclose: 220 days (+11.7%)
‍Madeline Schnapp
‍Director of Economic Research
PropertyRadar.com
530-550-8801 x27