Median Price Hits $500,000, Up 11.1 Percent from 2015
New Inventory in Orange County Boosts December 2016 Sales 5.7 Percent Year-Over-Year, 6.2 Percent over November
CALIFORNIA, JANUARY 23, 2017 – Southern California December 2016 home sales were nearly unchanged from November and down 8.8 percent from December 2015. Four of five counties in the region experienced outsized year-over-year declines. The TILA-RESPA Integrated Disclosure (TRID) rule that went into effect in November 2015 depressed year-over-year sales comparisons. The one outlier in the region was Orange County, which enjoyed a healthy 5.7 percent year-over-year increase in sales thanks to the contribution of the sales of new homes.
"The 5.7 percent sales increase in Orange County caught our attention," said Madeline Schnapp, Director of Economic Research for PropertyRadar. "We expected the sales data to show a TRID induced decline. Instead, a surprising number of new home sales, nearly 16 percent of the December sales total, pushed Orange County sales well into positive territory. In a region where sales declined 8.8 percent over 2015, the 5.7 percent gain is remarkable and illustrates how much demand exists for new homes."
Annual sales totals for 2016 highlight long-term trends in the Southern California region. Southern California 2016 sales were 1.5 percent lower than sales in 2015, but flat since 2009. Once again, Orange County was the outlier, posting a 1.4 percent increase over sales in 2015.
"Annual sales have been more or less flat since 2009 despite an increase in population and a steady improvement in economic conditions," said Schnapp. "In the past couple of years, a lack of new homes has been a key contributor to lackluster sales. In 2016, Orange County bucked that trend where new home sales contributed significantly to the increase in annual sales."
The December 2016 median home price in the region was $500,000, the highest since August 2007. Prices were up 3.0 percent from November and gained 11.1 percent from December 2015. Despite recent gains, prices remain 6.5 percent below the April 2007 peak of $535,000.
At the county level, in December 2016 annual price increases ranged from +2.8 percent in San Diego County to +5.8 percent in Los Angeles County.
"Price increases have been driven predominantly by the lack of inventory," said Schnapp. "While that condition will still be a drag on sales in 2017, large builders have announced numerous developments throughout the region which should add significant inventory over the next few years."
Taking a longer-term look at prices, in four of five Southern California counties the December median price remained below their previous 2005 to 2007 peaks. The exception was Orange County whose December 2016 median price was $750,000, 0.5% higher than the 2007 peak of $746,500.
"Orange County is home to the highest median prices in the region and December's median sailed past its previous 2007 peak," said Schnapp. "What drove prices higher in December was the sales prices of nearly 50 percent of the new homes sold exceeded $1 million."
"As prices appreciate, affordability continues to weigh on real estate markets," said Schnapp. "That being said, Riverside and San Bernardino counties, whose median home prices of $345,000 and $280,000, respectively, remain attractive alternatives to buyers seeking more bang for their housing buck."
The biggest threat to the housing market in 2017 is the unknown trajectory of mortgage interest rates. In the last two months of 2016, mortgage interest rates jumped 78 basis points from 3.54 percent to 4.32 percent and generated considerable concern in real estate circles. On the median-priced home of $500,000, the rate jump translates into a payment increase of $2,400 per year. Further increases could negatively impact sales by increasing the cost of homeownership.
"The most recent mortgage interest rate spike is likely temporary due to post-election 'Trumphoria,'" said Schnapp. "As Trumphoria dissipated after the first of the year, mortgage interest rates retreated 20 basis points and will likely settle in a 3.75 to 4.50 percent trading range, still low by historic standards. Given the extraordinary levels of consumer, government, and corporate debt, the political pressure to keep interest rates low is very high."
Southern California Home Sales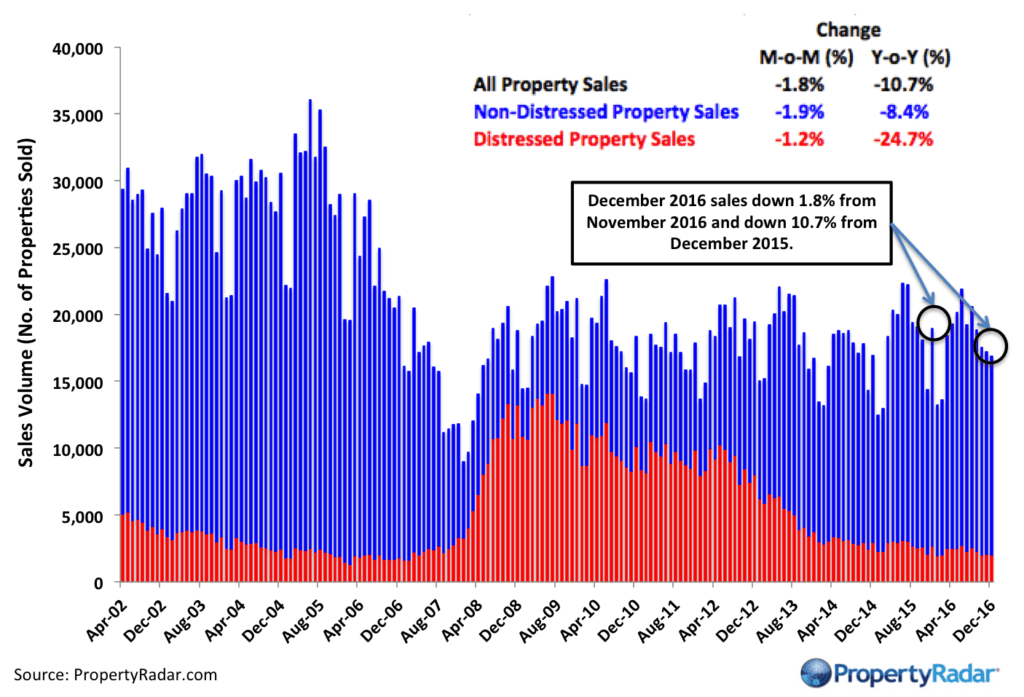 Southern California Home Sales – Total Single-family residence and condominium sales in the following counties: Los Angeles, Orange, Riverside, San Bernardino, San Diego. Sales are illustrated by month from 2005 to current and are divided into distressed and non-distressed sales. Distressed sales are the sum of short sales, where the home is sold for less than the amount owed, and REO sales, where banks resell homes that they took ownership of after foreclosure. All other sales are considered non-distressed.
Annual Sales (January through December)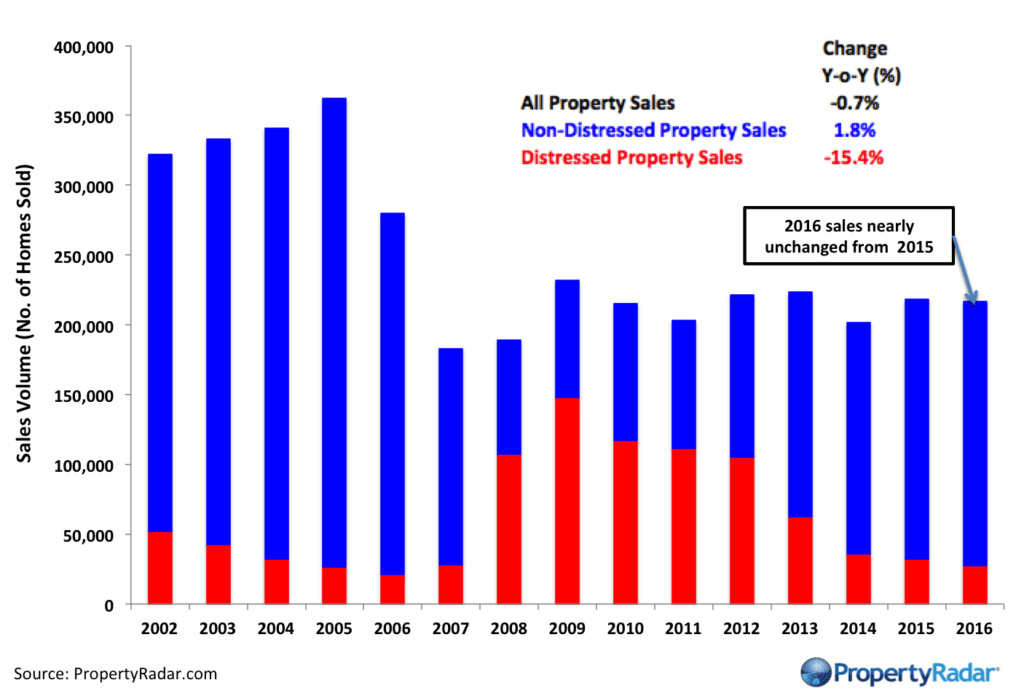 Southern California Year-to-Date Home Sales – The sum of year-to-date sales of single-family residences and condominiums for the current year and prior years divided into distressed and non-distressed sales.
Southern California Median Sales Price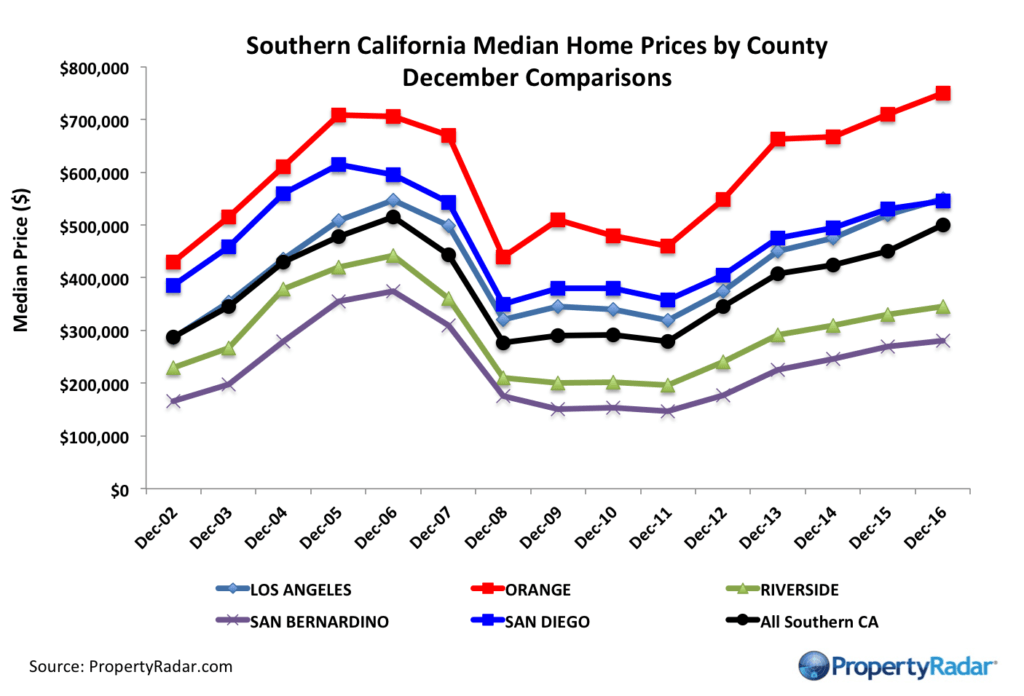 Southern California Median Sales Price – December median sales prices of a Southern California single-family home and the median sales price of homes within the individual counties in the region.
PropertyRadar Report Methodology
California real estate data presented by PropertyRadar, including analysis, charts, and graphs, is based upon public county records and daily trustee sale (foreclosure auction) results. Items are reported as of the date the event occurred or was recorded with the California County. If a county has not reported complete data by the publication date, we may estimate the missing data, though only if the missing data is believed to be 10 percent or less of all reported data.