Multifamily investing is the process of buying a residential real estate asset that consists of more than one housing unit. This could represent two units to hundreds of units and a duplex to a luxury apartment building. Investing in multifamily provides multiple advantages to investing in other investment spaces, including single-family real estate.
The Pros and Cons of Buying a Multifamily Property:
5 Pros of Buying a Multifamily Property:
Cash Flow
First and foremost, a multifamily property is a business that offers the ability for cash flow from tenants paying the rent and other income streams above the operating expenses of the property.
Appreciation
Multifamily is an income-driven asset. There is the ability to force appreciation of the property by doing renovations that benefit the bottom line of the property. There is also the inherent ability to capture market appreciation as it happens.
Depreciation
One of the biggest benefits that brings investors to the multifamily space is the ability to accelerate depreciation using a cost segregation study. This can be a vital tool for investors who are subject to large upcoming tax consequences and can be executed almost immediately after purchasing an asset. This allows them to reduce their near-term tax burden and put money into other investments to increase returns.
Portfolio Diversification
Many investors have easy access to traditional investment vehicles like stocks, bonds, or cryptocurrency. However, multifamily provides an opportunity to invest in hard, tangible assets in a different arena. This coupled with the fact that housing and shelter are basic needs common to every person provides a secure way to diversify investing portfolios.
Tax Advantages
When considering investment moves, tax strategy becomes a critical piece of the whole puzzle. Multifamily assets offer a plethora of tax advantages that can be instrumental to rounding out investment strategies.
3 Disadvantages to Buying Multifamily:
Liquidity
Multifamily investments typically last a minimum of 3 years. The illiquidity of your multifamily opportunity may be a deal-breaker for some investors who like the option to be able to move in and out of investing opportunities like the stock market at their discretion. If this applies to you, tokenization of real estate may be a future solution to watch out for as part of your investments.
Barriers To Entry
Due to the size and pricing of these assets, the barriers to entry may make it difficult for many investors to make the leap into apartment investing. However, models like syndication have opened up access to the space and reduced this barrier.
Market
Depending on where you live you may find it best to invest in an alternative out-of-state market due to a number of factors including population growth, job growth, and landlord laws.

The ability to invest in multifamily real estate requires a skill set that is best suited for a team approach. These are larger assets and can sustain multiple partners working to acquire an apartment building.
What Skills are Needed to Invest in Multifamily:
Understanding the terms of

multifamily investing

.

There are a lot of great resources available to help you learn what IRR and break-even occupancy are.
Set actionable, trackable, and achievable goals for completing your first multifamily investment. Goals that are written and reviewed have the highest level of completion. At 7 Figure Multifamily, we set an emphasis on tracking goals we can control like making offers on properties.
Learn your market. The more dialed in that you become within the neighborhoods, the better advantage you will have against other parties not well positioned in your market. Understanding where the path of progress is heading, where are the good schools, which business sectors make up the economic drivers of the market, and what is the household income for the area will put you in a solid position to assess how your property goals can be met.
Learn how to assess and underwrite these deals. Understanding how these properties operate and how they can perform will help sculpt a business plan for success. Understanding the metrics you are tracking can identify when an opportunity exists and when you should move on to a new search. Some metrics we track are cash on cash return, multiple on invested capital, and internal rate of return. If any of these metrics are foreign to you reference back to #1.
Build a team both internal and external. You will need a deal finder, a person with a balance sheet, someone to conduct due diligence, an underwriter and capital to get the completed internally. Once you have acquired the asset there will be asset management and property management. Understanding your superpowers will best suit you to accomplish your goals. Externally you will need brokers, bankers, and insurance agents to name a few.
How to be Successful when Investing in Multifamily Properties:
There are many types of multifamily assets that operate differently from A to D class buildings to 2-unit duplexes to 100-unit buildings. Assets in different markets and in different size ranges will operate differently and have different income and expense drivers. Identifying and targeting the type you will focus on will help determine:
The team you need. A property manager who works on duplexes and D Class assets is not typically the same property manager who will focus on Class A New construction Assets.
How will you fund the deal? Access to capital may limit or expand your ability to find and secure deals. If you are limited on resources you may choose to target a smaller asset at first.
Know your strengths. Each one of us typically falls in at least one bucket: having money, time, credit, or knowledge. Where do you fit and where do you need help?
Support. This is a team sport and surrounding yourself with other like-minded investors in masterminds and multifamily platforms will help you achieve your goals while positioning you to limit your downside.
To successfully position yourself to stand out from your competitors.
Hyper define your avatar property. Our target began as 75- 150-unit B-C class assets in the South and Southeast markets of Louisville Kentucky built between 1975 and 2005. Doing this eliminates uncertainty and sets the stage for what your target is.
Tell everyone you know what you are doing and why you love the space of multifamily investing. You are now creating a deal generation machine as you are setting in the mind of others what you are looking for and empowering others to help you meet your goals. Also, if you are building a network of investors, you are bringing them into your new world and allowing them to see the benefits that multifamily investing offers.
Make offers. When deals meet your criteria take action and submit the offer, and if the pricing is just not right ask the seller or broker if it still warrants making an offer. You will be surprised how many say yes.
How to Scale your Multifamily Business:
Sourcing larger assets. Typically, the process for acquiring 20 units is the same as requiring a 100-unit asset. However, the 100-unit asset will afford more economies of scale. You can hire a full-time staff including a leasing and maintenance person and increase revenue in multiples with small increases or additions of extra income. Also, the debt offered on larger assets typically is more competitive and will offer better rates and terms. If you are short on capital or resources to buy larger assets there are structures like syndication where you can pool capital from investors to buy larger assets so you can all benefit from the economies of scale. If you choose to go this route make sure to speak with a securities lawyer to understand the full scope of the process.
About the author: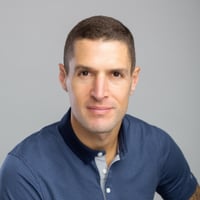 Jason is an active Real Estate Syndicator and Real Estate Investor. Jason and his wife Pili are the founding and managing members of Yarusi Holdings, a multifamily investment firm that has acquired over 1400 units valued at $160 Million since 2016. The firm repositions properties through operational efficiencies, moderate to extensive renovations, and complete rebranding.
Jason also hosts The Multifamily Live Podcast, a podcast that provides actionable content and tools to build and strengthen your multifamily business. Jason is the founder of the New Jersey Multifamily Live Club with over 2,500 members that focuses on Real Estate Syndication and Multifamily Investing and trains others on the success formula for buying apartment buildings at www.7FigureMultifamily.com.