How To Guide: Real Estate and Mortgage Lending Professionals Can Grow Their Business While Adhering to Fair Housing and Anti-Discrimination Laws
Digital ad networks like Google Ads and Facebook Ads make it easy to advertise your business at targeted online audiences crafted from wide array of criteria.
While their online audiences can't reach every property owner in a hyperlocal market, they can reach a significant percentage and represent an important part of a well-rounded multi-channel marketing strategy.
Unfortunately, some forms of online ad targeting discriminate against protected classes of people. More often it's unintentional, however intentional or not, there are significant and severe consequences for running afoul of the laws and professional association codes of ethics to prevent discrimination.
It can be confusing. But don't let these advertising complexities deter you from growing your brand awareness with online ads while safely, and proudly, operating within fair housing laws and professional ethics.
Businesses that meet this challenge head-on enjoy disproportionate success while their competitors hesitate with confusion and stumble from being disorganized and discouraged.
In this post, we'll cover the Fair Housing Act and how it governs these important data-driven advertising restrictions. We'll also go over:
What Is the Fair Housing Act?
The Fair HousingAct, passed by Congress in 1968, was enacted to prevent discrimination in housing, specifically with regards to purchasing, renting, or financing a home.
Specific to audience targeting, many demographic attributes are protected under the Fair Housing Act, such as:
Race
Color
Sex
Nationality
Religion
Disability
Familial status
In addition to Federal laws, many states, counties, and municipalities include additional protected classes such as age and sexual orientation.
Real estate investors, Realtors®, and mortgage lending professionals must ensure their advertising does not violate the Fair Housing Act. Specific details about what is allowed and what is not allowed in your state, you can use this interactive map at The Policy Surveillance Program to learn more.
Google and Facebook updated their advertising policies and restricted additional targeting criteria that are specific to housing, employment, and credit opportunities. These changes are designed to prevent discrimination by eliminating the availability of criteria that may be used to discriminate intentionally, or even unintentionally.
Google's Targeting Restrictions
Google's ad network has been operating longer than Facebook and as such has had experience in targeting restrictions for a long time. In particular, their original limitations prohibited users from targeting advertising based on religion, ethnicity, race, sexual orientation, and personal hardships. In this case, "personal hardships" refers to life events such as foreclosure or eviction.
In the summer of 2020, the Department of Housing and Urban Development (HUD) released a statement that it had "worked with Google to improve Google's online advertising policies to better align them with requirements of the Fair Housing Act, where applicable."
In their own statement on the matter, Google said that this move was made in order to improve access to housing, employment, and credit opportunities for their consumers.
This means, if you place ads for employment, housing, or credit services, you are now prohibited from targeting or excluding those ads based on:
Age
Gender
Parental status
Marital status
Zipcode
While Google is just now tightening its belt on these demographic restrictions, Facebook has had similar targeting limitations in place.
Google's Customer Match (similar to Facebook's Custom Audiences) is similarly more restricted, with its total ad spend requirement preventing the smaller of small businesses from affording it.‍
CustomerMatch is not available for all advertisers. To use Customer Match, your account must have:
A good history of policy compliance.
A good payment history.
At least 90 days history in Google Ads.
More than USD 50,000 total lifetime spend.
Facebook's Targeting Restrictions
Facebook has similar targeting limitations to Google as both strive to meet the spirit of the Fair Housing Act. Facebook's initial lack of restrictions led to the department of Housing and Urban Development (HUD) to file charges against Facebook for discriminatory advertising practices in March 2018.
In response, Facebook worked with HUD to resolve the issues and has issued a series of changes to its advertising platform. In August of 2018, the company removed over 5,000specific targeting criteria, including the ability to exclude consumers on the basis of ethnicity or religion.
In March of 2019, Facebook also removed the opportunity to target housing ads by age, gender, or zip code. The decision to remove the specific targeting options was a result of a settlement with several civil rights groups, including the National FairHousing Alliance and the ACLU.
Facebook's Custom Audience feature, unlike Google, has no financial barrier to entry.
However, businesses in real estate and lending will still experience higher ad approval scrutiny to ensure compliance. If getting started, expect there to be additional delays in ad creative review until established.
Examples of What NOT to Do in Advertising
Good news!
You've already resolved the most consistent mistake: being unaware of or ignoring the Fair Housing Act or thinking it doesn't apply to you.
Targeting criteria restrictions aside, there are important guidelines for what you can and cannot write when advertising.
We've listed a few poignant examples of discriminatory advertising for you below, but be sure to carefully review the specific guidance provided by the National Fair Housing Alliance's 'Advertising Guidelines'.
Examples of Discriminatory Advertising
Example: "This home is perfect for newlyweds who want to start a family."
Reason: Familial status is a protected class. Try focusing more on the characteristics of the property rather than who should buy it.
Example: "English speakers only, please."
Reason: Nationality is a protected class under the fair housing Act. Your goal should be to show the home to as many potential buyers as possible, not to exclude a certain class of people.
Example: "This property is only a short walk to the church."
Reason: That statement could feel exclusionary to people of different religions.
Other helpful advertising guidelines include:
When it comes to advertising, the key to success should be inclusion, not exclusion!
Make sure your advertising is compliant with fair housing laws by focusing on the property and the amenities in your listing description.
Avoid focusing on who you think an ideal buyer or tenant would be.
Do not make statements that exclude persons in protected classes or express a preference for one personal characteristic over others.
Always include the fair housing logo and/or the "Equal Housing Opportunity" slogan in your advertising.
Do not exclude from your marketing campaign persons in protected classes, such as families with children, people of certain racial or ethnic backgrounds, persons with disabilities, etc.
If you feature human models in your advertisements, ensure that the images are inclusive and representative of all communities that need access to housing.
Always give truthful information about the availability, price, amenities, and features of a housing unit.
Gain important, critical exposure to consumers. Maximize positive outcomes. Broaden—don't restrict—your market.
For a deeper look into race, class, and segregation in the housing industry, and how agents often discriminate without even realizing it, check out the podcast episode below featuring Dr. Karyn Lacy, Sociologist with the University of Michigan:
Again, note that ignorance of the law is NOT a legal defense for discrimination. There are significant and severe consequences for running afoul of the laws and professional ethics that aim to prevent discrimination.
Why Targeted, Legal Advertising Is Smart
Whether it's discovering new audiences or being able to write specific and compelling calls-to-action(CTA), targeting is critical to achieve a positive return on ad spend, or ROAS.
Targeting, when done right, is a benefit to both the consumer and the business. The consumer is happy to be aware of your product or service and the business is happy to not waste their precious dollars reaching consumers who do not qualify or likely will not purchase.
"Outsourcing" lead generation to 3rd party intermediaries often proves to be more costly in the long run and is not resilient or responsive to shifts in the market. Depending solely on sources like Zillow or Redfin for leads does not build your brand or your own independent and resilient ability to grow your business directly.
Being conscientious of whom your best potential customers or clients are, and who is not, you immediately enjoy a better ROAS by not wasting dollars marketing to the wrong people.
While it's critical to be aware of the laws, don't let it discourage you to the point of trying to avoid violating fair housing laws that you avoid targeted advertising altogether.
With Change Comes Opportunity
The targeting criteria that Facebook and Google make available fall short of giving you the ability to create audiences based on precise property attributes and ownership characteristics.
Public records data offers hundreds of property and ownership criteria that help you create targeted audiences, or lists, of prospects that are not subject to fair housing restrictions.
There are many ways to access public records. Public records are, by their nature, public! But combing through thousands of records on your own with just a spreadsheet can become time-consuming and overwhelming fast.
PropertyRadar's property data and owner contact information platform is built to solve that problem. PropertyRadar makes it fast and easy to work with enhanced public records using 200+ criteria to discover and sort all your ideal customer profiles into organized lists that are automatically kept up-to-date.
With each list you get deep insights and detail into the properties and owner, giving you the ability to better understand the needs, wants, and opportunities to connect with those prospects.
Identifying absentee owners, free and clear, joint tenant, beds, baths, lot size, and hundreds more criteria are very useful in targeting – more important, they focus on property characteristics and amenities while avoiding protected class demographics.
Below are a few examples of Quick Lists that PropertyRadar has put together. These are prebuilt mailing lists that include specific criteria already built-in, often only requiring you to identify a market of interest. Below is one example of the Quick Lists available to Realtors®.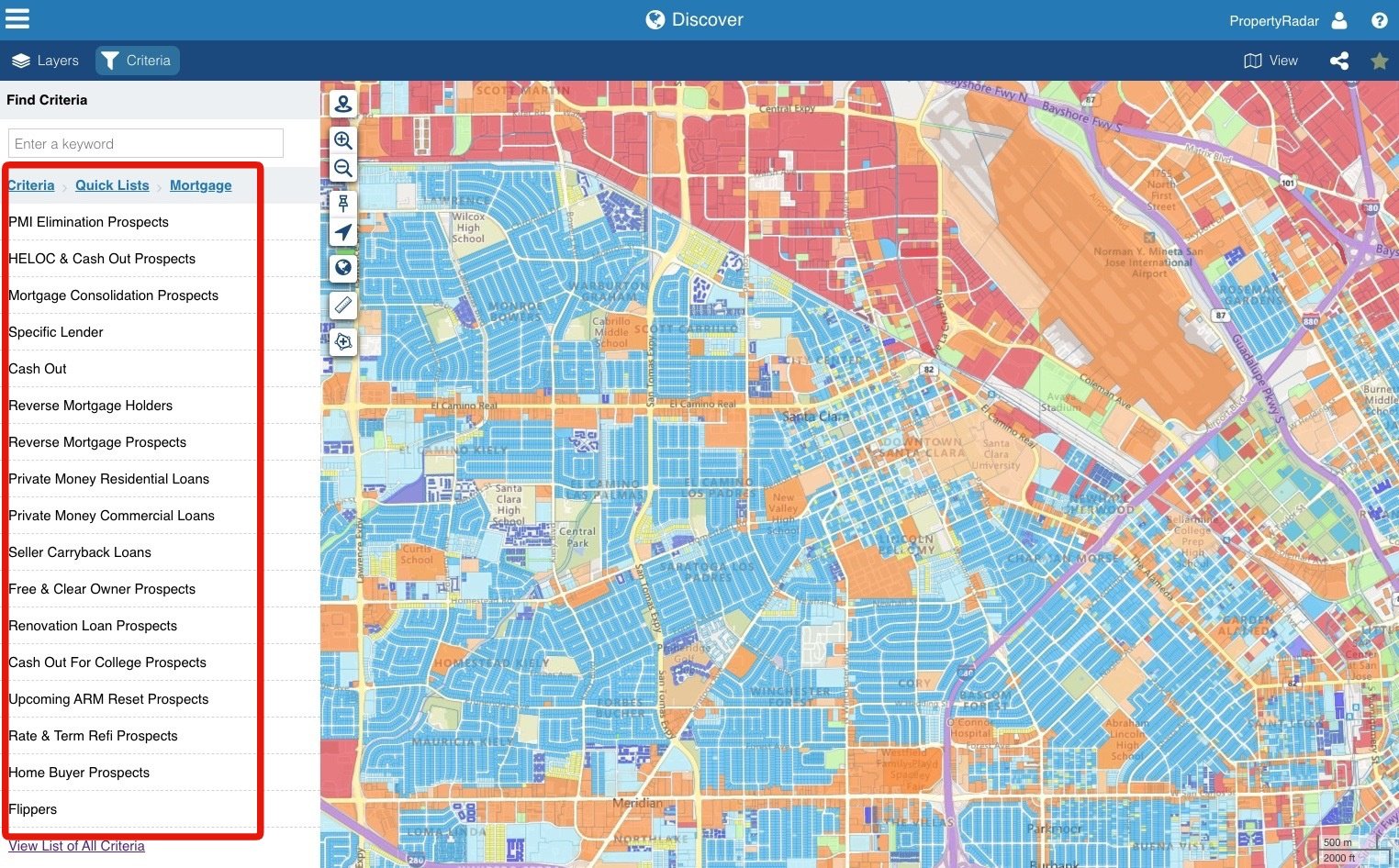 WithinPropertyRadar, you'll find additional Quick Lists for Mortgage professionals, Investor professionals, Commercial, Home Services, Property Management, and many other industries.
Once you've selected your list(s), you can refine your audience profile list by adding additional criteria about the property, like:
Property Type
Single-Family
Condo
Multi-Fam
Commercial
Industrial
Agricultural
Land
Many more
Property Characteristics
Beds
Baths
Square Footage
Lot Size
Property Age
Units
HVAC
Pool
Many more
Advertising Messaging – What's Ok vs. What's Not Ok
It's critically important you know which words you can and cannot use in your advertising. While there are limitations on what you can and cannot say, you can still create powerful ads that connect and resonate with your audience while staying compliant.
To that end, here are some examples of words and phrases you can use in your targeted marketing, that are acceptable:
First Time Buyer
Date of purchase, length of ownership
Great for Family
On Bus Route
Domestic Quarters
No College Students
Quiet Neighborhood
More
Here are some examples of words and phrases you can NOT use in your targeted marketing:
Adult Living
Couples Only
Empty Nesters
Religious References
Mature Couple
Near Church(es)
Near Synagogue
Newlyweds
Not for Handicapped
Singles Only
Quiet Tenants Only
To see the complete list of words and phrases that are and are not acceptable, click here.
And as stated in the opening paragraph of the list, sometimes it depends on how the words and phrases are used…and if you have ANY questions, you should consult an attorney.
Conclusion – Obstacle vs Opportunity
Today, target marketing is an essential part of building any business. But target marketing for real estate and mortgage lending presents many legal complexities and challenges. Familiarizing yourself with the Fair Housing Act is critical to ensure you keep your marketing compliant and avoid business disruption.
Many businesses see these obstacles as too difficult to overcome and simply give up. But as a motivated, data-driven professional, you don't see an obstacle, but rather an opportunity to separate yourself from the pack.
And therein lies the opportunity: Turn compliance into a market-winning advantage with data-driven solutions that grow your business directly. Get started with a free trial of PropertyRadar today.