Foreclosure Search Built By Professionals, For Professionals.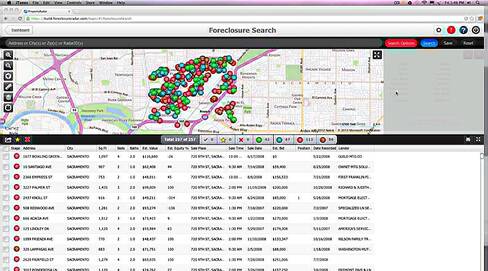 No one comes close to the foreclosure data, services and software that professionals have come to rely upon in PropertyRadar.
Built by the same Team that developed ForeclosureRadar®, PropertyRadar is the next step up in actively tracking every foreclosure status in California with more criteria and advanced technology, for the same low priced value. 
Search PropertyRadar for a total of thirteen foreclosure stages to find the information that you need to make the best investment decision.
In addition to 13 different foreclosure stages, you can search by lender, owner name, loan date, estimated price, LTV, and so much more to get exactly what you need, when you need it.
Remember, PropertyRadar is a significant upgrade from, ForeclosureRadar for the same low-priced value, built by the same Company and Development Team.
ForeclosureRadar Customers – What's New In PropertyRadar? 
The Foreclosure Search feature in PropertyRadar tracks which Bank Owned and 3rd Party properties have been resold, which also means you can search for properties still held, whether its been one day or two years. In ForeclosureRadar we set Bank Owned or 3rd Party to historical after 120 days.

We lengthened the time it takes for a Preforeclosure to move from active to outdated from 120 to 180 days to more accurately reflect the foreclosure process we see today. 

We improved our tracking of Cancellations, separating those which the owner still owns (likely a loan mod) from those which resold (likely a short sale).

You can also type in a full address and see all the property details on that property and easily know if it is in foreclosure or not.